Do you love the holidays as much as we do? Well nothing gets you in the spirit quite like a visit to Downtown Frederick. Unbeatable shopping? Check! Delicious dining? Check! We've officially caught the holiday spirit and it's time for you to get on our level. Here are ten of our favorite ways to enjoy the holiday season in Downtown Frederick.
1. Shopping (After Dark)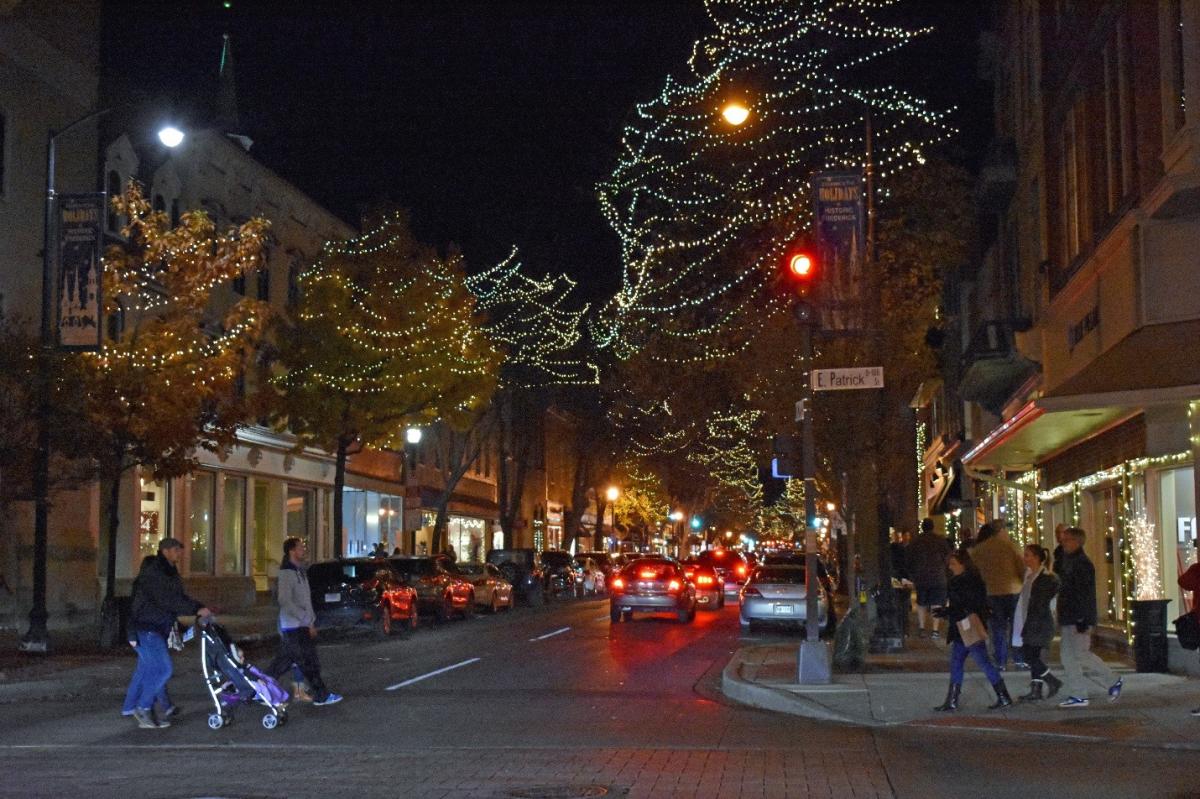 Being downtown is a magical experience this time of year. Lights twinkling overhead, storefronts overflowing with decorations and one-of-a-kind gifts, and shoppers bustling down the sidewalk – we can't recommend this one enough! To help you check names off your list all season long, many downtown businesses have adopted extended shopping hours seven days a week and are open late 'til 8pm Thursdays and Fridays, and 9pm every Saturday until December 22! To find out more about the special events happening each Saturday, visit downtownfrederick.org.
2. Your Chariot Awaits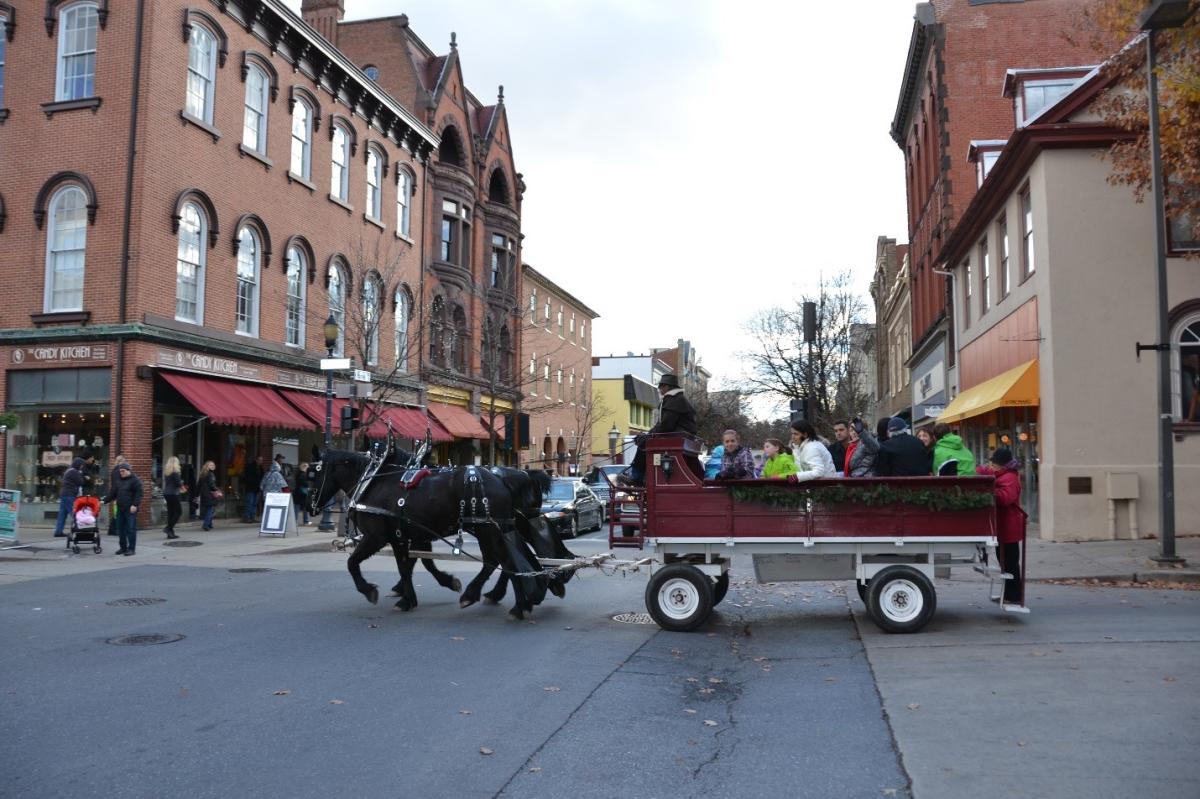 This holiday season, the City of Frederick Parks and Recreation Department offers horse-drawn carriage rides each weekend through the end of December. Rides cost $10 per person (children 2 and under are free on their parent's lap) and pre-registration is recommended. Led by a team of Belgium Draft Mules and/or a team of Percheron horses, carriage rides take you on 20-minute tour of beautiful Downtown Frederick.
3. Holiday Scavenger Hunt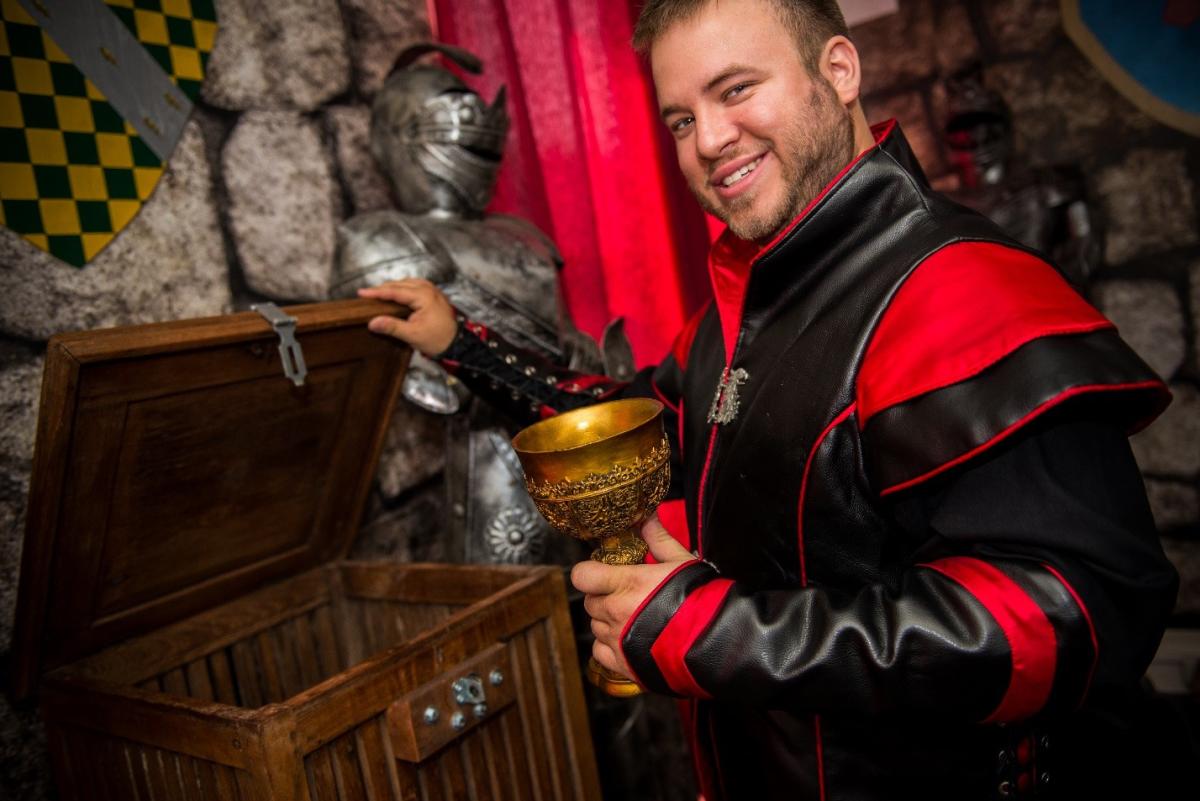 On Saturday, December 1, stop by Surelocked In Escape Games (5 N Market St.) to pick up a clue sheet and compete in the ultimate Holiday Scavenger Hunt! Featuring many downtown businesses, participants will be competing for the chance to win prizes, glory, fame and the auspicious title of "Holiday Champion" for Downtown Frederick! (Okay, so we're just kidding about the title, but there will be prizes…)
4. Bagpipes and Bunting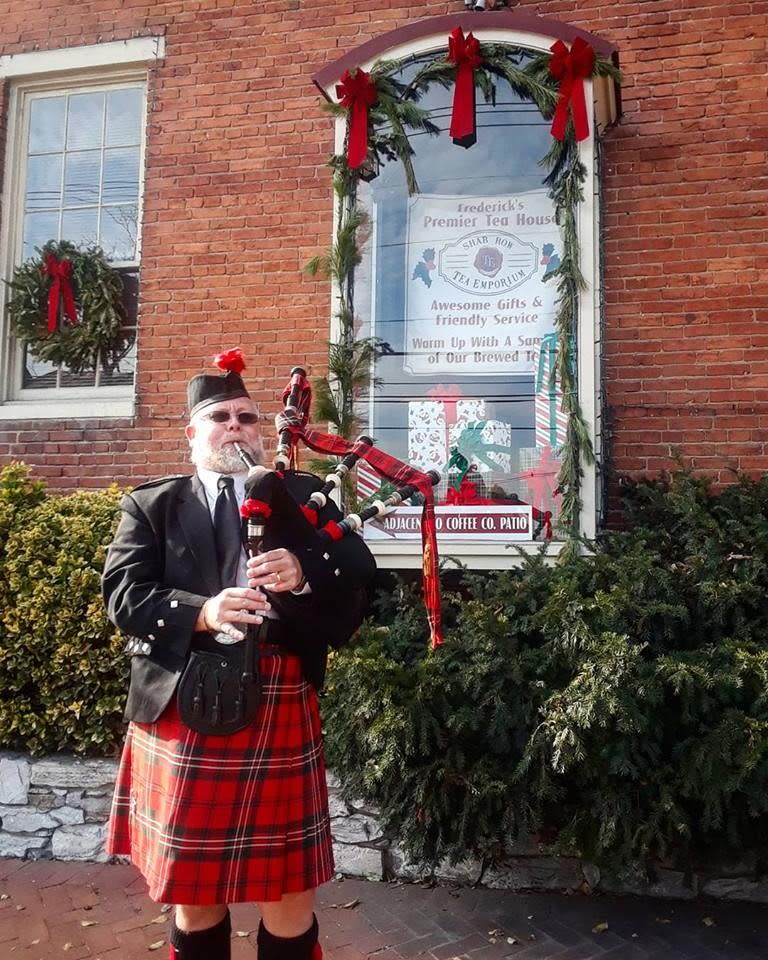 Everedy Square & Shab Row is a cluster of specialty shops, eateries and services housed in beautifully restored 19th Century buildings at the intersection of Church and East Streets in Downtown Frederick. With every building, window and doorway dripping in glittering lights and live greenery, its holiday charm is undeniable! To top it all off, you'll find holiday music throughout the day each Saturday of December.
(Photo by Shab Row Tea Emporium)
5. Makers and Markets and Art for All!   
If you're looking for something funky and new this year, check out one of the amazing holiday markets, open studios, or pop-up shops happening around Downtown Frederick. Just to name a few, you could drop by Attaboy Beer for their Winter Maker Market on December 9, visit the Frederick Department of Art for their annual Open Studio with Ms. Caitlin's School of Blacksmithing November 23-24, or check out the latest pop-up shop in the new Studio En Masse space at 141 N Market St.
6. We're on a Boat!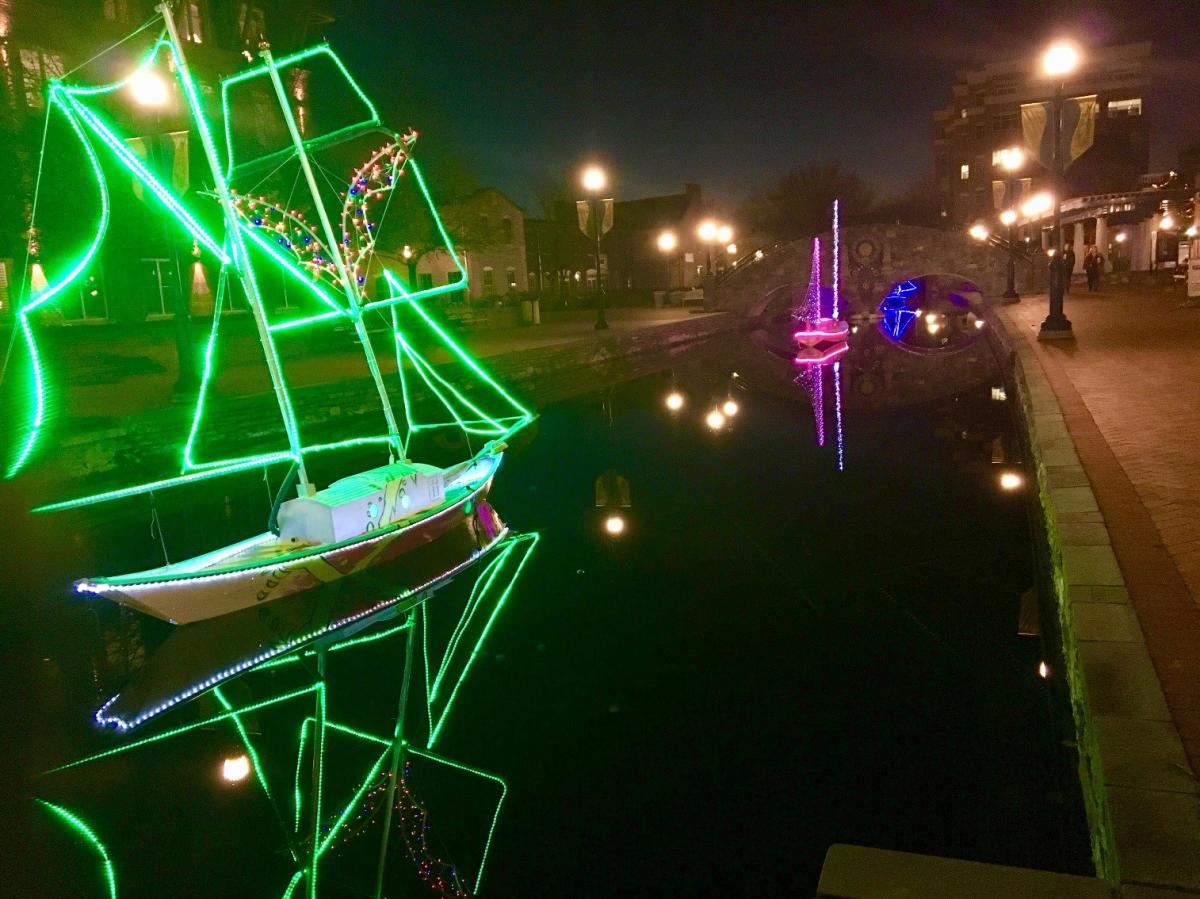 This season, Carroll Creek is all lit up thanks to the helping hands of Color on the Creek and twelve area businesses that sponsored the floating light installation, "Sailing through the Winter Solstice." These floating beauties will be around through February First Saturday (Feb 2), so skip on down to the creek and see what they're all a-"boat"!
7. Dogs Love Santa Too
On Saturday, December 15 Frederick County Bank will be hosting a familiar face with a furry twist! Santa Paws will be around to take pictures with your pets at their Square Corner location in Downtown Frederick.
(Photo by Frederick County Bank)
8. Shop, Eat & Be Merry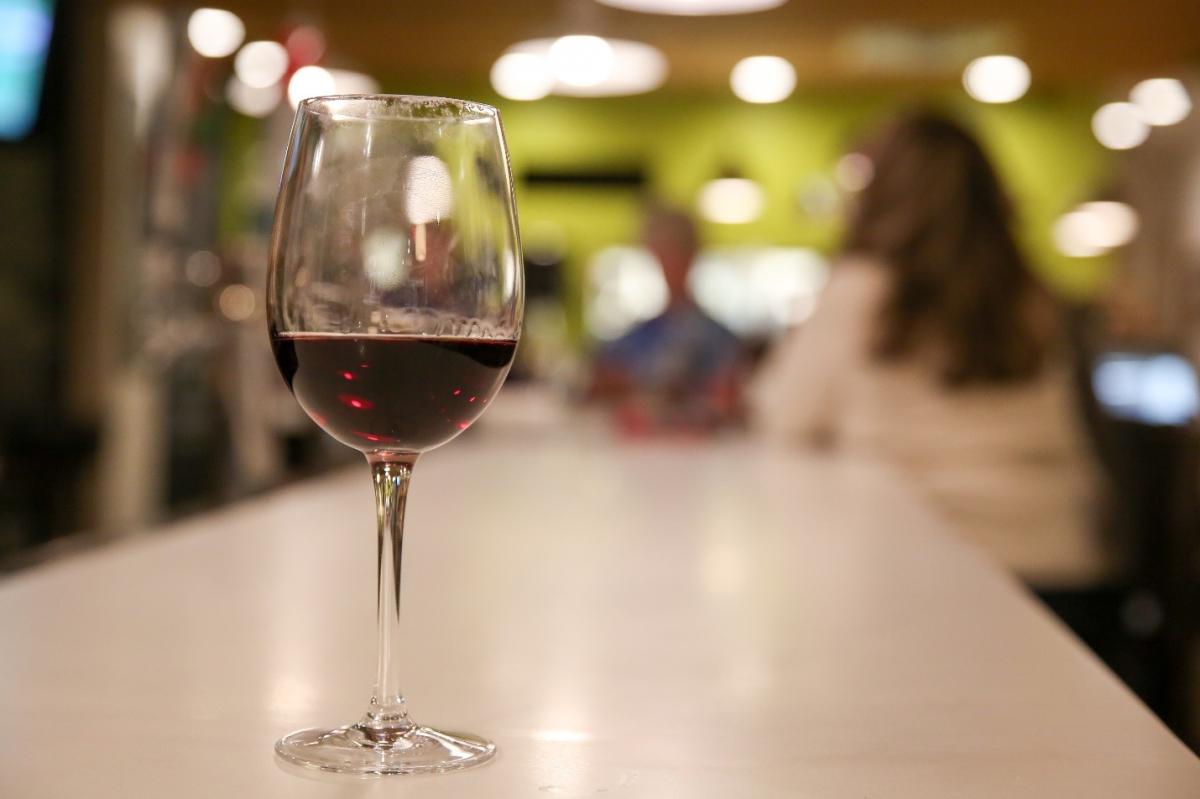 This one's not hard to explain… nothing says holiday cheer quite like an evening cozied up with friends in Downtown Frederick! Get the whole crew together for a DIY Food & Drink tour of your favorite spots. Appetizers in Everedy Square & Shab Row, an entrée along Patrick Street, then drinks and dessert on Market? Doesn't sound like a bad night to us!
9. We're High Society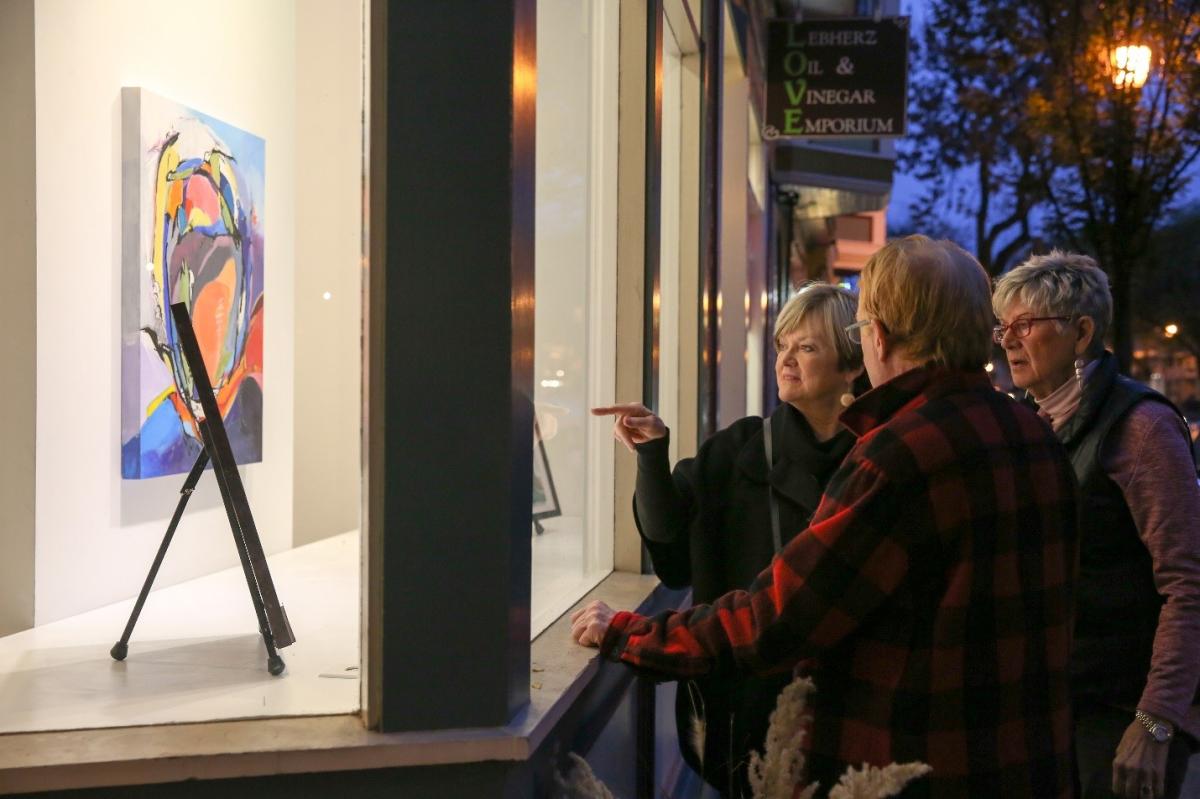 What better time to get all dressed up and enjoy a night on the town than during the holidays? The Weinberg Center for the Arts offers an incredible array of events all winter long and with more than 20 galleries and studios in Downtown Frederick, you can turn your evening into an art-loving extravaganza!
10. Play Tourist and Stay the Night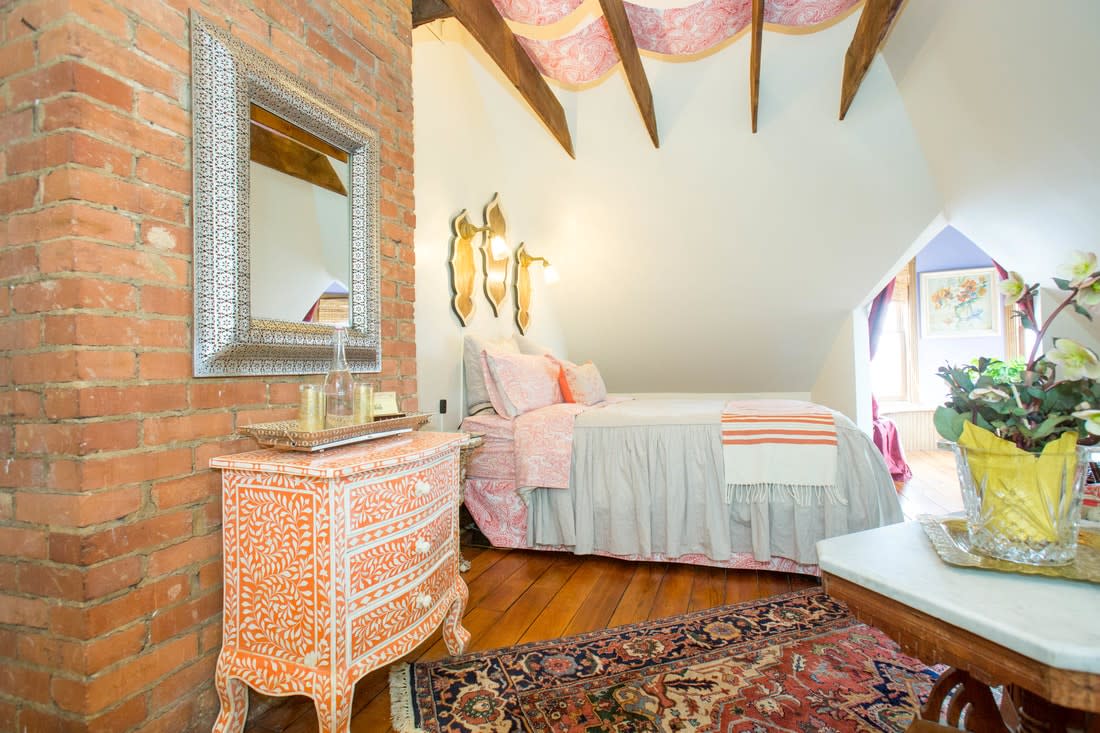 If you live nearby, see a different side of Downtown Frederick by treating yourself to a staycation. Best when combined with one of our nine itineraries shared above, a night out in downtown is that much sweeter when you're going home to a bed that you don't have to make! Find a place that suits your style and treat yourself to an overnight getaway that will leave you feeling ready to tackle the rest of the season.
(Photo by 10 Clarke Place)