Follow along with Dave and his friends as they taste their way through Frederick's many wineries on a private tour!
Back in October I finally pulled together a wine tasting tour of Frederick County with some good friends from my wine tasting group.  We have been tasting wine together for almost 30 years now. 
So, one day I was talking with one of my colleagues at the Frederick Visitor Center (by the way this is a great place and you should stop by some time) and I mentioned this really fun tour that my wine tasting group did through northern Frederick County.  Well upon hearing this, I was put to work writing this blog about our wine tasting experience, so here it is.
As most of you probably know, when you do something like this you have to start organizing.  My first step was to ensure the wine tasting group was up for the venture.  No problem there.  Next step was to call the good folks at Frederick Hops and Vines Tours.  Paul and Andrea, who own and operate Frederick Hops and Vines Tours, were more than helpful in suggesting a route and possible stops.  Since most of the folks were arriving from Montgomery County, I felt it was best to have a place for them to stay after we completed the tour.  I checked some of the hotels out in the Westview area and decided on the TownePlace Suites by Marriott.  I picked the TownePlace Suites because they had the amenities that allowed us to bring in a light dinner for after the tour and the staff was excellent.
Next step, do the tour.  We met around noon, on a Saturday, at the TownPlace Suites and off we went with Paul of Frederick Hops and Vine tours as our guide.  First stop was Links Bridge Winery just north of Woodsboro.   They had quite a table set up for our wine tasting experience.  We truly enjoyed the visit and wine.  Joan and Robert, the owners, were gracious hosts and gave some great insight into operating a vineyard.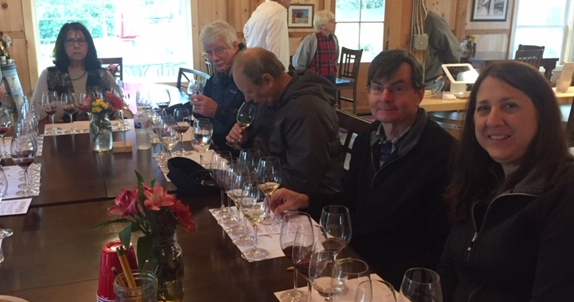 (That great table at Links Bridge)
From Links Bridge, it was off to Catoctin Breeze Winery in Thurmont.  As we drove from Links Bridge to Catoctin Breeze we enjoyed the Frederick countryside along with some of northern Frederick County's covered bridges.  When we arrived at Catoctin Breeze the staff was ready for our wine tasting experience.  And it was awesome.   Also, Theresa, my wife, had prepared a lunch that we consumed as we tasted a variety of wines.  If you do bring a lunch, just let the staff know in advance of your intentions.  From here we were off to Springfield Manor south of Thurmont and just a bit north of Frederick City.
Springfield Manor is a different type of venue than our first two stops.  It is not only a winery but also a distillery, brewery and a spot for weddings among other events.  It was quite active the Saturday we paid them a visit.  There was a band playing upstairs from the main bar and they were doing a tasting of some of their distilled spirits.  We did do the wine tasting, but in addition, some of us tried their lavender-infused gin.  Quite good!
After Springfield Manor, it was off to our last tour stop, New Market Plains Winery near New Market.  They have some really high-quality award-winning wines and, at this stop, we were given quite the overview of the winemaking process by Howard, one of New Market Plains co-winemakers.  We enjoyed listening to Howard's explanation of the winemaking process along with the history of the farm and New Market area.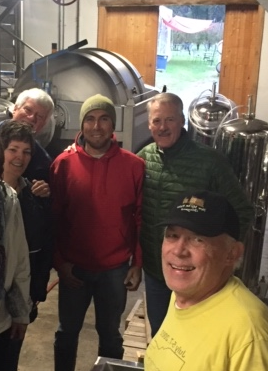 (Howard and some of the group)
Following New Market Plains it was back to the TownePlace Suites and dinner.  As I mentioned earlier, TownePlace allowed us to bring in a dinner that Theresa had prepared in advance.  We enjoyed the meal and spent quite a while talking about the experience and so many of the things we have done over the years.  Eventually, Theresa and I headed home and the others retired to their rooms.  But that is not the end of the story.
To wrap up a great weekend in Frederick we had Sunday brunch at JoJo's on East Patrick Street in Historic and Hip Frederick.  A great way to crown a truly fun time.