As a Frederick native, I'm constantly singing the praises of my beloved hometown. Though my husband and I spent several years in NYC for grad school, we returned to the area two years ago so I could work at the "Jewel of Frederick," the landmark Weinberg Center for the Arts. The choice to move back was an easy one -- not only is my family here, but we love the variety of shops, restaurants, and cultural experiences Frederick has to offer!
Today, we find ourselves sharing "our Frederick" with out-of-town friends and family. Many of them stop by for a weekend, intending to see D.C. but instead finding themselves charmed with Frederick. With lots of experience under our belts, we've developed a "perfect guest itinerary" for those lazy Saturdays spent introducing our loved ones to the whimsy and wonder of downtown Frederick.
ENJOY BRUNCH AT FAMILY MEAL
We are diehard Top Chef fans, and what better way to kick off the perfect Saturday than brunch by one of Frederick's own local stars? My husband is a fan of the shrimp and grits, but I'm pretty obsessed with their goat cheese omelette. Don't forget to introduce your guests to the secret donuts… we've tried flavors like s'mores, Captain Crunch, and Reeses Pieces!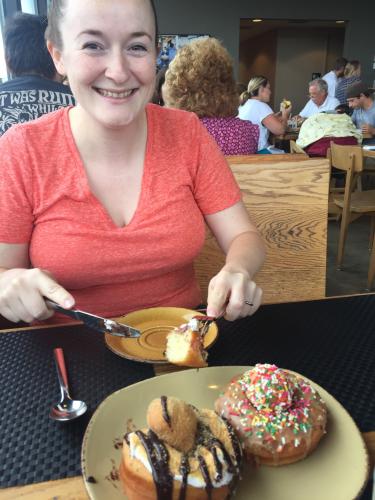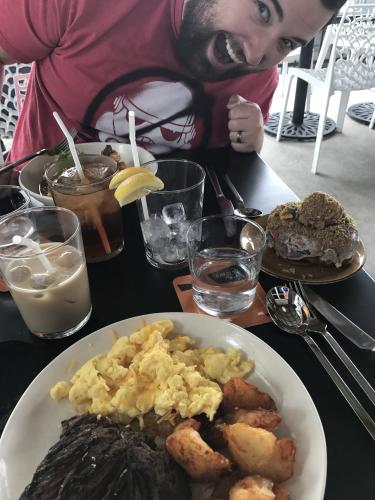 WALK IT OFF ALONG CARROLL CREEK
After all that food, it's time to stretch our legs and enjoy the great outdoors! Carroll Creek Linear Park is perfect for just that. And, when Color on the Creek is in full bloom, it's the loveliest little tour. We've found ourselves spending a solid hour stopping every few feet trying to take the perfect pictures of the waterlilies and lotus flowers!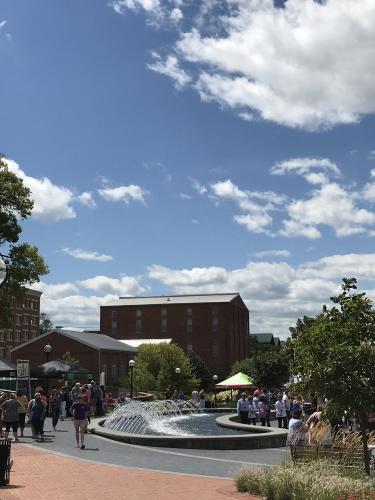 GRAB A DRINK AT ATTABOY
If we meander far enough down the Creek, we'll surprise our guests with a stop at Attaboy Beer. I'm partial to the Creek Life Citra, and our most recent guests enjoyed the Simple brew. (Don't forget to grab a board game or two to fill your time… Jenga is a personal favorite!)
THE MARKET STREET TOUR
(Okay, okay, we usually hit Patrick Street, too!) We love showing our guests the ins and outs of downtown Frederick. I particularly enjoy pointing out the displays of public art like the Angels in the Architecture, not to mention our famed clustered spires! In no particular order, we'll fill our afternoon with stops at The Perfect Truffle, Relish, Curious Iguana, Crissafulli's Cheese Shop, The Pop Shop, and Dancing Bear. We'll cap the whole thing off with an iced tea to go from Voila! (Dark Chocolate Orange is my jam.)
DINNER & DRINKS ON THE ROOF
Our guests are always requesting crab cakes, and Brewer's Alley delivers! We'll drag all of our shopping bags over to their awesome rooftop bar, taking in the view and enjoying drinks and small plates. Plus, dining at Brewer's allows me to show off my Frederick knowledge… it's fun trying to explain the National Clustered Spires High Wheel Race, which starts and finishes in front of that very restaurant.
AN EVENING AT THE THEATER
Of course, I can't let a guest visit and not show them where I work! After dinner, we're off to the Weinberg Center, which is housed in a restored 1926 silent movie palace. Depending on the day, we could be enjoying top-billed musicians, award-winning comedians, or family favorites. My husband is a volunteer at the Weinberg, too, so we have lots to talk about: the mighty Wurlitzer organ, our famed air conditioning story, and of course, all of our other upcoming shows!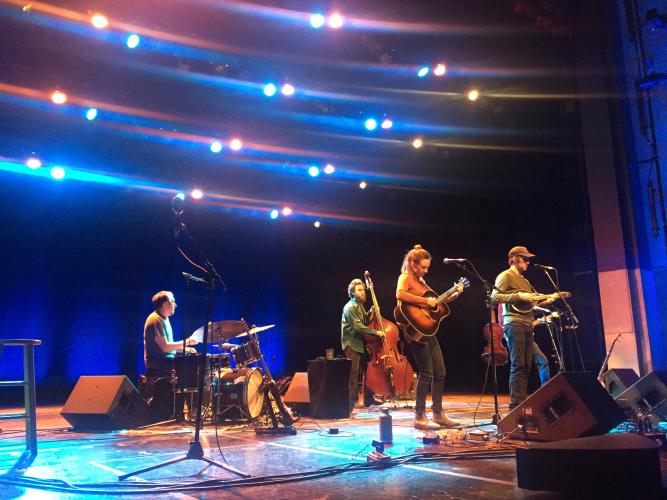 As you can see, our tour of Frederick is pretty whirlwind, but far from comprehensive! If there's time and interest, our guests always enjoy visiting Monocacy National Battlefield, Gambrill State Park, or one of the myriad of other outdoor experiences in the area. And that's not to mention all of the amazing shops and dining throughout the county. Suffice it to say, you'll have to find your own "perfect Saturday tour…" and it's not so easy to narrow down!