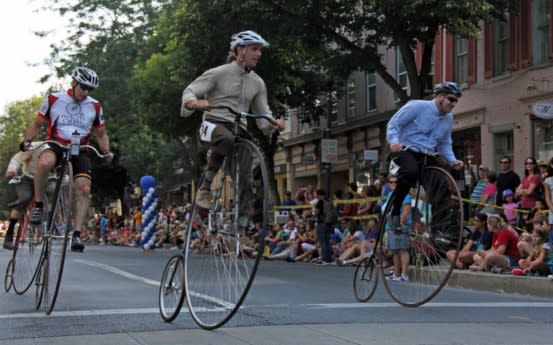 Imagine a bicycle with one gear and a seat that's nine feet off the ground…without brakes! These towering wheels will be speeding through the streets of Downtown Frederick in early August (cancelled for 2021) with riders from all over the country during the National Clustered Spires High Wheel Race!
Mounting a high-wheel bicycle is a challenge requiring a great deal of skill and balance. Once a person masters that feat, there's the danger of headers. The seat is positioned nearly over the front axle, which means that when the front wheel hits rocks or ruts or when hard braking is required, the rider can be pitched forward, usually head first.
You might be thinking, "who would possibly want to try this?" Wondering the same thing, we interviewed Nick, Allen, and Brian, some of the riders in this year's race, to find out how they got into this unusual sport and what keeps them riding!
When and where did you learn to ride?
Nick - I learned to ride more or less immediately, on March 19th 2005, when I happened to notice a penny farthing in the display window of the bike shop in Hancock Maryland. I asked about it and to my surprise, the guy let me take it for a test drive. I have a unicycle background, so getting going on the high wheel posed no problem. It was another five years before I bought a penny farthing of my own, as I made it a rule that I wouldn't make the expenditure until I sold my motorcycle. 
Allen - I taught myself to ride when I was a little older than four, not quite five, during my time in Houston Texas. I saw the neighborhood kids riding around and wanted to join in. So, when a boy left his bike unattended for a while, I jumped on it and begin pushing myself around with my feet on the ground. I accidentally pressed down on the pedal and, whoosh, off I went down the cul de sac. I hit the curb, almost hitting a parked car, when my brother rushed up to me to see if I was alright. I was laughing, that was the biggest thrill in my life (at least to that point) and I asked him how to stop the bike. After he showed me how to stop, I got back on and began riding up and down the street with ease.
Do you ride with any props and if so what are they?
Nick - I ride with two props which make me a bit easier to pick out in a crowd (of penny farthings), my old-time outfit with plus-fours and a vest and bowtie, and also my custom wooden handlebars, which I built with a steel tube hidden inside. This is pretty modest compared to some of the riders, who've fabricated their cycles from the ground up. 
Brian - I try to adhere to the suggested period style dress and continue to ride and race an original 1882 Columbia Expert. The most modern accessory is the addition of a water bottle holder each year.
What is the strangest thing that has ever happened to you while riding?
Nick - We get a lot of people taking pictures of us when we ride, and I'm always amazed by how many strangers want to have their pictures taken with us after the race. I've enjoyed the celebrity experience of being recognized in downtown Frederick as one of the penny-farthing guys, even though I didn't have the cycle with me and the race was still months away.
Allen - I saw the bare-breasted crazy lady riding down the C&O Canal.  My favorite bike-related past time is taking a group of my mentees, from Phoenix Bikes (https://www.phoenixbikes.org) down to the National Mall to photo-bomb as many tourist photos as possible. The crazier the costume/dress, the better.
Do you hold any awards or honors for riding?
Allen - I have several podium finishes from racing mountain bikes in the 90s. Mostly, I have the pictures of me riding that people send me. I have completed many fun rides, ridden in parades (not actually by legal means).
Brian - I am a 2 time winner of the CSHWR (2013, 2014). It is a challenging race usually held in warm summer weather with a whole host of very capable and well-seasoned riders. I've been involved in different disciplines of bicycle racing, but nothing can compare to the thrill of taking top honors in this event!
What do people say to you when they find out that you ride?
Nick - The most common questions addressed to me are "Is it hard to ride?" and "How do you get up on that thing?" 
I tell people riding is dead easy, and so is getting up, once you know about the footpeg on the frame. 
If they're still curious, I'll admit that there are a few things you must get used to, such as 
1) no brakes, 
2) no coasting, and 
3) having to flex your arm muscles all the time to counter the tendency of the pedaling force to make the big wheel turn to the left or right. 
When people ask me how I stop, I say "Either plan ahead or have an emergency." 
Allen - YOU RIDE???!?!?!? That is usually the first question. Then I am asked how far, just a couple of miles? How does your butt not hurt? Are you crazy? 
Brian - It usually involves explaining just what the bike is called or how it looks and that it's not a unicycle.  Most people are very impressed that I can just mount and dismount the bike under full control, let alone ride around town with automobile traffic.  I've had people reference the Clustered Spires High Wheel Race not knowing that I've a 5 year veteran of the event. I've heard so many quotes it's hard to recall the top 5. "Do a Wheelie", "Are you in the circus?" "Dayum!" I usually stop and explain the bike to younger inquisitive onlookers. It may the first and only time that they see one in person. I've been followed and repeatedly photographed by drivers.
What is your favorite thing about the High Wheel race in Frederick?
Nick - My favorite thing about the high wheel race in Frederick is that this town, thanks largely to the tireless efforts of Eric and Jeanne Rhodes, has adopted this unique tradition and made it welcome and popular. Since I spent my childhood in England, it carries a strong element of nostalgia for me. Without question, the extraordinary level of attention we receive when riding is quite a treat too. I remember thinking the first year that in that one day, I had been photographed more times than in all the rest of my life put together. It's a marvelous feeling. 
Brian - The atmosphere and the crowd that gathers for this event year after year. The enthusiasm flows around the entire course for hours long before and after the race takes place. Mustache corner, the water station on the backside of the course, the entire volunteer staff.....The City of Frederick really embraces the event in every aspect. The venue is awesome....The sponsors....wait, is that more than one thing?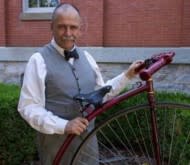 Nick Ackermann came here from England at age 10, and has since ridden 78,000 miles in 24 states on regular bicycles, plus an undetermined amount on unicycles and penny farthings, which he wishes he had gotten into at a younger age! He now lives near Frederick, and his favorite place to ride is the C&O Canal.  (Photo by Craig Shipp)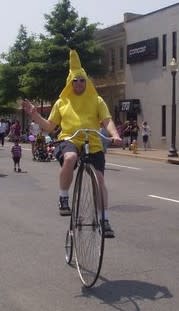 Allen Beland is 49 years old, married to Amanda Mackaye, with a 15 year old son.  He has lived in the DC area since the fall of 2000 and teaches high school photography at Yorktown High School.  He has wrenched in many bike shops over the years and is the lead volunteer at Phoenix Bikes.  Allen also coaches the Phoenix Bikes youth racing and development team. 
Brian Caron is 44 years old, living in Hagerstown, MD and has been a bicycle enthusiast since he was a teenager.  He has collected, restored, ridden, raced, and performed stunts on bikes of all shapes and sizes.  His personal collection spans over 100 yrs of ride-able cycling history from High wheelers to 60's era muscle bikes, 80's BMX, and current road and mountain bikes.