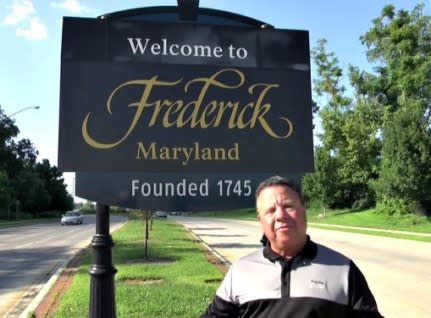 Those who know Frederick County as a golf destination are well aware that it is one of the great, affordable locations in America. Those who do not know it, will discover all of its beauty and charm in the February 2016 episode of the Traveling Golfer television show.
Frederick County, easily accessible from Washington, Baltimore and just about anywhere in Pennsylvania, combines many aspects of a visit to rural, rolling countryside. There are great golf opportunities at courses like Worthington Manor, Musket Ridge and Maryland National. There is rich history, from Francis Scott Key to the Civil War, fought on nearby battlefields such as Antietam, South Mountain, and Monocacy. Plus, the emerging dining and entertainment scene in Frederick provides even more attractions when the sun goes down.
"I've known about the great golf that exists in the Frederick area for years," said Traveling Golfer host Tony Leodora. "But it was not until we were immersed in the atmosphere of the area for a few days during the shooting of the show that I realized what a wonderful destination it is. If there was no golf in the area at all, I would still enjoy a trip to Frederick."
Chris Moore, known as "The Frederick Golf Guy" has been trying to inform people of that fact for quite some time. He is entering his 13th year as the area's official Pied Piper, bringing golfers to the area for stay-and-play golf packages.
"The show is much more than just another golf video," explained Moore. "It's kind of a lifestyle piece about this great area that I've called home for more than 23 years.  When you come to the area for a golf trip, you'll stay in one of Frederick's many fine hotels. The golf courses are only 10 to 15 minutes away.  More importantly, within 10 minutes of your hotel there are over 100 great restaurants and bars."
The episode from Frederick, Maryland began airing February 1 and runs throughout the month on the Traveling Golfer Network of websites, including The Golf Director Network. The Traveling Golfer also airs in its entirety as a scheduled weekly feature show on Comcast SportsNet and The Comcast Network throughout the Philadelphia, Mid-Atlantic, North Jersey and Pittsburgh markets. It can be seen on YouTube here:
eyJ0eXBlIjoidmlkZW8iLCJ0aHVtYm5haWxfaGVpZ2h0IjozNjAsInByb3ZpZGVyX3VybCI6Imh0dHBzOlwvXC93d3cueW91dHViZS5jb21cLyIsInRodW1ibmFpbF91cmwiOiJodHRwczpcL1wvaS55dGltZy5jb21cL3ZpXC81SGFxR3YzMUJLTVwvaHFkZWZhdWx0LmpwZyIsImh0bWwiOiI8aWZyYW1lIHdpZHRoPVwiNDYyXCIgaGVpZ2h0PVwiMjYwXCIgc3JjPVwiaHR0cHM6XC9cL3d3dy55b3V0dWJlLmNvbVwvZW1iZWRcLzVIYXFHdjMxQktNP2ZlYXR1cmU9b2VtYmVkXCIgZnJhbWVib3JkZXI9XCIwXCIgYWxsb3dmdWxsc2NyZWVuPjxcL2lmcmFtZT4iLCJwcm92aWRlcl9uYW1lIjoiWW91VHViZSIsInZlcnNpb24iOiIxLjAiLCJ0aXRsZSI6IlRoZSBUcmF2ZWxpbmcgR29sZmVyICBGcmVkZXJpY2ssIE1hcnlsYW5kIiwiYXV0aG9yX25hbWUiOiJUaGVUcmF2ZWxpbmdHb2xmZXJUTCIsImhlaWdodCI6MjYwLCJhdXRob3JfdXJsIjoiaHR0cHM6XC9cL3d3dy55b3V0dWJlLmNvbVwvdXNlclwvVGhlVHJhdmVsaW5nR29sZmVyVEwiLCJ0aHVtYm5haWxfd2lkdGgiOjQ4MCwid2lkdGgiOjQ2Miwib3JpZ2luYWxVcmwiOiJodHRwczpcL1wvd3d3LnlvdXR1YmUuY29tXC93YXRjaD92PTVIYXFHdjMxQktNIiwib3JpZ2luYWxXaWR0aCI6NTQwLCJvcmlnaW5hbEhlaWdodCI6MjYwfQ==
As part of every Traveling Golfer show there is the additional feature, "Tech Talk", hosted by Tour Edge Golf President Dave Glod. With years of experience as a clubmaker, Glod presents an inside look at the research and development of high-quality golf equipment.
Responding to golfers' never-ending demands to learn more about interesting golf courses and golf resorts across the country and around the world, well-traveled host Tony Leodora created the Traveling Golfer so he could take viewers on video trips to some of the most exciting golf locations. The show won first place for golf television broadcasts in the prestigious International Network of Golf Awards, presented at the PGA Merchandise Show in January.
The Traveling Golfer is a series of monthly shows hosted by Leodora, who has 15 years of experience in televised golf. The featured destination stays on the website for one month, before being replaced by a new show. The old shows are archived for continued viewing.  Past episodes also can be found on Xfinity On-Demand from Comcast.