Visit Frederick Escort Notes
Planning a motorcoach tour to Frederick County? You'll want to keep your group entertained with fun facts, history and more along the way. We have made getting to know Frederick a little easier so that you will be able to share information with your group like an expert.  Check out our resources page for additional information.
Fast Facts
Frederick County is the seventh most populated county in Maryland with a population of 245,322, as of the 2010 census.

The County is the largest county in Maryland, with an area of 667 square miles and the county seat is the City of Frederick.

The City of Frederick is home to 69,479 people and is the second largest Maryland city (after Baltimore).

The City of Frederick was 1745 and the County in 1748. The area was settled by German and English immigrants.migrating from southern Pennsylvania.

The county is home to 5 designated Maryland Main Streets and 12 unique municipalities. All offer beautiful scenery, small town charm and interesting architecture.

There are 4 National Parks (Catoctin Mountain Park, Monocacy National Battlefield, Appalachian National Scenic Trail, C&O Canal National Historic Park) and 5 Maryland State Parks located right in our own backyard.

There's always room for you at Frederick County's more than 2,500 hotel rooms.
Ten little-known facts about Frederick County
Francis Scott Key, author of the Star Spangled Banner was born in Frederick County and is buried under his monument in Mount Olivet Cemetery.

Cunningham Falls State Park has the highest cascading waterfall in Maryland, standing at 78-feet.

Frederick is home to Maryland's first organic distillery, cidery, farm brewery, and meadery.

Immediately following nearby Civil War battles, Frederick was transformed into "one vast hospital" with churches and large buildings used as makeshift infirmaries , where thousands of soldiers were treated. Learn about this story at the National Museum of Civil War Medicine.

Maryland has 6 historic covered bridges, 3 of which are in Frederick County. Explore these bridges on the Covered Bridges Driving Tour.

St. Elizabeth Ann Seton, the first American-born Saint, came to Frederick County in 1809.  Her remains are entombed in Emmitsburg in the National Shrine of St. Elizabeth Ann Seton.

The National Shrine Grotto of Lourdes in Thurmont, on the campus of Mount St. Mary's University, is a beautiful mountain shrine features one of the oldest American replicas of the Lourdes shrine in France.

The Monocacy Aqueduct has seven arches and is the largest structure on C&O Canal.

The 9/11 memorial entitled "To Lift a Nation" recreates the now-famous photo of three firefighters raising the American flag at Ground Zero. The monument stands 40 feet high, six feet deep and eight feet wide and each of the three firefighter's statues weigh more than 5,000 pounds.

Monocacy National Battlefield is the site of a one-day battle in July 1864 that is known as the "Battle that Saved Washington". Union General Lew Wallace's fierce fighting against Confederate General Jubal Early bought enough time to reinforce the nation's capital. Lew Wallace would go on to write Ben-Hur, published in 1880.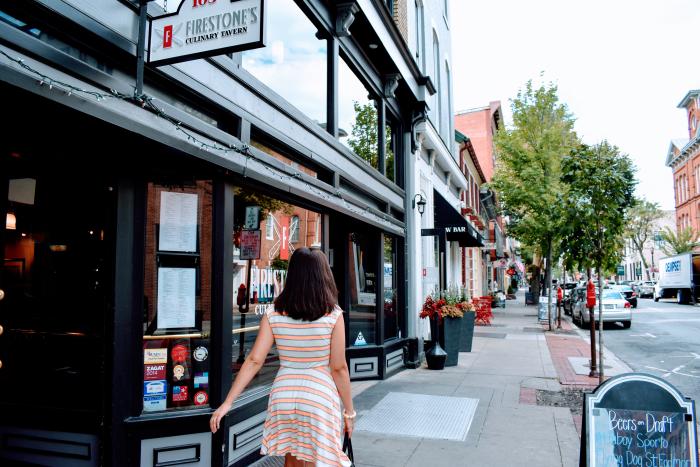 Recent Accolades
2019 – 10 Best Small Towns to Visit This Christmas – Travel Channel
2019 – Top Small-Town Getaways Your Kids Will Actually Enjoy – Family Vacation Critic
2019 – 10 Best Cities for People Who Are Obsessed With Fall – Livability
2018 – World's Most Beautiful Canals – American
2018 – Best Small Beer Cities – Thrillist
2018 – Most Charming American Towns – MSN
2017 – Most Scenic East Coast Cities – Expedia
2017 – Best Small Town Main Streets in America – Country Living
2017 – Best Main Street Shopping Districts – MSN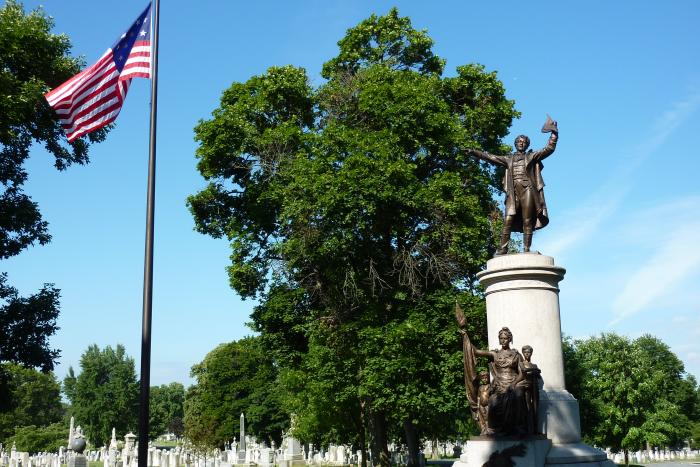 Famous Faces of Frederick
Barbara Fritchie, Civil War heroine
Francis Scott Key, author of the Star Spangled Banner
Thomas Johnson, first Governor of Maryland
John Hanson, elected as President of the United States in Congress Assembled (1781)
Roger Brooke Taney, United States Supreme Court Justice
Claire McCardell, American fashion designer of ready-to-wear clothing in the 20th century