Experience the energy in Downtown Frederick on a beer crawl through the Carroll Creek Brewing District!
Located at the east end of picturesque Carroll Creek Linear Park, this cluster of breweries provides the perfect opportunity to enjoy a variety of drinks and atmospheres.
Be sure to experience the rotating group of food trucks at each of the breweries, as Frederick's food truck scene has taken off in recent years.
---
On a beautiful afternoon, claim a picnic table under a sail shade at Attaboy Beer. (Visiting during colder months? The beer garden is heated!) You'll find a variety of rotating beers on tap and a food truck every day they're open, but patrons are also welcome to bring their own food.
Creativity is the heartbeat of the brewery, so do yourself a favor and try one of their weekly experimental beers. Attaboy offers three seating areas: the taproom, garage, and beer garden. Kids are welcome, and dogs can accompany you in the garden and garage.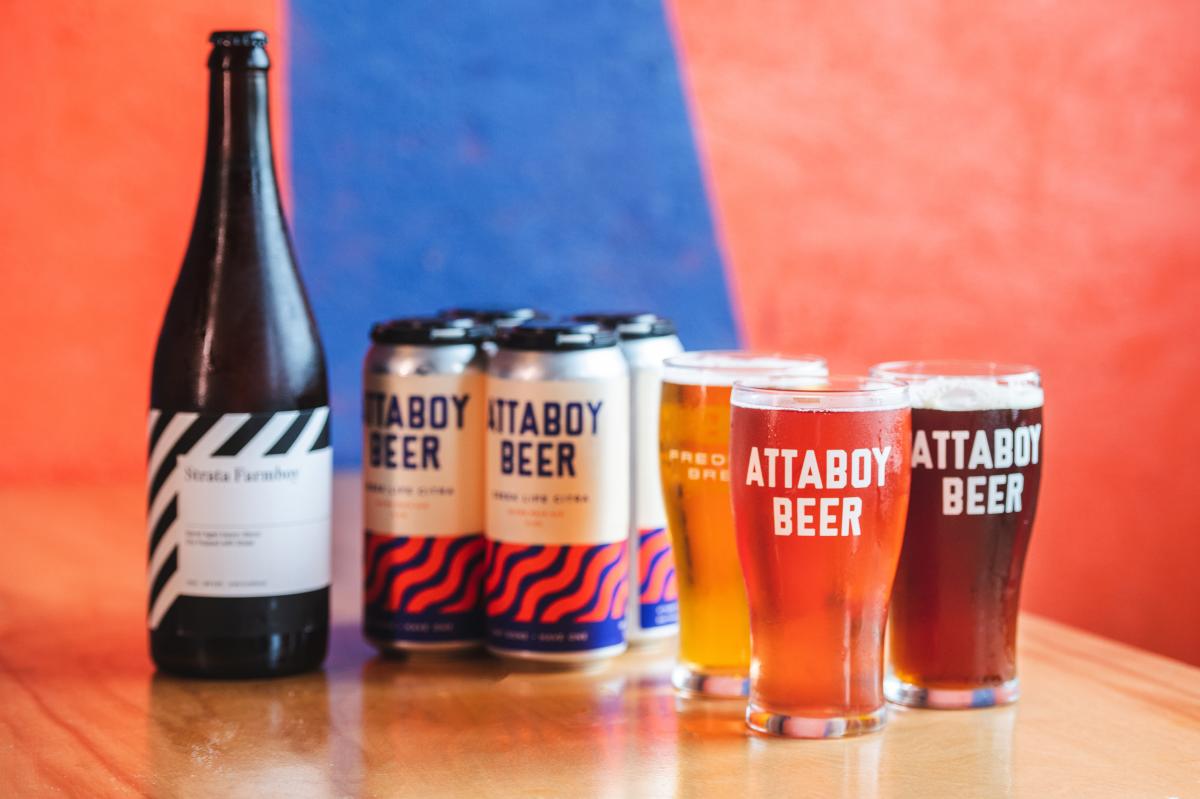 ---
Fans of small-batch brews will enjoy checking out Attaboy Barrel House, where tart, fruity, and funky beers are aged in wine barrels. This 6,500-square-foot modern taproom and production space is used for weddings and private events, but visitors are welcome to pop into the taproom and beer garden on Saturdays from 12-10 pm.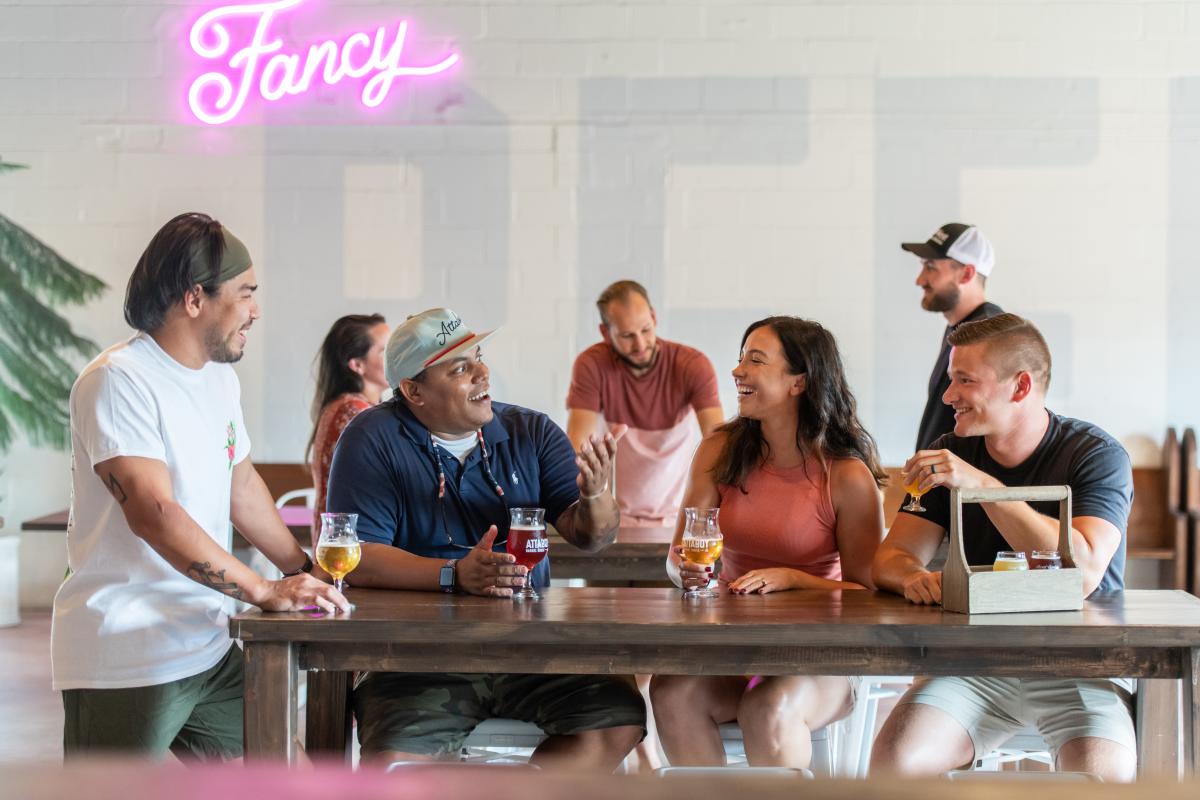 Play a game of shuffleboard while you're there! Two things of note: the interior of Attaboy Barrel House isn't kid or dog-friendly, but dogs are allowed outside. If you want to try Attaboy's barrel-aged beers but aren't planning to visit on a Saturday, you can find two lines on tap at the main brewery just around the corner.
---
Head across Carroll Creek and take in the sprawling brick building on your left. Impress your friends with a bit of trivia: This historic structure was once home to Union Manufacturing Company, the first company in the world to manufacture nylon hosiery!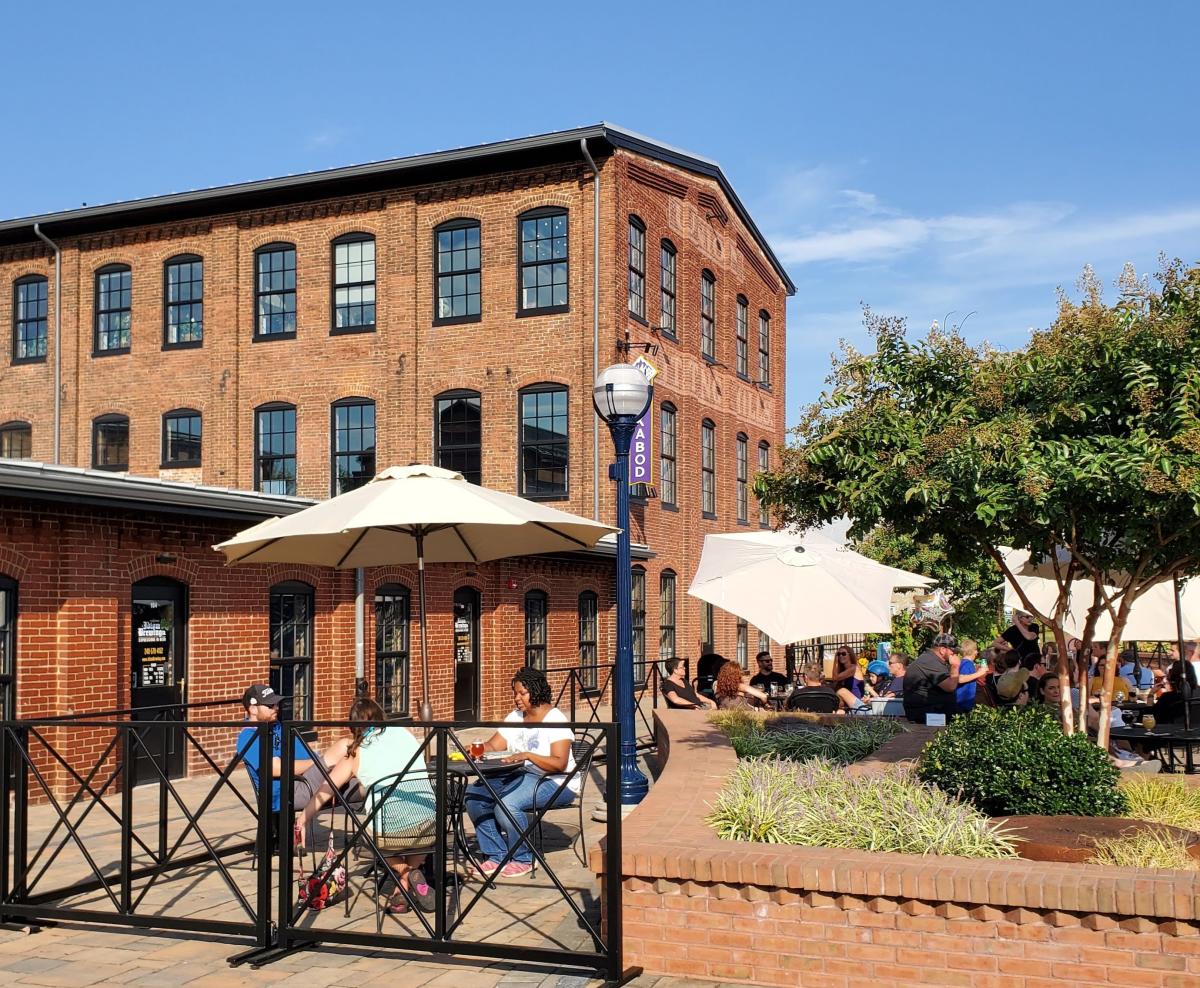 A short walk will land you at the base of a larger-than-life tribute to fashion designer Claire McCardell, a Frederick native.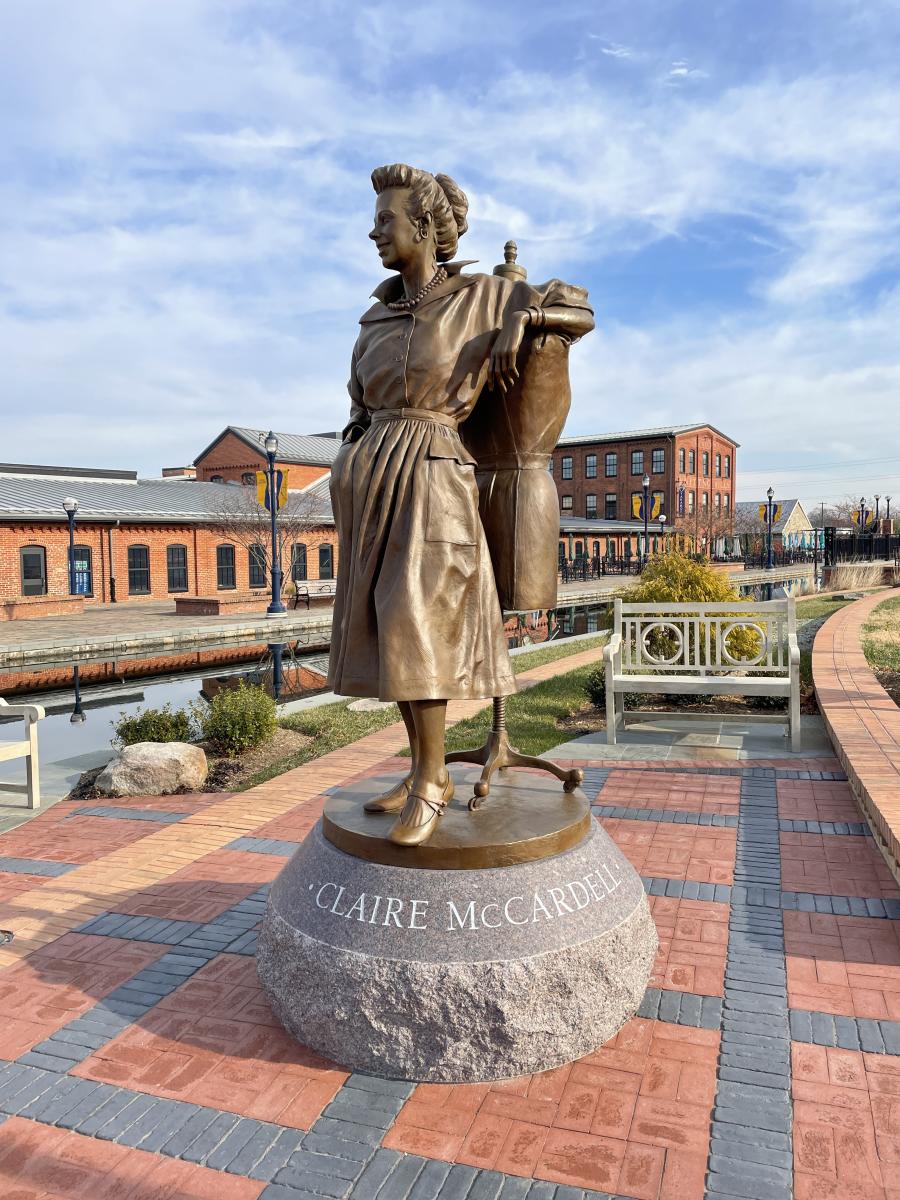 Back to the beer—the mill building is now home to two popular breweries, both of which offer outdoor seating along the creek.
While you'll find a variety of flavors at Idiom Brewing Company, they're known for their hoppy IPAs and fruited sours. Try their popular "It's the Berries" sour. There's ample seating inside and out, and kids and dogs are welcome in both spaces, honoring the brewery's goal of being a place where people from all walks of life are welcomed.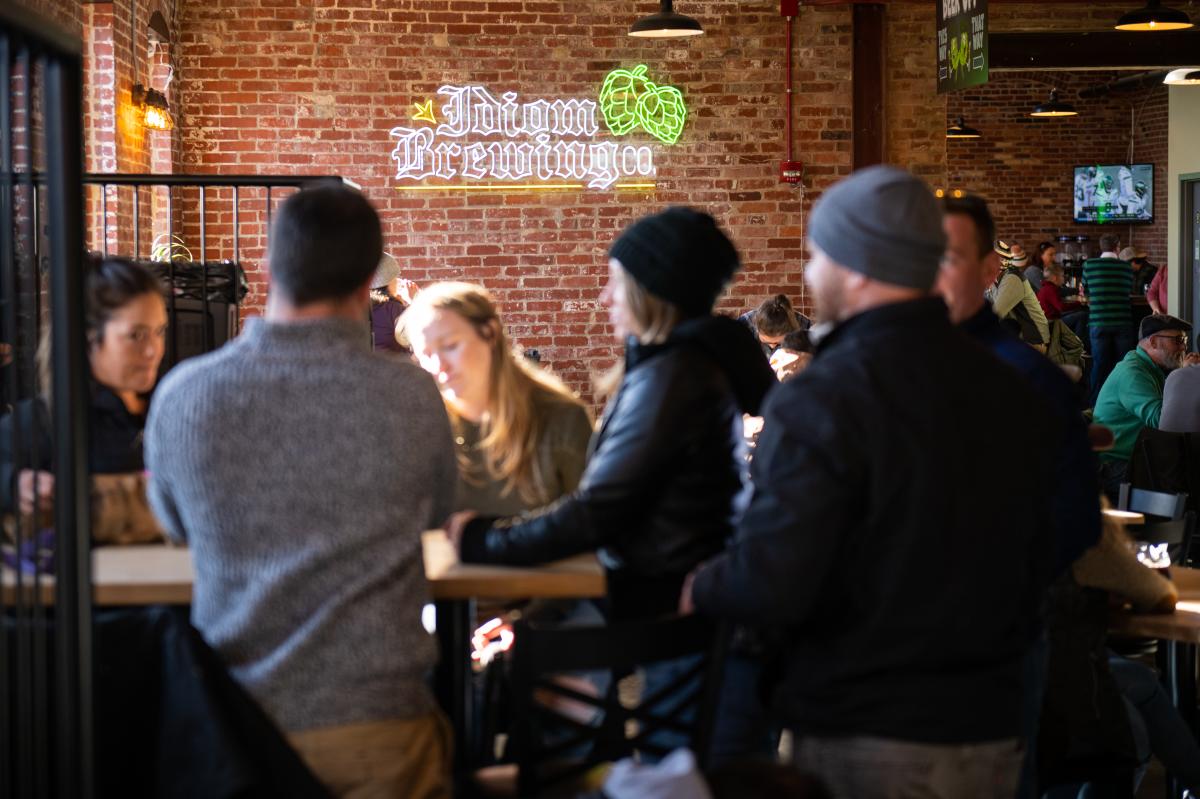 Guests can bring their own food, but you'll find a food truck parked behind the brewery every day of the week. There's almost always something going on at Idiom, from open mic night to trivia to live music.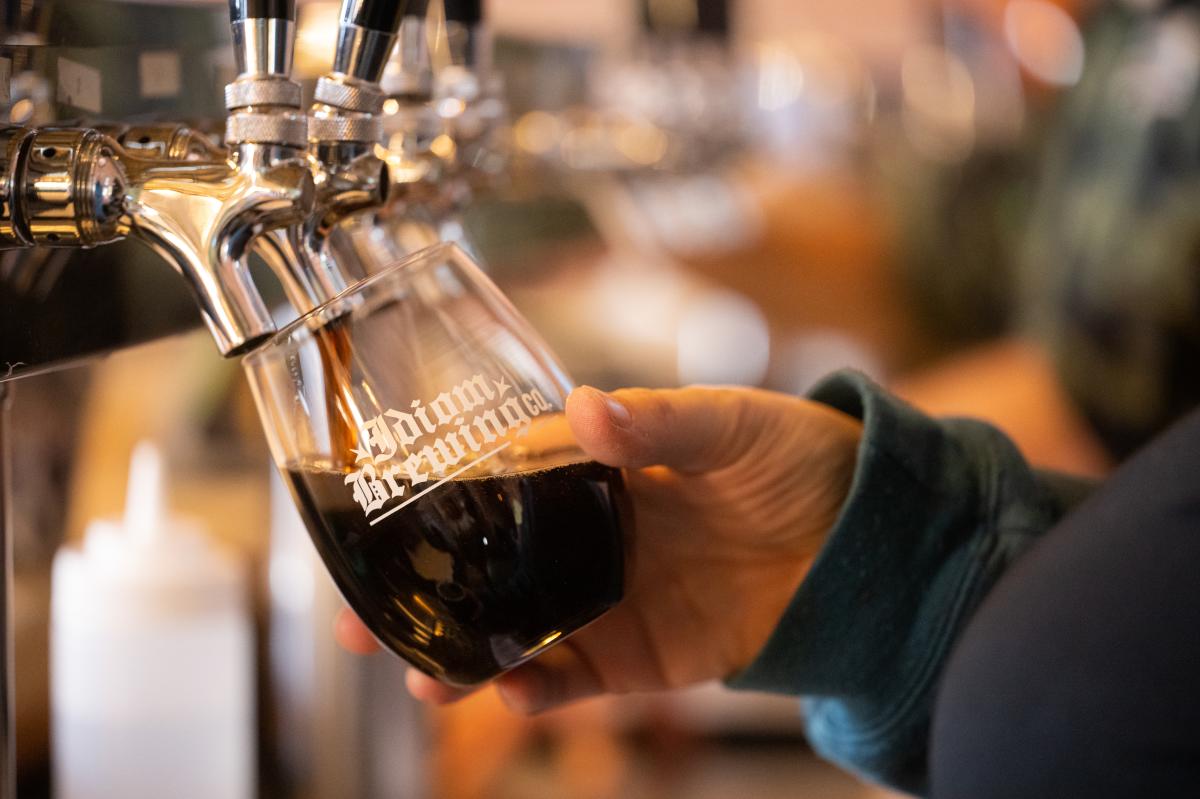 Every Friday at Idiom is "First Responder Friday"—nurses, EMTs, firefighters, and police officers get 30% off full pours with proof of badge. The brewery is open seven days a week.
---
Steinhardt Brewery ticks off many of the same boxes as Idiom (allows dogs inside and out, has rotating food trucks, etc.), but it's worth visiting for its distinctive beers and beer hall-like interior. The owners celebrate their heritage by crafting Bavarian and Belgian-style beers, such as the "Three Wise Men," a traditional Belgian-style Tripel Trappist ale.
You'll also find stouts, lagers, and Flemish-style ales, among other offerings. Can't decide what you want? Order a flight! Head to the alley for a delightful drinking spot. You'll feel as though you're in Europe as you sip old-world-style brews under string lights. Steinhardt is open Weds-Sun. 
---
While you can easily build a day around visiting the Carroll Creek Brewing District, it would be a shame to miss out on the fun awaiting you on the other side of East Street. Your walk will take you past public art, restaurants, ice cream shops, and McClintock Distilling, Maryland's first and only organic distillery. And don't forget to visit the many other incredible breweries spread around Frederick County. 
---
Visit these other stops along Carroll Creek! 
---