Born in Frederick, Maryland in 1905, Claire McCardell moved to New York as a young woman and pursued a career in the fashion industry. The impression she made and the designs she innovated became a part of American fashion history. Her legacy in the fashion world continues to be celebrated today. 
In October 2021, the Frederick Art Club dedicated a statue to McCardell along Carroll Creek. In 2023, McCardell's work is featured in "Stitches Through Time: Women's Work from Farm to Fashion" at the Museum of Frederick County History. Let's take a look at the places in Frederick that shaped a budding young designer. 
---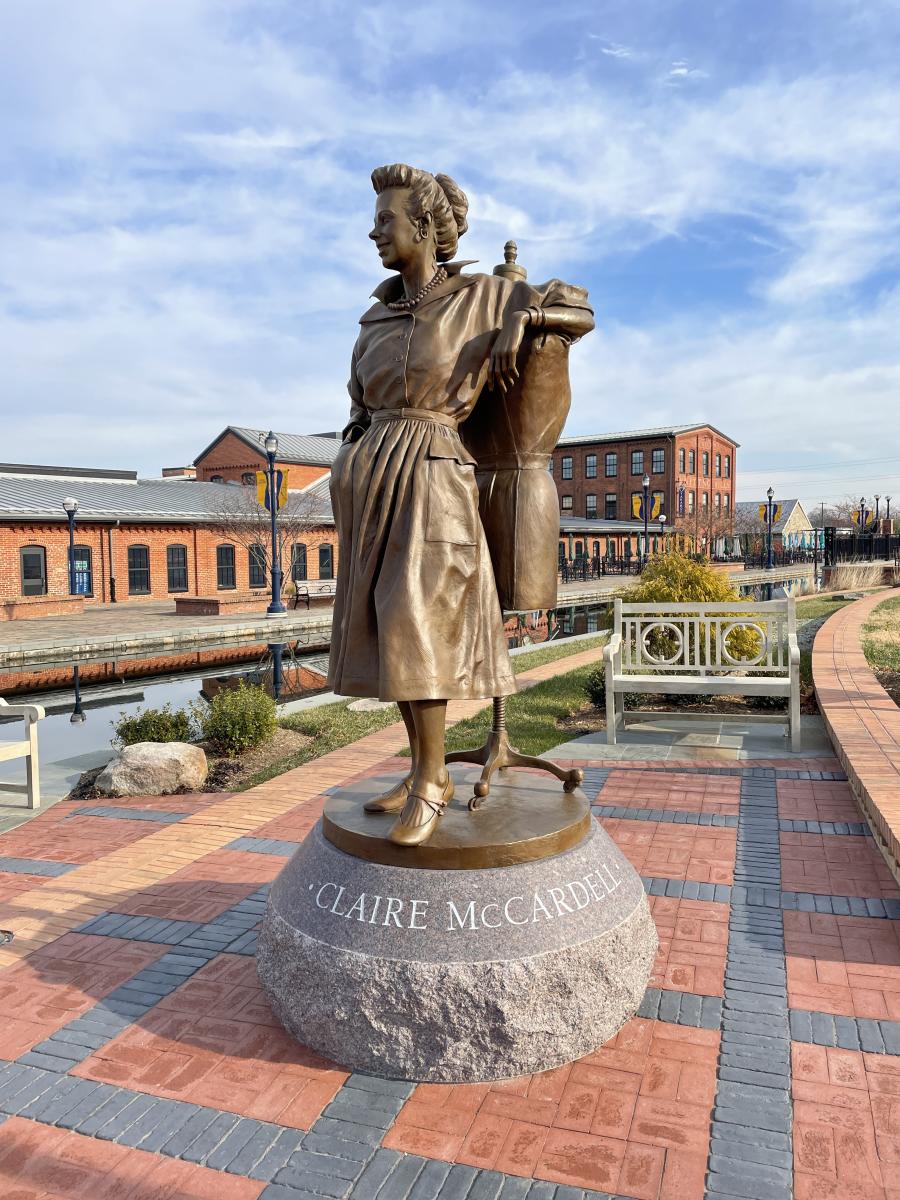 Claire McCardell spent her days in the first two decades of the 20th century playing with her brothers and friends on the tree-lined streets of Frederick's Rockwell Terrace neighborhood. But her obsession was watching her family's seamstress make clothing for the family and thumbing through fashion magazines for the inspiration to make her own.
McCardell was born in 1905, the oldest of four children. Her father, Adrian, was a prominent member of the Frederick community in the early 20th century. He made a comfortable home for his family in Rockwell Terrace, a planned neighborhood just west of Downtown Frederick. Growing up, young Claire McCardell found a passion in clothing and their design. She watched a seamstress, Annie Koogle, make clothing for the family and a lifelong passion began. 
She sought to begin a career in fashion by attending design school in New York City, an idea her father initially vetoed. Instead, she walked the few blocks north to the campus of Hood College, a girl's school that had been founded in 1893 and, in McCardell's short lifetime, had moved to a small campus on the outskirts of Frederick just a few blocks away from her family home.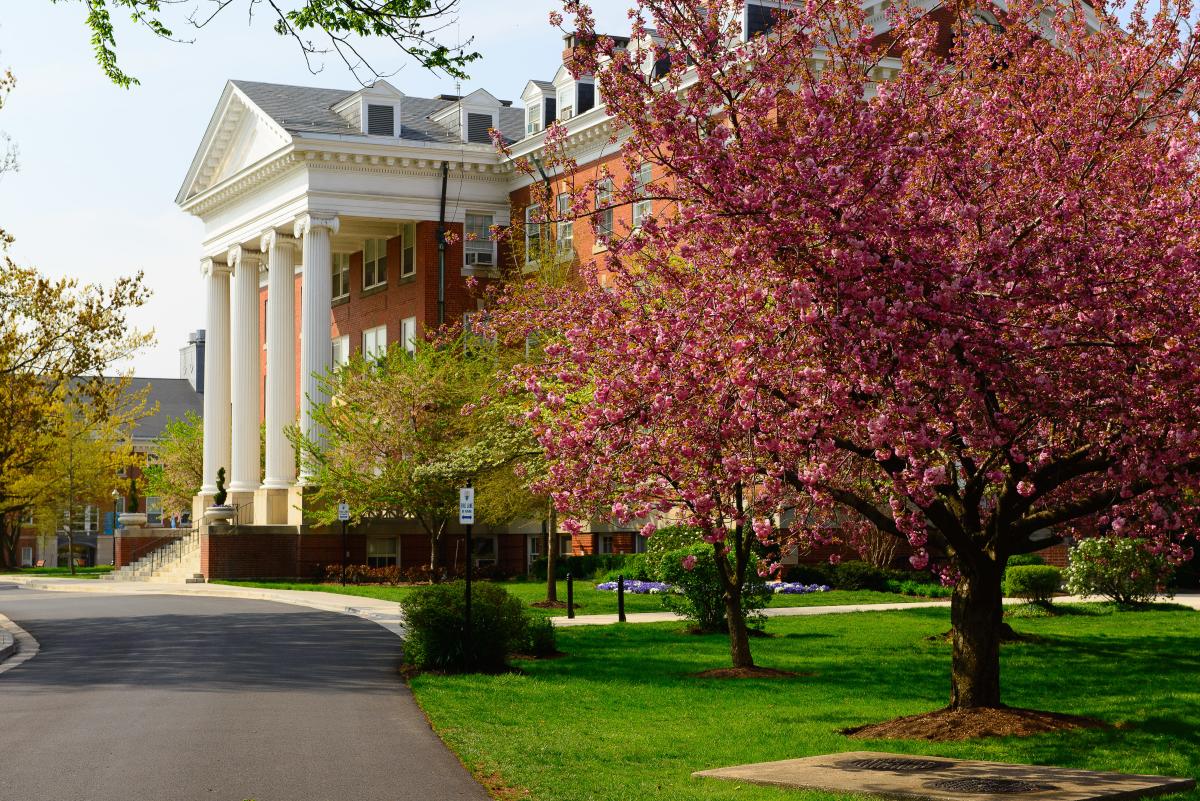 McCardell attended Hood College for two years, focusing her studies on home economics. But she had bigger aspirations than those she could find in her hometown. After two years at Hood, she finally convinced her father to allow her to attend the Parsons School of Design in New York. 
The budding fashion designer went to school in New York and then Paris. Her career in the fashion world got off to a rocky start, but after struggling for several years she found a place with a fashion brand in New York in 1930. Two years later, she began working for a company called Townley Frocks and it was with this company that the legendary career of Claire McCardell began. 
Over the subsequent two and a half decades, Claire McCardell ascended through the fashion world. Her reward: the Claire McCardell name on the clothing of her design. McCardell influenced the development of women's clothing that focused on comfort, usefulness, and flexibility. The wardrobes of American women in the 1940s and 1950s were reshaped in the image that McCardell created.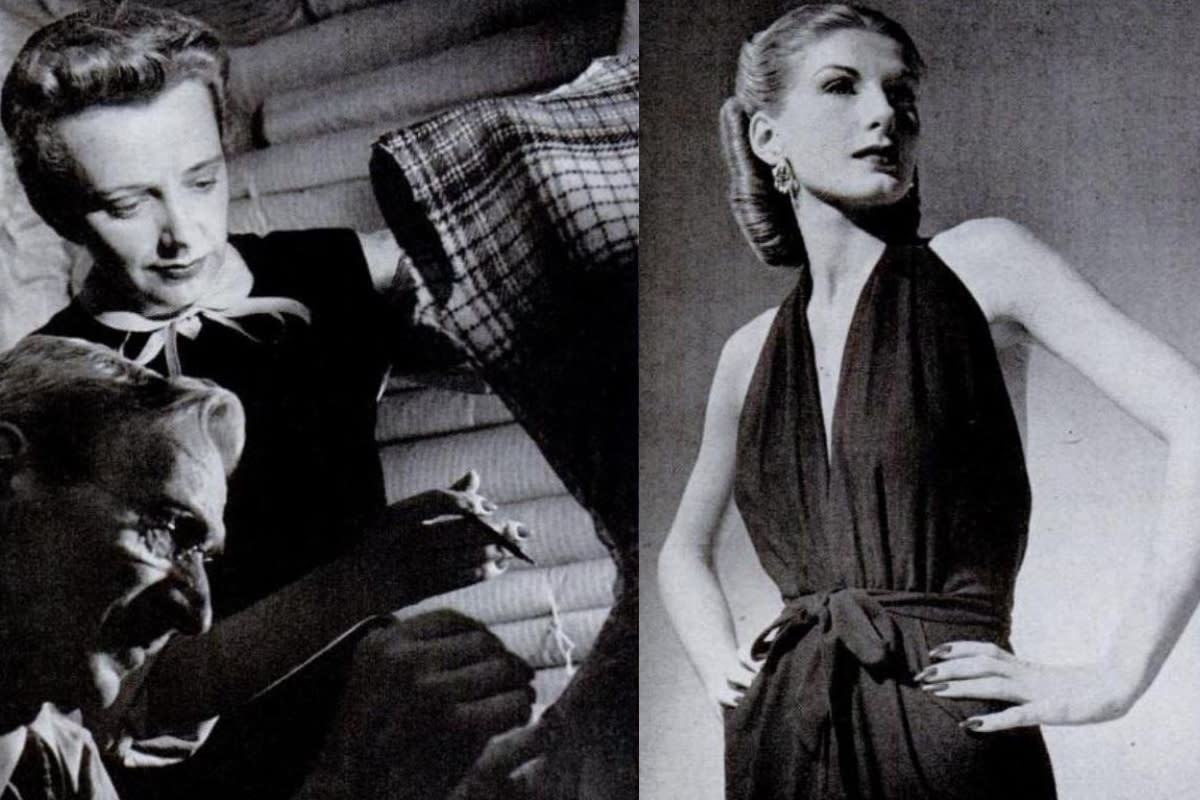 Claire McCardell and one of the dresses she created - LIFE Magazine, May 8, 1944
Her influence gained her a worldwide reputation in the fashion world. But Claire McCardell's work transcended fashion. In 1950, she received the Woman of the Year award from the National Women's Press Club - the award was given to her by President Harry Truman, First Lady Bess Truman, and their daughter Margaret Truman. 
McCardell's life and career ended tragically in 1958. That year, she was diagnosed with terminal colon cancer. Despite her diagnosis, she worked hard and while in great pain, to finish the projects on her drawing table. She succumbed to her illness on March 22, 1958. She was 52 years old. 
Her funeral was held on March 24, 1958, at Trinity Chapel in Downtown Frederick. Later that day, McCardell was interred at the historic Mount Olivet Cemetery on a hillside just south of downtown Frederick.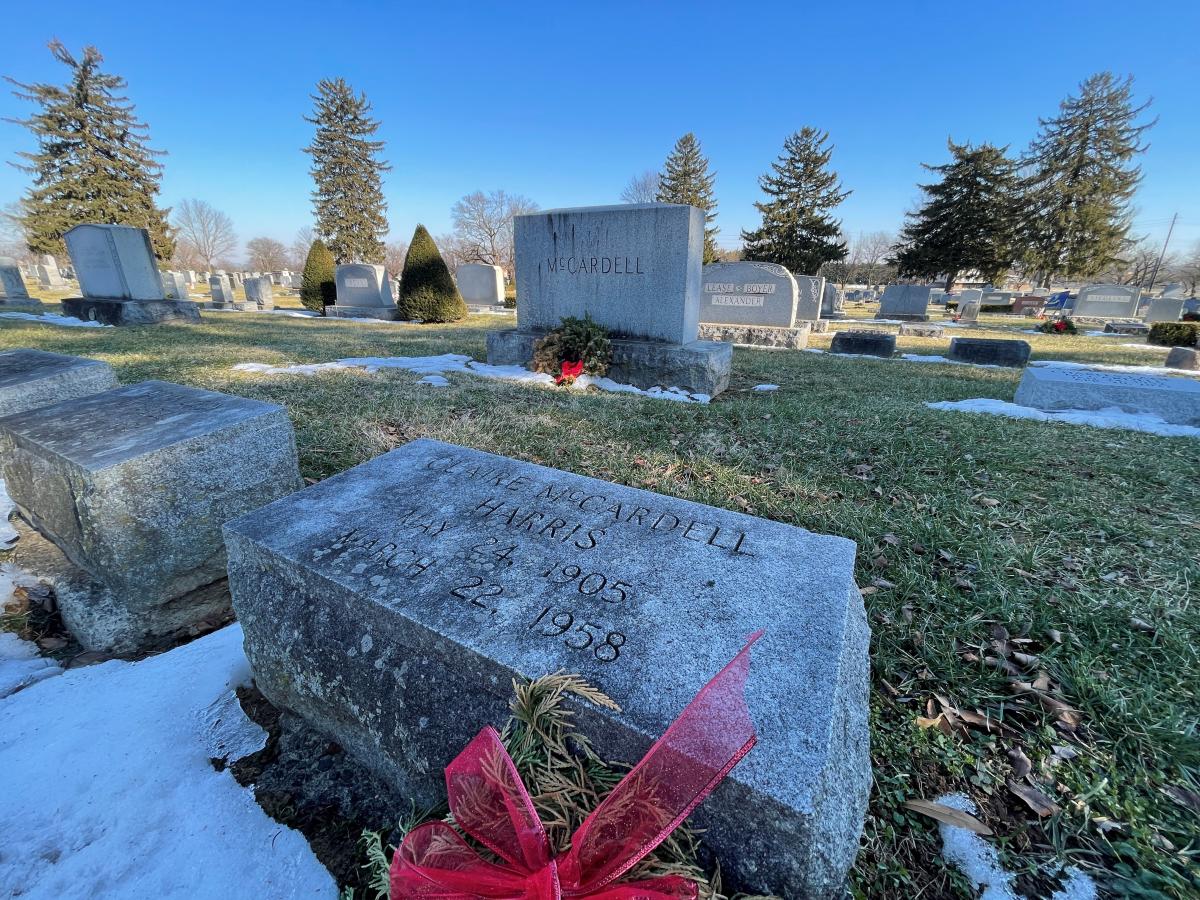 Though not a household name today, Claire McCardell's influence on the design of women's clothing continues today. In the decades since her passing, McCardell's ideas still resonate. The girl who grew up with a love of clothes made an immeasurable impact on what women wear today, from dresses with pockets to women's sportswear. 
In the late 2010s, the Frederick Art Club sought to create a more tangible monument to Claire McCardell's important legacy. Artist Sarah Hempel Irani, a graduate of Hood College, designed the larger-than-life statue of McCardell. In October 2021, the statue of this Frederick-native was unveiled to great fanfare - a lasting monument to an American woman who changed the way we look at clothing.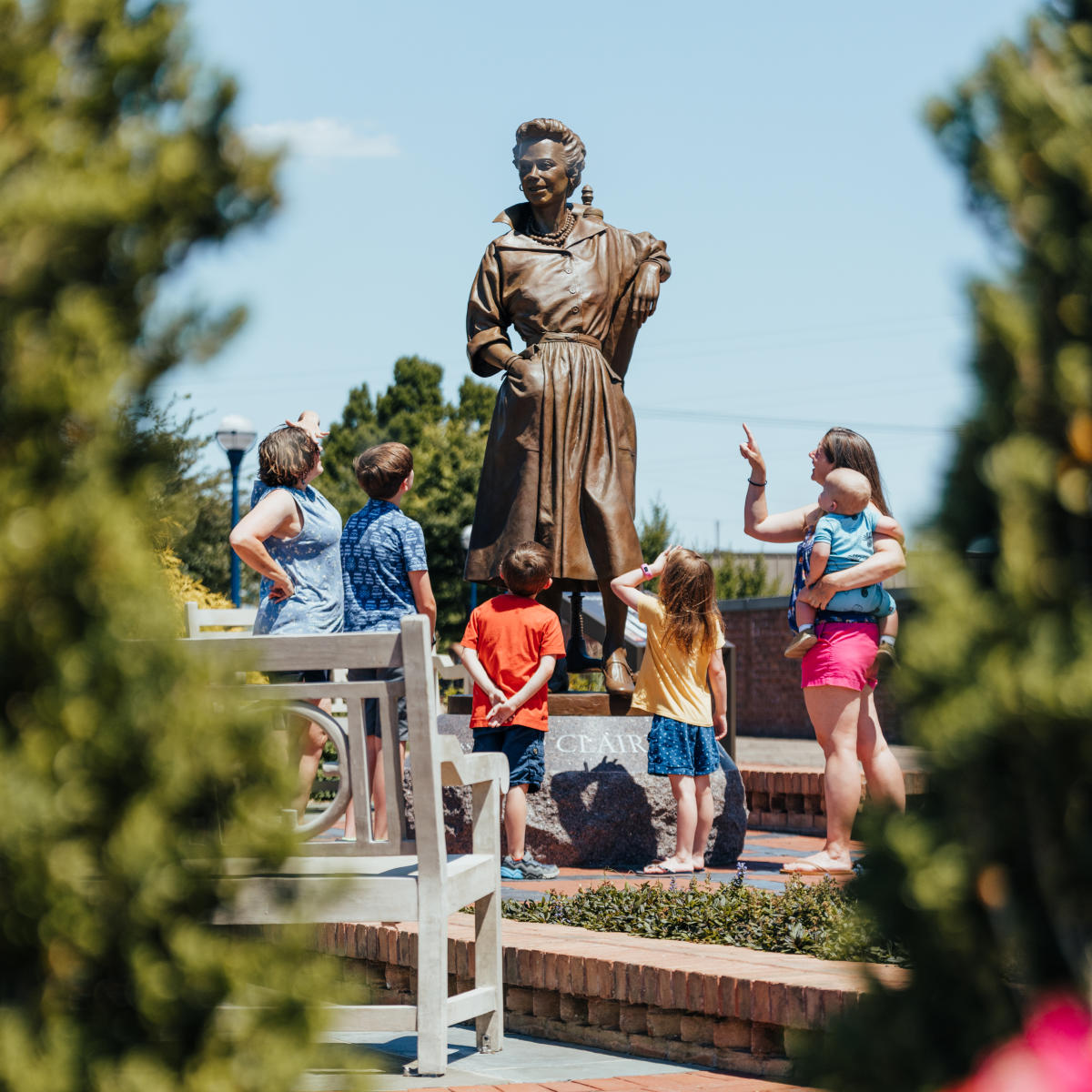 ---
You can learn more about Claire McCardell in 2023 by visiting Heritage Frederick's "Stitches Through Time: Women's Work From Farm to Fashion" exhibition at the Museum of Frederick County History from March to December. Exploring the evolution of Frederick County's clothing industry, the exhibition features a dress worn by Claire McCardell, more dresses designed by her, and other artifacts connected to the famous designer.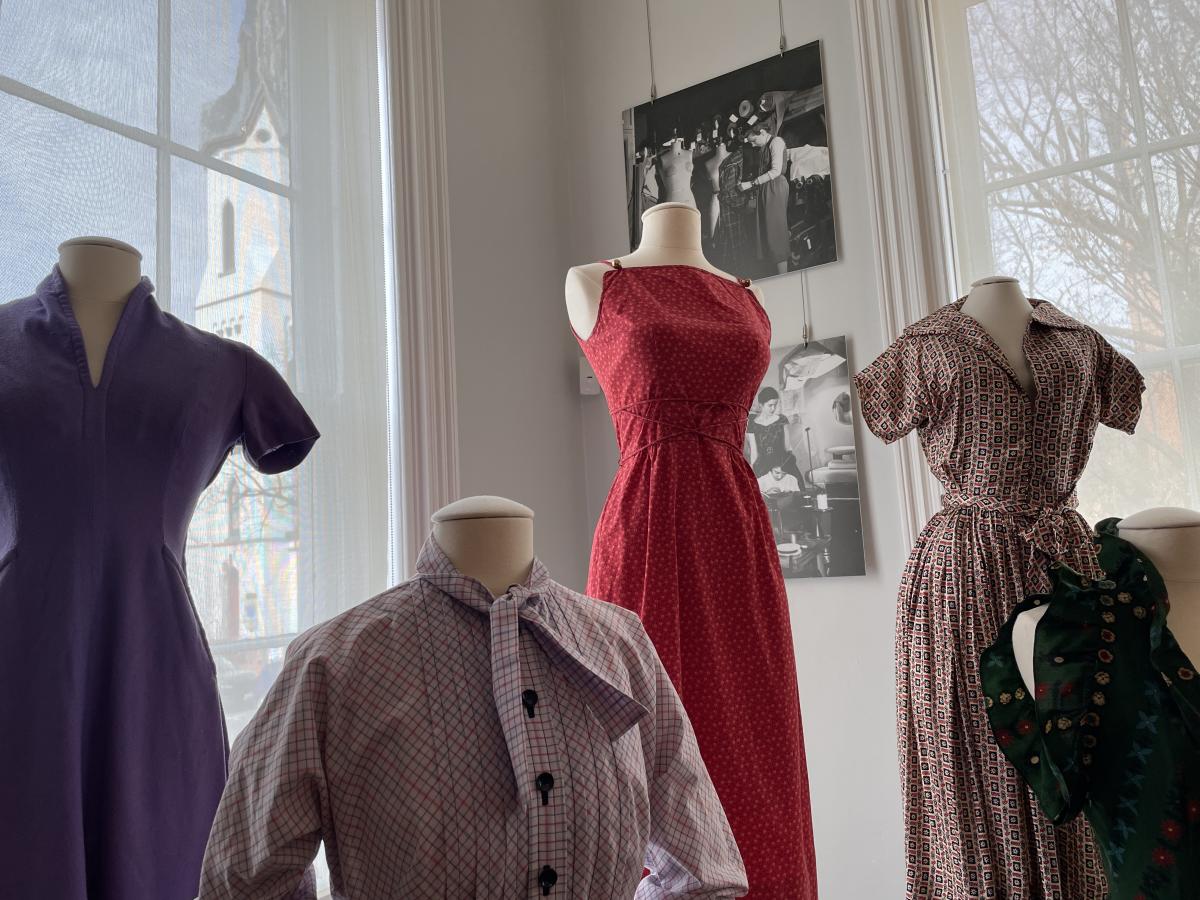 McCardell dresses on display at the Museum of Frederick County History
---