Did you know Abraham Lincoln once walked the streets of Frederick? You can follow in his footsteps today! 
---
After the Battle of Antietam in 1862, President Abraham Lincoln made a visit to US Army troops near the Civil War's front lines in western Maryland. On his return to Washington, D.C., the 16th president made a brief, but important stop in Frederick, Maryland. Fortunately, many of the places Lincoln visited remain a part of the Frederick Historic District today, giving modern visitors the opportunity to walk in the (large) footprints of this famous American.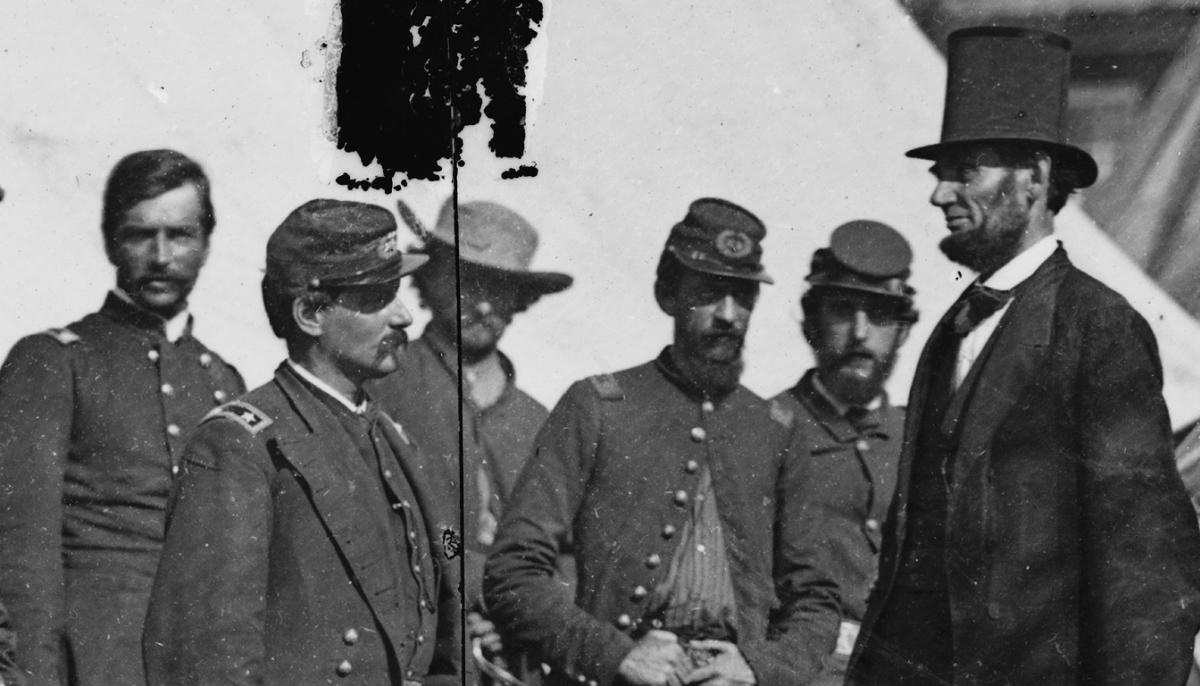 President Abraham Lincoln and General George McClellan near Antietam on October 3, 1862. Lincoln traveled to Frederick the next day to visit a wounded US Army officer. (Library of Congress)
On October 4, 1862, a weary Abraham Lincoln stepped off a carriage outside the home of Ellen Ramsey on Record Street near the heart of Downtown Frederick. Lincoln was returning from a visit to the Army of the Potomac and its commander, General George McClellan. Less than a month earlier, that army marched straight through Frederick on its way to a bloody battle at Antietam. Many of the casualties from that battle were brought on horse-drawn ambulances back to Frederick to be treated in makeshift hospitals located in the city's churches, schools, and public buildings, earning Frederick the nickname "one vast hospital." 
It was a visit to one of these wounded soldiers of Antietam that brought the lanky chief executive to the City of Clustered Spires. Lincoln stepped off the carriage at the Ramsey House to visit General George Hartsuff, a US Army officer who had been severely wounded at Antietam. Army surgeons were treating the Union general in this private home. Today, a plaque marks the building, memorializing Lincoln's brief visit here.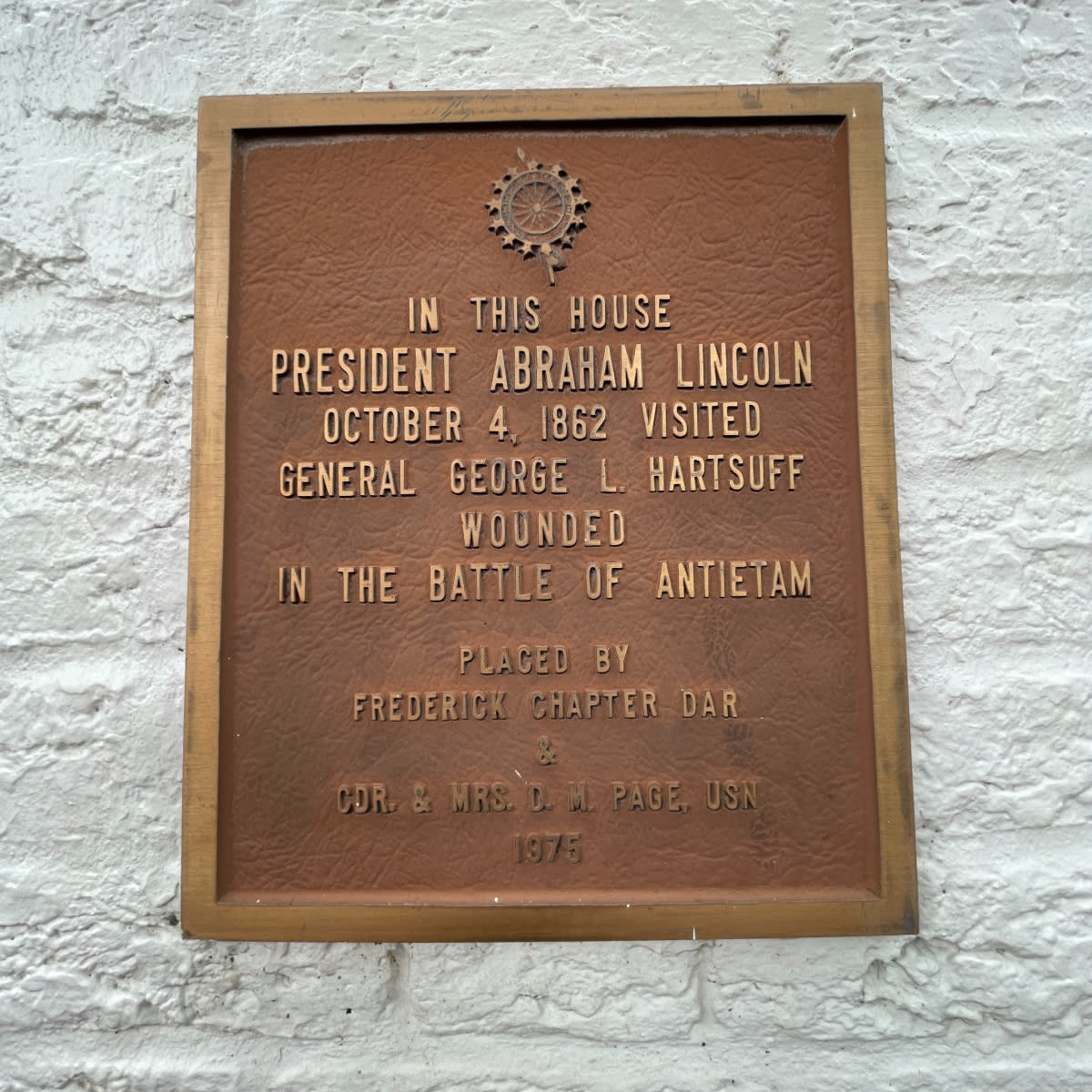 This plaque is attached to the exterior of the Ramsey House at 119 Record Street (Author's Photo)
When the president stepped outside to board his carriage, a crowd of local residents and wounded soldiers gathered outside. They demanded a speech. Lincoln carefully warded them off, saying "In my present position it is hardly proper for me to make speeches… I can only return my sincere thanks for the compliment paid our cause and our common country."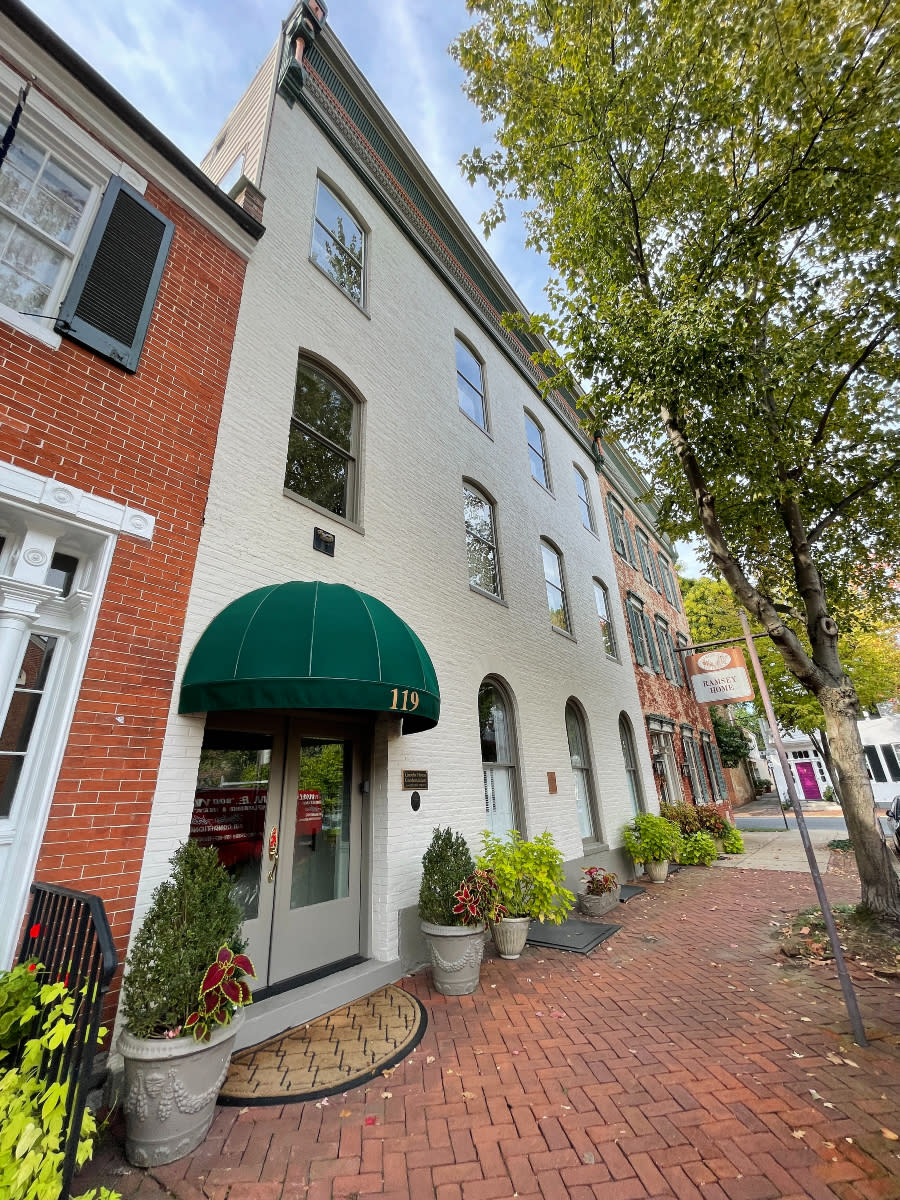 President Lincoln spoke from this doorway to a small crowd gathered on Record Street, near Frederick's current City Hall on October 4, 1862. (Author's Photograph)
The carriage carried President Lincoln from Record Street to West 2nd Street, passing Frederick's Presbyterian Church, a building that had been turned into a military hospital. One of the patients being treated there watched Lincoln pass by. He wrote in his diary: 
"They passed the hospital, and I had an excellent view of the features of the President. He looked more worn than when I saw him last, and the heavy load he is obliged to carry, amply accounts for that. My present condition is not overly pleasant, but by far better than is his."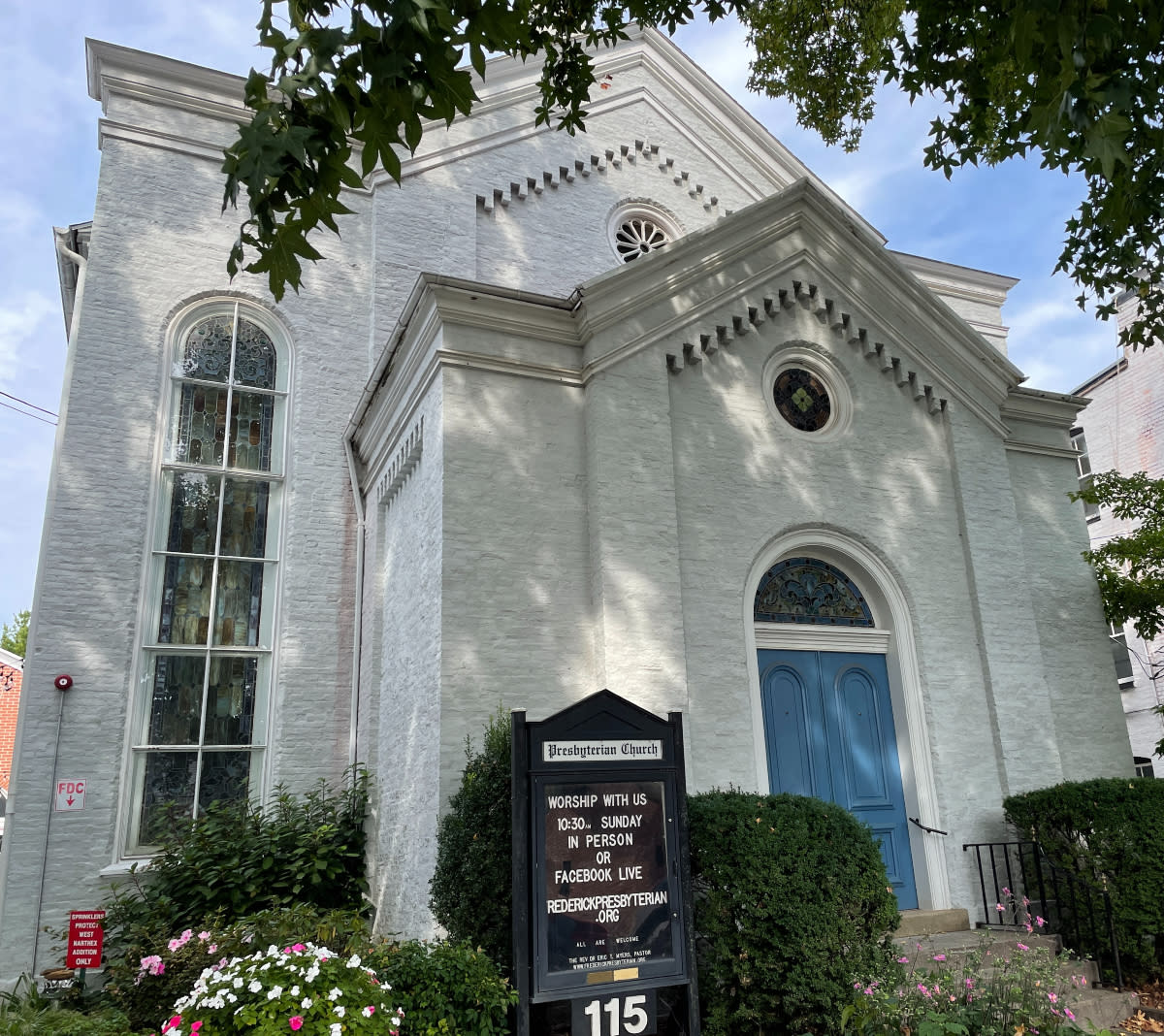 The Presbyterian Church on 3rd Street was being used as a makeshift military hospital when President Lincoln passed by on his way to the train station on October 4, 1862 (Author's Photo)
The carriage passed from West 2nd Street to Market Street, then south to the Baltimore and Ohio Railroad Depot at the intersection of South Market Street and All Saints Street, passing by the city's stores, taverns, and restaurants. The train depot is the home to the Frederick Community Action Agency today.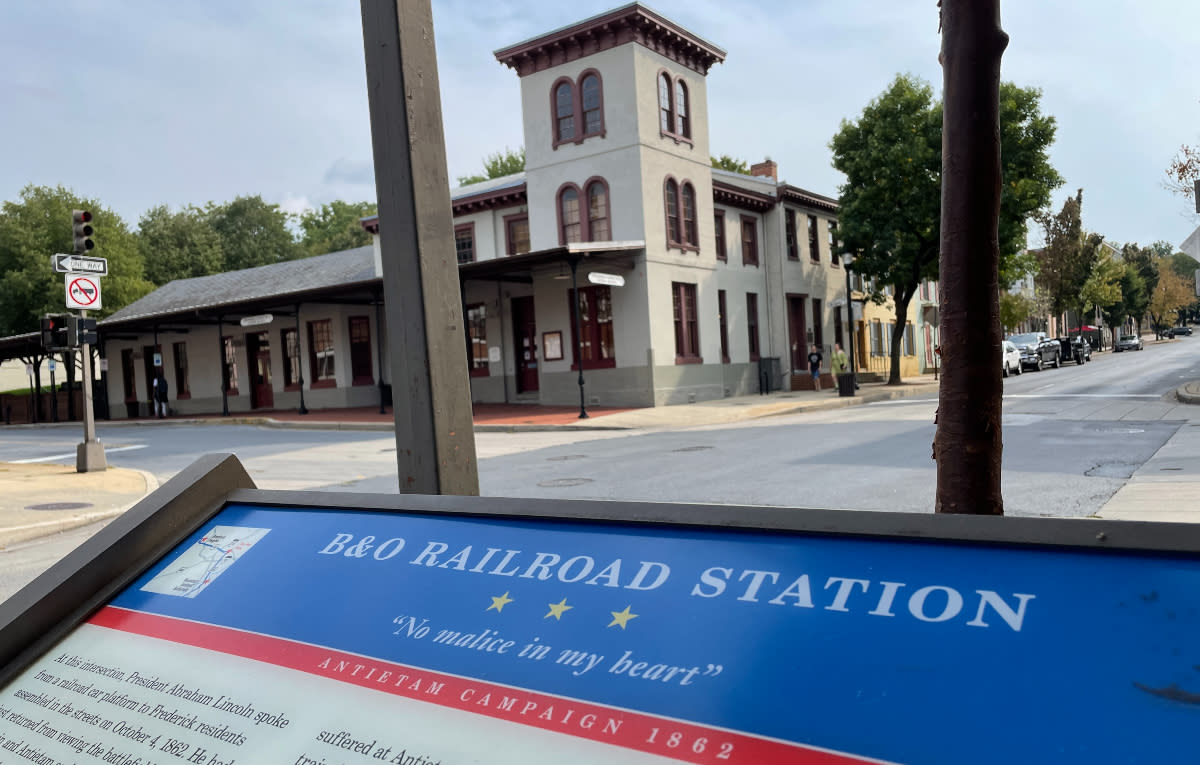 You can find numerous Civil War Trails markers throughout Downtown Frederick. This one at the corner of All Saints Street and Market Street discusses Lincoln's visit and the historic B&O Railroad depot (Author's Photo)
As Lincoln boarded a train that would take the exhausted president back to the White House, another crowd gathered and demanded to hear a speech. This time, the President of the United States obliged. He said: 
"FELLOW-CITIZENS: I see myself surrounded by soldiers, and a little further off I note the citizens of this good city of Frederick, anxious to hear something from me. I can only say, as I did five minutes ago, it is not proper for me to make speeches in my present position. I return thanks to our soldiers for the good service they have rendered, for the energies they have shown, the hardships they have endured, and the blood they have so nobly shed for this dear Union of ours; and I also return thanks not only to the soldiers, but to the good citizens of Maryland, and to all the good men and women in this land, for their devotion to our glorious cause. 
I say this without any malice in my heart to those who have done otherwise. May our children and our children's children to a thousand generations, continue to enjoy the benefits conferred upon us by a united country, and have cause yet to rejoice under those glorious institutions bequeathed us by Washington and his compeers. Now, my friends, soldiers and citizens, I can only say once more, farewell."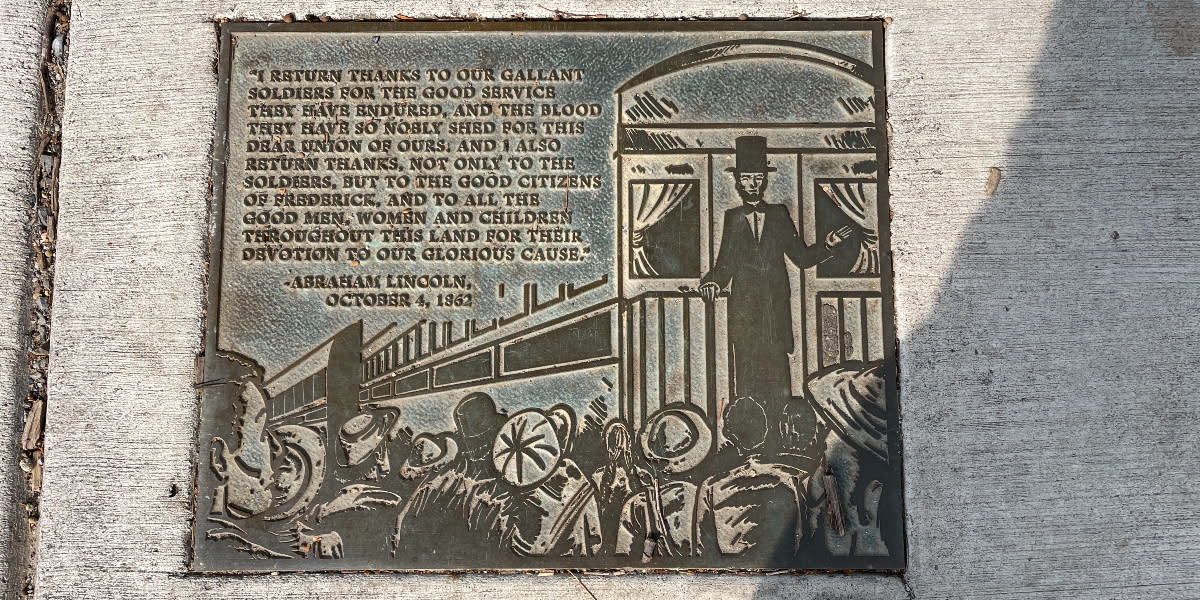 This plaque is embedded in the sidewalk on South Market Street near the site of the historic B&O Station where Lincoln spoke on October 4, 1862. (Author's Photo)
The train carried Abraham Lincoln down All Saints Street, passing by the present site of the Frederick Visitor Center, never to return to the City of Clustered Spires.  
---
Want to learn more about Frederick's time as "one vast hospital?" Visit the National Museum of Civil War Medicine on East Patrick Street. 
Need a bite to read while following the path of President Lincoln? Stop by Brewer's Alley - you'll be chowing down in a building that served as City Hall during the Civil War and where Confederate soldiers ransomed Frederick for $200,000 in 1864. 
---
Follow in Lincoln's Footsteps