When planning our wedding in Frederick, we wanted to give our out of town guests an opportunity (and excuse!) to get out of their hotels and explore downtown. 
Add in the competitive streak that runs in both our families, and we knew we had to put together a scavenger hunt.  My dad and I worked together on the concepts and clues, creating a fun excuse to meet up during wedding prep months since he was less involved with dress, hair, etc etc etc.
We mentioned the hunt on the invitations and asked guests to RSVP (we used AppyCouple for RSVPs and confirmed via email). About 30 people said they were in, and we sent a few details in advance so they knew what to expect. 
On Friday morning, we gathered at the Frederick Visitor Center where we distributed packets, introduced teams, and confirmed the rules of the game.
Our goals (yes we set goals, #nerdalert) were for our guests to explore a new city, meet new people, and have fun along the way. To help with the second goal, we mixed the teams and provided fun dollar store props for each team to identify their teammates (leis, bandanas, goofy glasses). We kept couples together, but teams included folks across friend groups and families.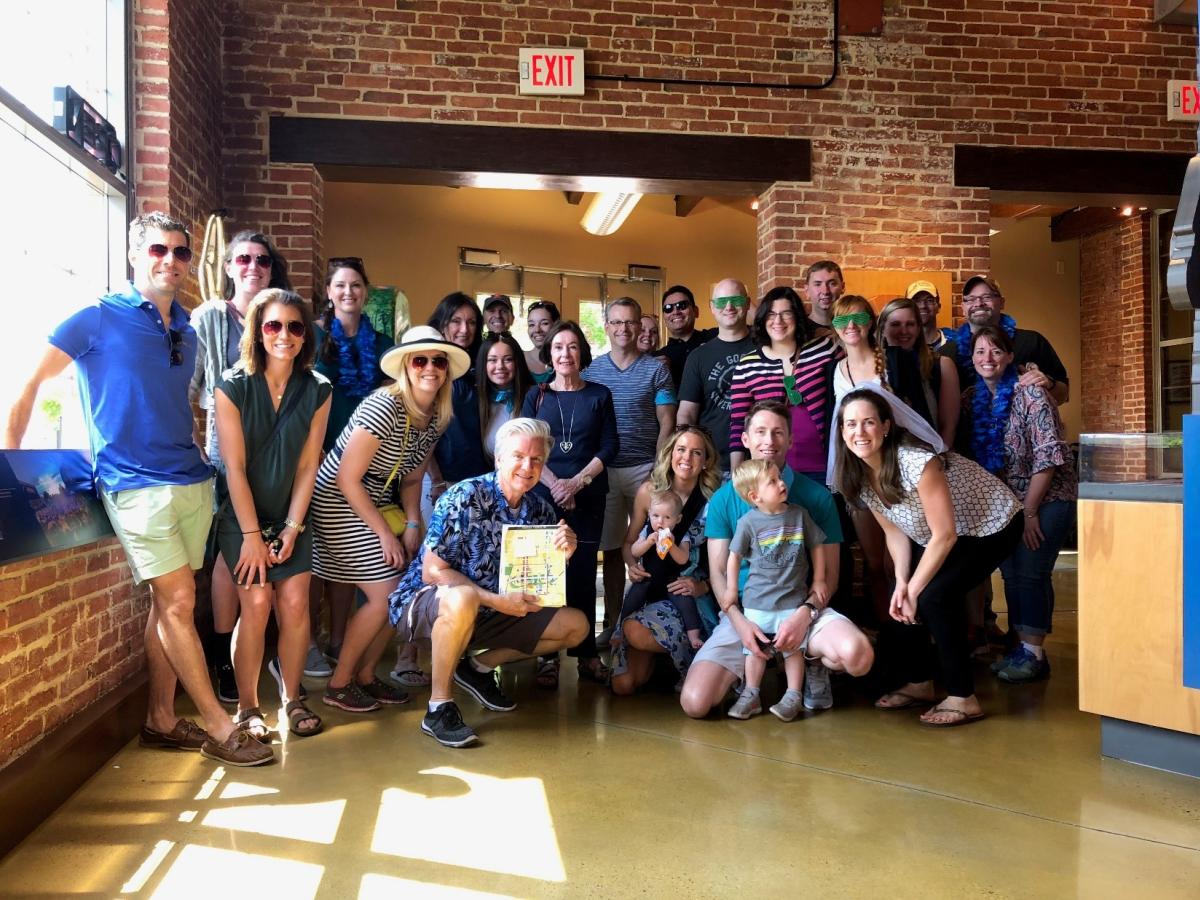 Participants ready for the hunt!  And my nephew wondering what the heck was stuck to my head 😊
Teams were provided with a downtown map that showed the boundaries of the hunt… we didn't want anyone wandering tooooo far in the wrong direction. Our hunt boundaries were Clarke Place to the south, 2nd Street to the north, Bentz Street to the west, and East Street to the east.
We set a two-hour limit to create a little urgency, and give everyone enough time to explore a bit.  Teams received a list of five mandatory stops worth six points each and 30 optional "finds" worth one point each. Photos were required as evidence of the teams' adventures… and to look back on later!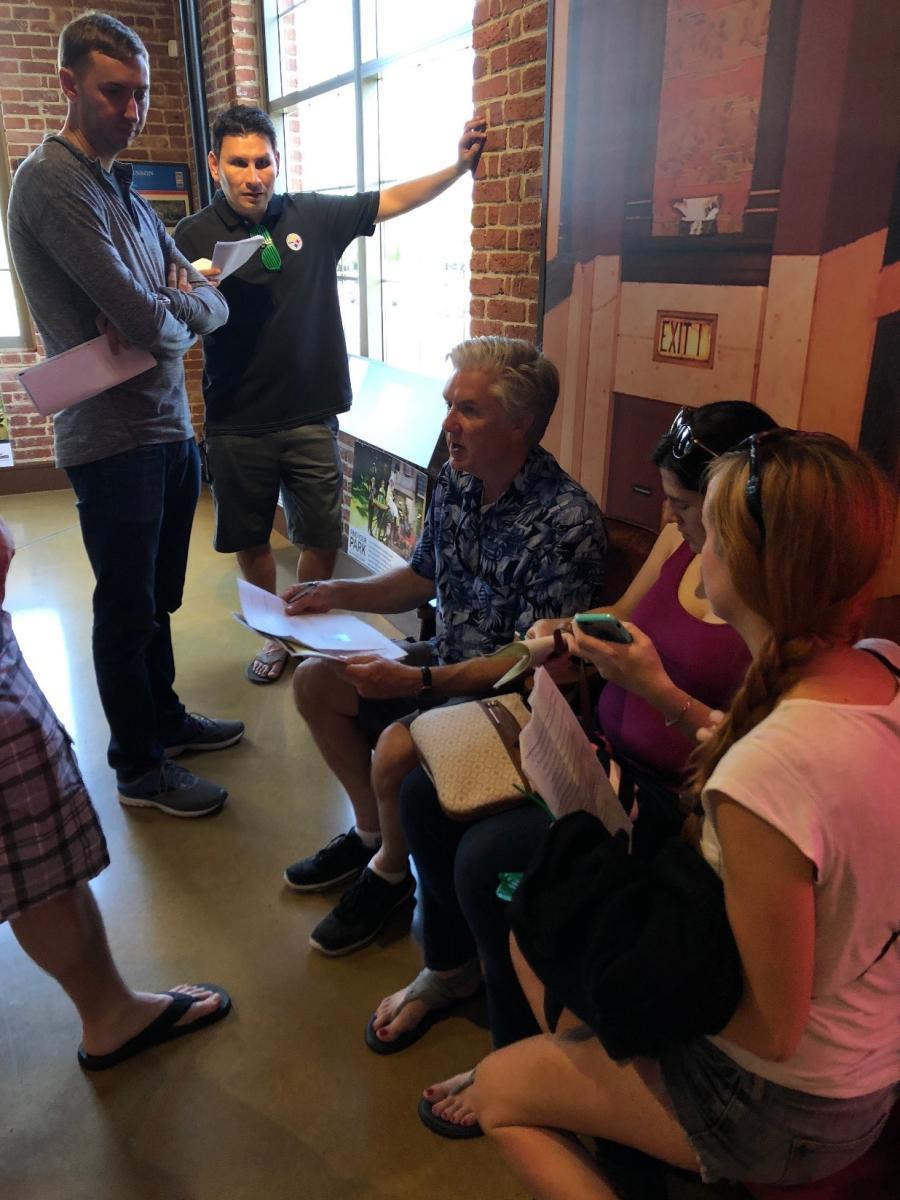 Dad explaining the rules
The mandatory stops got people out and about, interpreting clues and finding the associated locations. For example:
Get your picture taken with a very stiff matre'd.  He is in a hallway in a place where you might find Dadaism
Take a picture of the "First President of the First United States Government, the United States in Congress assembled, which existed from 1781 until 1788" – it's not who you think
Get a picture of a sign in 4 languages stating "you are now leaving the American Sector".  You might order schnitzel here or play foosball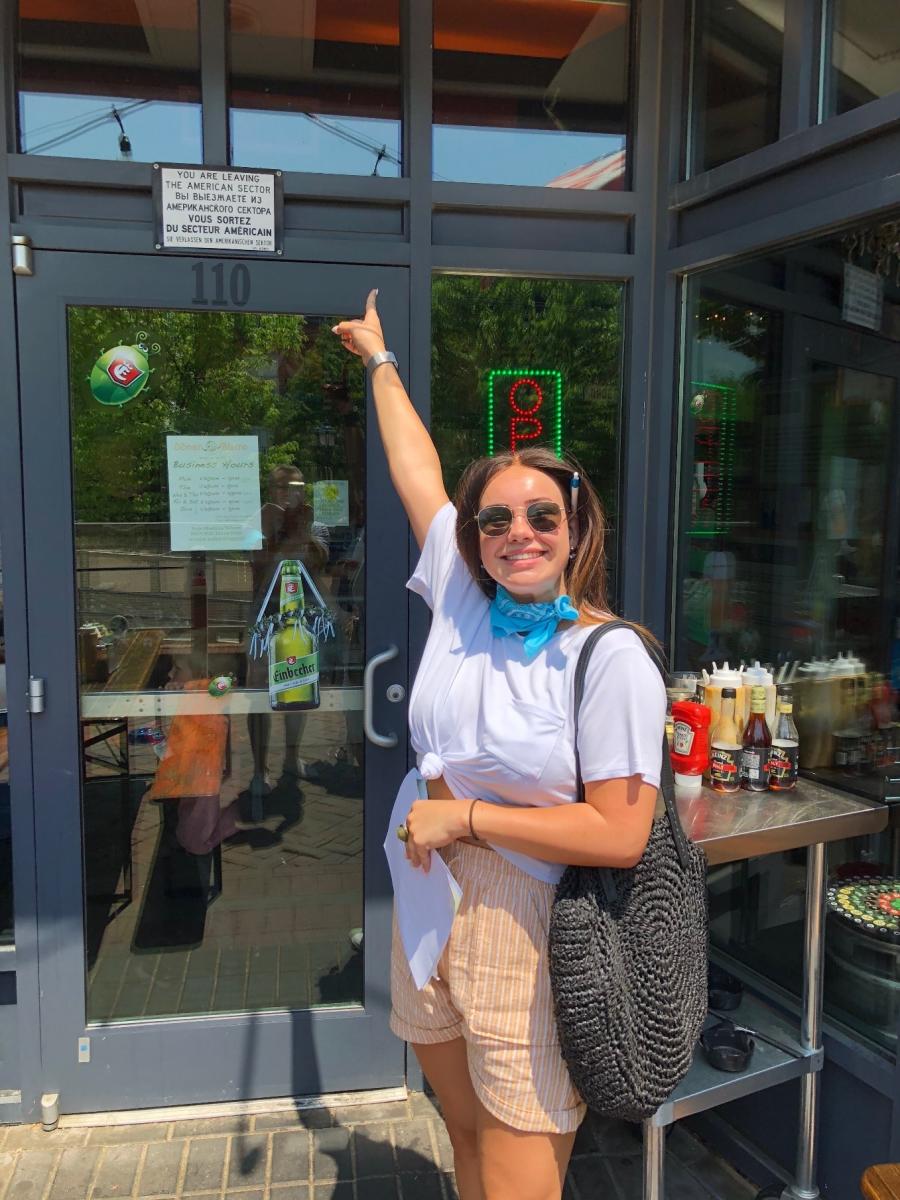 Found the sign at Döner Bistro
The optional points were the goofy ones:
Kodiaks may be found doing the Macarena here (answer: Dancing Bear Toys and Gifts)
At this "Castro"-centric restaurant, take a photo of the bartender holding a bottle of MISCellaneous Distillery Risky Rum (Sabor DeCuba)
Take a photo where George Washington put his prisoners after the Battle of Trenton (answer: near 101 Clarke Place)
Take a photo with a police officer or sheriff (extra 2 points if you are photographed in handcuffs)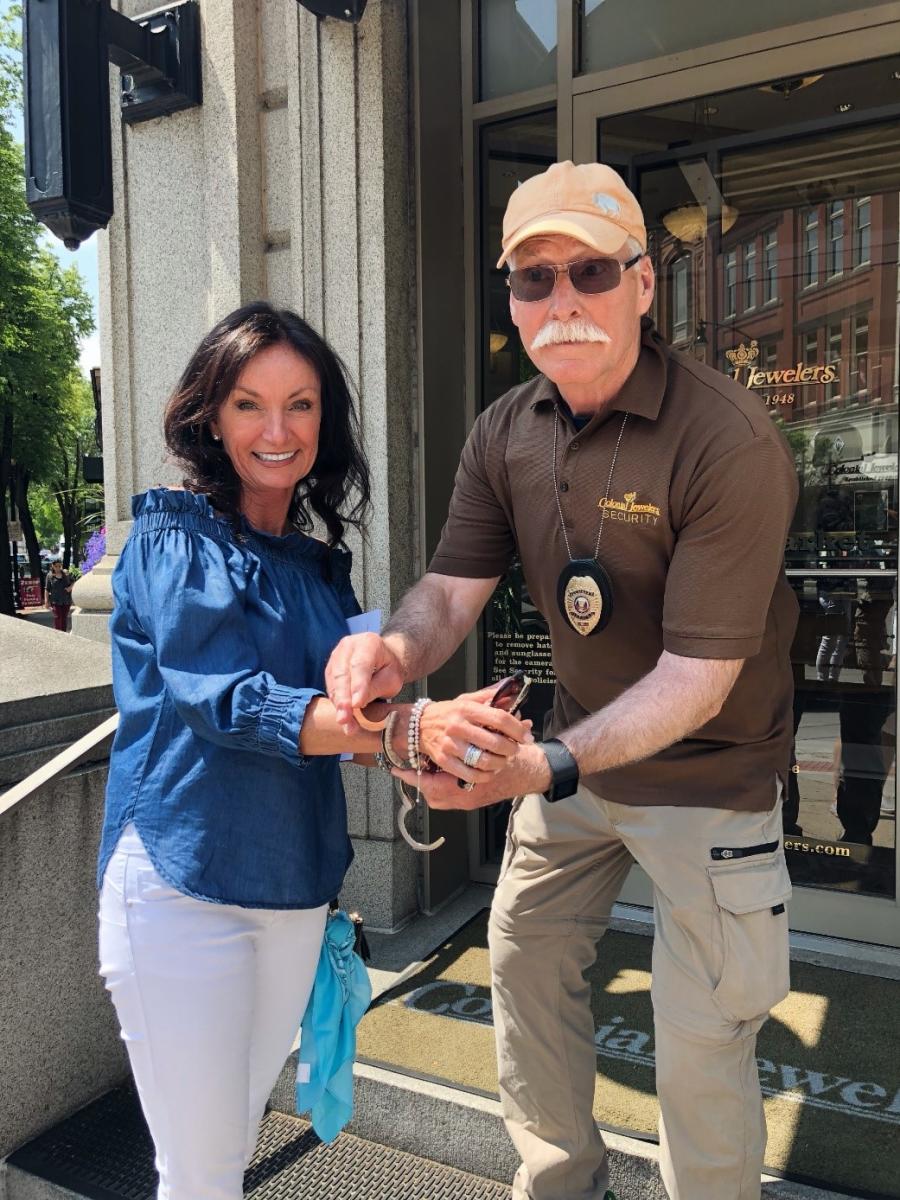 Aunt D in cuffs!
Take a photo of a license plate from a state west of the Mississippi
Commit a random act of kindness for a stranger and get a photo or video
Take a photo of anything with the word MISC on it (as in MISCellaneous Distillery)
Take a photo of any sign or phrase that represents Meg to your team
Take a photo of any sign or phrase that represents Dan to your team
Find the location of this item
Found on the creek near Baker Park
The team that ultimately won included a family friend and cousins from both sides of the family… though everyone had fun checking out Frederick and exploring with intention.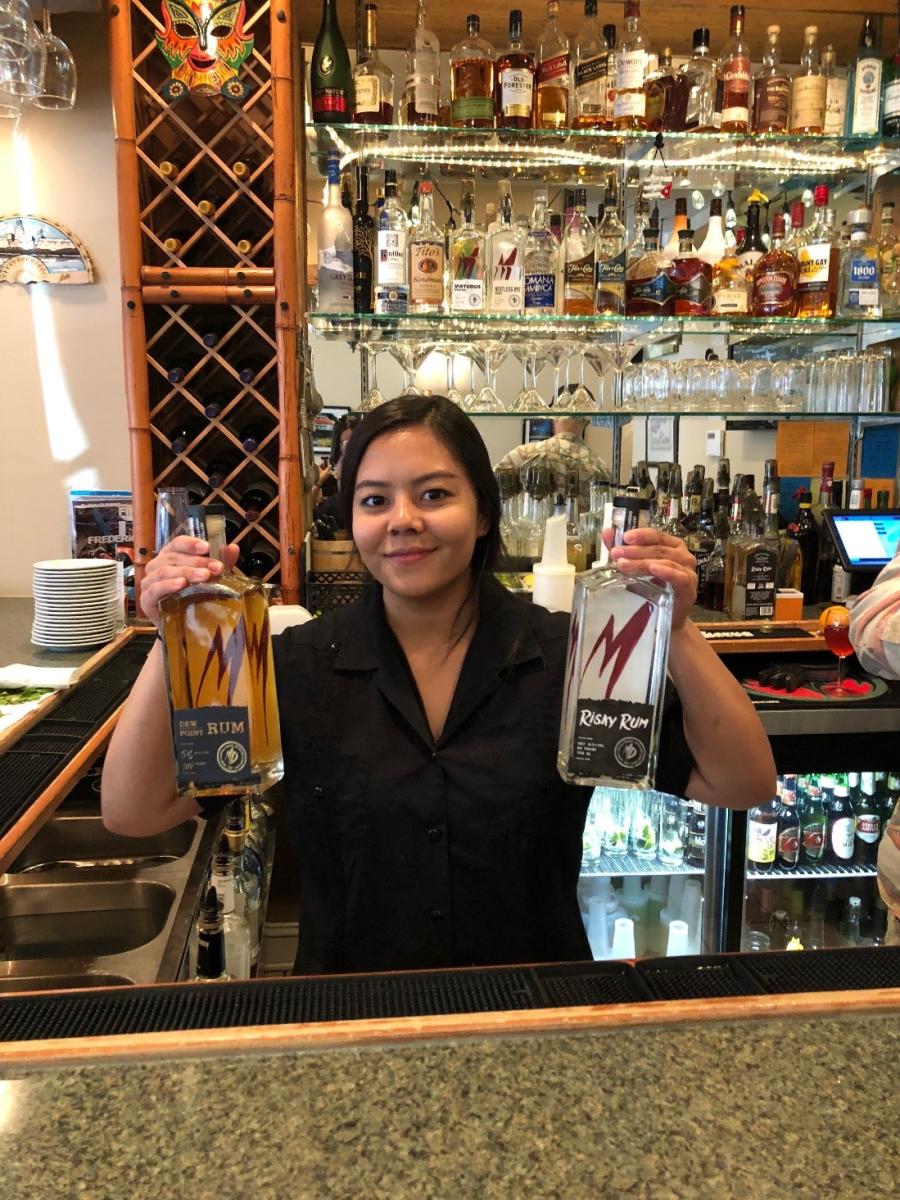 One of the stops on the hunt, Sabor de Cuba!
Was it worth the hassle and preparations? I absolutely think so!  In addition to a fun memory for everyone involved, we created new connections between the people we love. 
That evening, I saw one of Dan's friend's run up to my cousin with a giant hug and my first reaction was "how the heck do they know each other? The world is so small!" … but then they reminded me that they were on Team Green earlier in the day.  Well of course!