Over the past couple of years, I've started to enjoy exploring old cemeteries.  Some of you will read that and think that's strange; but, for others, your eyes will light up.  It's hard to explain why some of us appreciate these often overlooked historical islands. It's not necessary to know the background of those that are buried in them. Just walking among the gravestones and reading the inscriptions is a way of honoring our forebears who have oftentimes been forgotten over time. Old cemeteries are peaceful locations that let you step back in time and admire the old gravestones. If a cemetery is surrounded by a beautiful environment, the experience is all the better.
I love Frederick County because it has so much to experience and explore, including our well-known Mount Olivett Cemetery.  The other day I decided to pick a part of the county and visit some of the cemeteries that are adorning the landscape.   After doing some research and pulling together a little driving tour, I spent a couple of hours driving around and visiting them.  Not only were the cemeteries old, they were also varied.  On top of that, I was close to other historical sites and points of interest that I was able to visit as side trips.   What a great way to spend the day immersing myself in this beautiful part of Frederick County!
If you too love old cemeteries and want to explore a beautiful and serene part of Frederick County, I'm sharing the driving tour with you. When you visit the 6 cemeteries, please be respectful, peaceful, and courteous. Only visit during daylight hours. The recommended side trips are included if you decide to check those out too.  From downtown Frederick, the tour is approximately 46 miles roundtrip, not including the side trips.
Southwestern Frederick County Cemetery Tour
Start by going to the Frederick Visitor Center where you can learn about all the things you can see and do in Frederick County.  When you're finished and ready to start your tour, turn right on East St and drive for 7.7 miles. Note that as you cross over Interstate 70, East St turns into Route 85/Buckeystown Pike.  Turn right at Manor Woods Rd and drive for 1.7 miles.
(1)St. Joseph's on Carroll Manor (5843 Manor Woods Rd, Frederick, MD)
St. Joseph's on Carroll Manor is an old historic church that was originally built in 1822. The current church includes walls from the original church. The peaceful burial ground is next to and behind it.  It is no longer active. As you walk among the gravestones, also be sure to enjoy the huge, old shade trees that shade the grounds. Relish the scent of boxwood that wafts through the air. Approximately 100 Irish Catholic laborers who died of cholera while working on the C&O Canal are buried here, along with many others locals.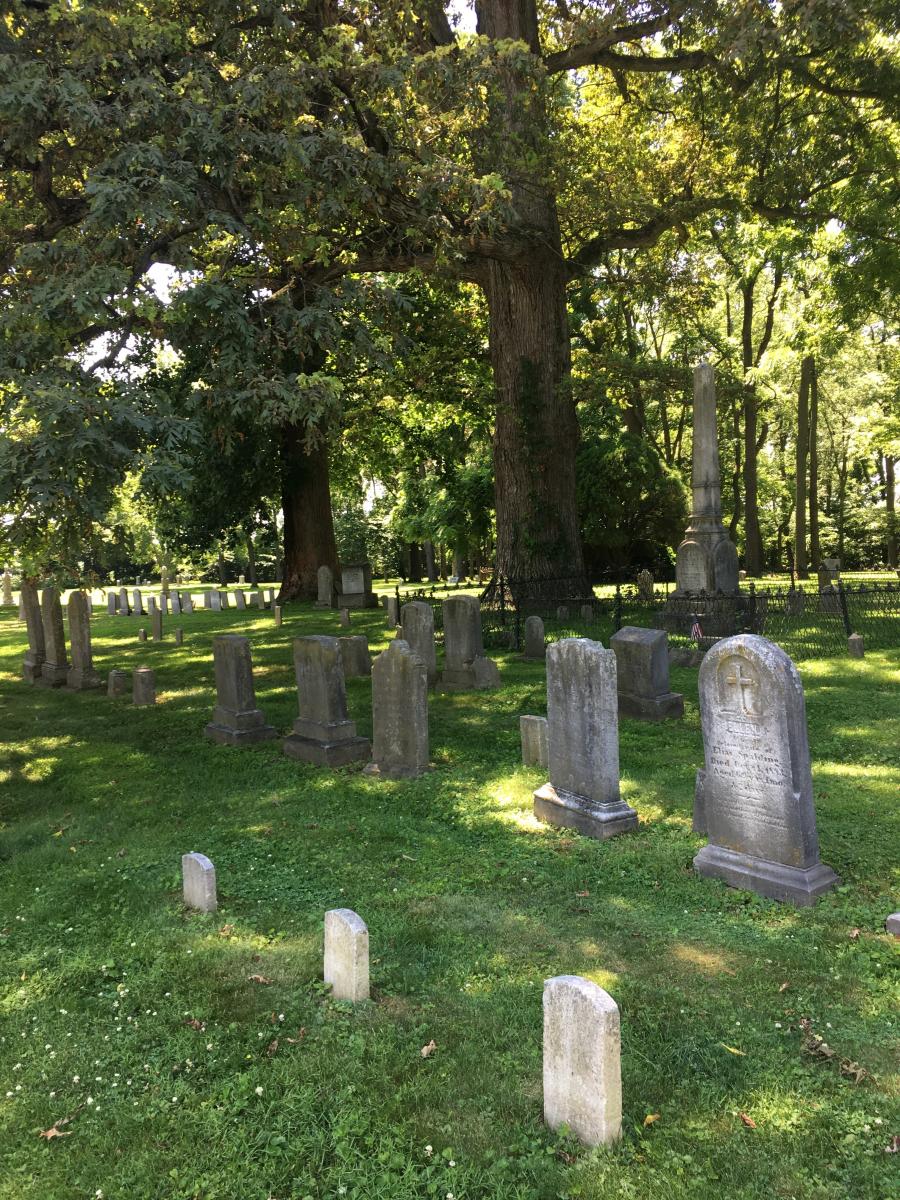 Back track on Manor Woods Rd to Route 85/Buckeystown Pike and turn right. Drive 1 mile. After you pass Route 80/Fingerboard Rd, turn left onto Bishop Clagget Lane, the entrance drive for the Claggett Center.  Proceed to the Clagett Center Welcome Center.
(2)Hassellbach Family Cemetery (3035 Buckeystown Pike, Adamstown, MD)
The Claggett Center is currently a retreat center; but, the land was originally patented in 1730.  John Hassellbach, in 1811, was one of a few subsequent owners and used 34 enslaved people to work and maintain the property.  On the property is a small but special cemetery in which members of the Hassellbach family and 2 individuals of African-American descent are buried.  The Hasselbach headstones are no longer present; but a marker has been placed to remember the two African-American individuals who were buried here. 
This cemetery is on private property but individuals are welcome to visit it if they first check in at the Welcome Center (If the welcome center is not staffed, please call 301-691-8048) where you'll sign in and get a guest badge. You'll leave your car here and walk behind the Welcome Center. Follow the signs into the farm fields for 0.5 miles. Enjoy the open fields and also the view of the cemetery as you approach it on the top of a small hill. Spend some time sitting on the bench and contemplating history and the surrounding view.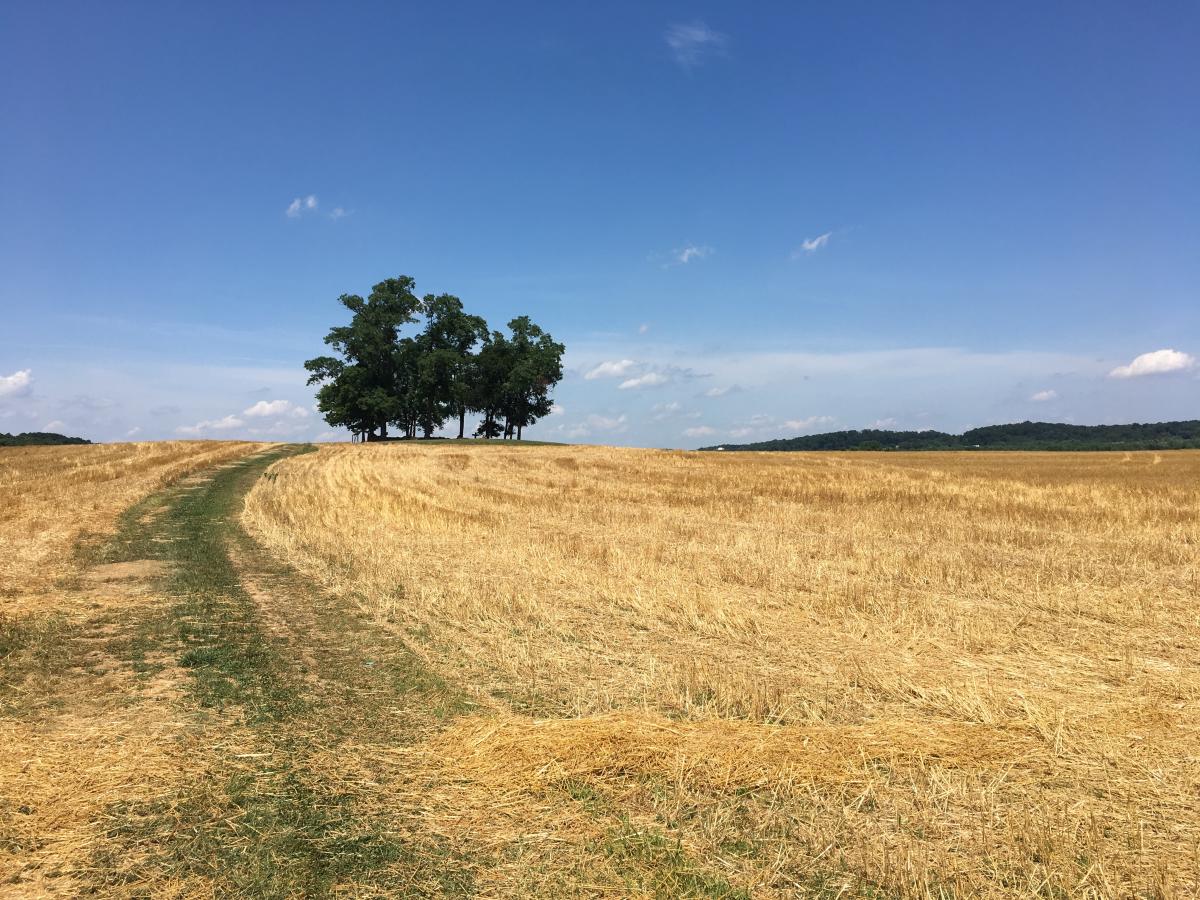 Drive back to Route 85/Buckeystown Pike and turn left. Drive for 1.9 and turn left onto Lily Pons Rd and drive another 1.9 miles.  (Side trip: Lily Pons Water Gardens – see below). At the stop sign, turn left on Park Mills road and drive for 1 mile. Turn right on Mount Ephraim Rd and drive 3.4 miles. Enjoy the drive on this rural, unpaved road as it skirts the base of Sugarloaf Mountain Park.  You'll come to Bells Chapel on the right.
(3)Bells Chapel Methodist Episcopal Church & Cemetery (830 Mount Ephraim Road, Dickerson, Maryland)         
Once here, pull off the road in front of the old schoolhouse which is right after Bells Chapel.  Walk around the schoolhouse, meander around the cemetery, and enjoy the sounds of the songbirds' singing and the turkeys' calling.   The small cemetery is still active, with people having been interred there starting in 1895.  The chapel itself was built between 1918 and 1925. This small cemetery in the country is unique because of the quiet, serene location. The schoolhouse (Comstock School) next to it was built around 1910.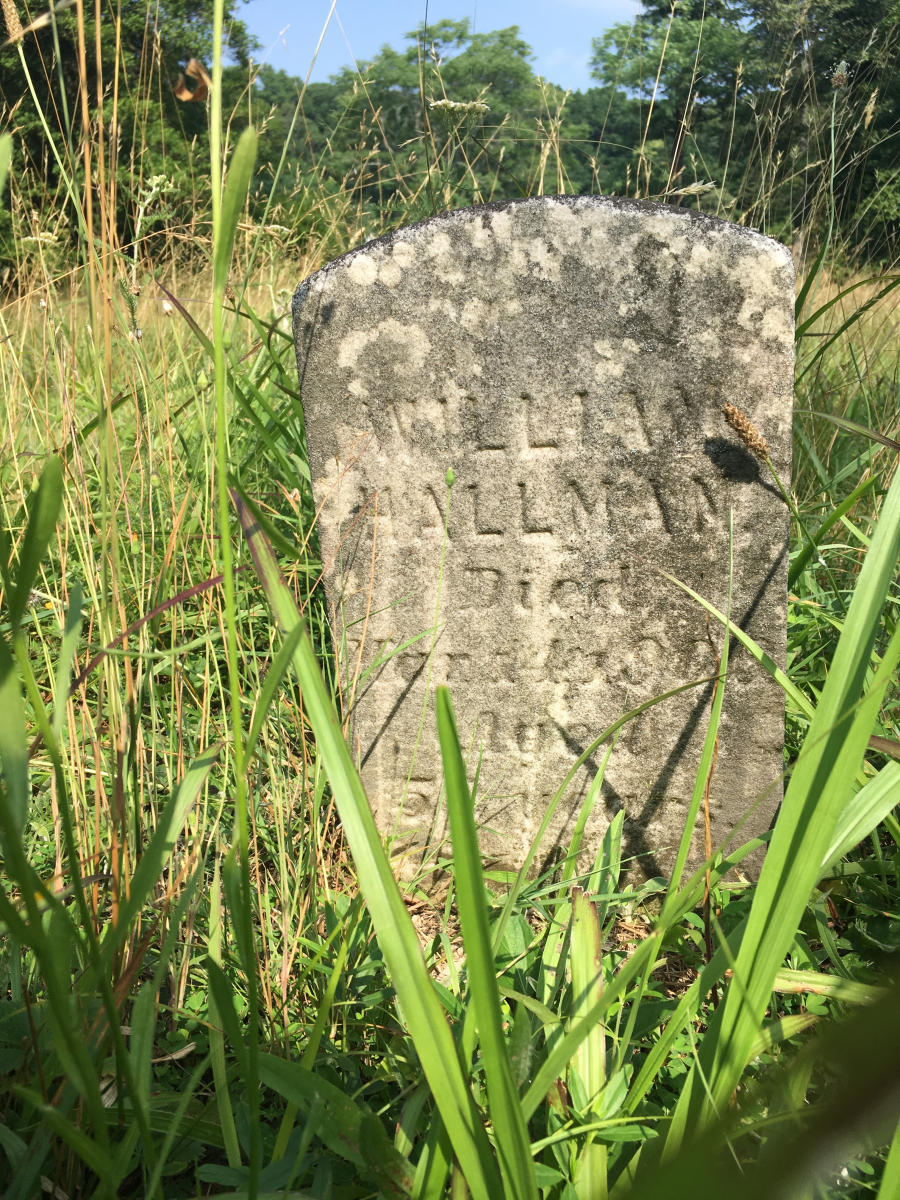 Continue along Mount Ephraim Road. (Side trip: Sugarloaf Mountain Park – see below) for 2.8 miles. Turn right at Mouth of the Monocacy Rd and follow it to the stop sign.  (Side trip: Monocacy Aqueduct – see below). Take a right on Route 28/Dickerson Rd and proceed 3.3 miles. You will cross over the Monocacy River and get to a point where you need to turn left to stay on Route 28.
At this point you have a decision to make: either continue on the tour by making that left;  or popping up to Thanksgiving Farms and Mad Science Brewing Company to walk around their nursery, buy some farm-fresh produce, and/or enjoy a craft beer from the farm brewery along with some food purchased from the food truck du jour. If you choose the latter, instead of turning left on Route 28, continue straight for 1.2 miles. Thanksgiving Farms/Mad Science Brewing Company will be on your right. Once you're done with your nursery/produce/beer diversion, backtrack back to where you need to turn right onto Route 28.
Once on Route 28 and continue on it north for 4.6 more miles.  While driving, you'll pass Rocky Point Creamery on your left. The ice cream here is fabulous. You won't regret stopping if you're an ice cream lover. As you enter Point of Rocks, take a minute and take a left at the sign for the MARC train station. The historic train station, built in 1873, is beautiful. If your timing is right, a train might pass within feet of where you're standing.  
Back on Route 28, continue a short distance farther and make a sharp right on Ballenger Creek Pike (you do NOT want to get onto Route 15).  Once on Ballenger Creek Pike, drive about a mile to the Point of Rocks Colored Cemetery on the left. You'll need to park on the right shoulder of the road just before Hobbits Glen Rd.
(4)Point of Rocks Colored Cemetery (Ballenger Creek Pike, Point of Rocks, MD)
This cemetery rises up the hill in front of you as you approach it.  There once was a church that this cemetery was associated with but it was torn down and the name of the church seems to have been lost with time.  The oldest headstone dates from 1878. The last burial was in 1985.  Take time to read the inscriptions on the headstones. Note the various materials used to make the gravestones. Some of the people buried here were alive during the Civil War. Given that only African Americans were buried in this cemetery, please pause a moment to ponder what life was like for these individuals during that time in history.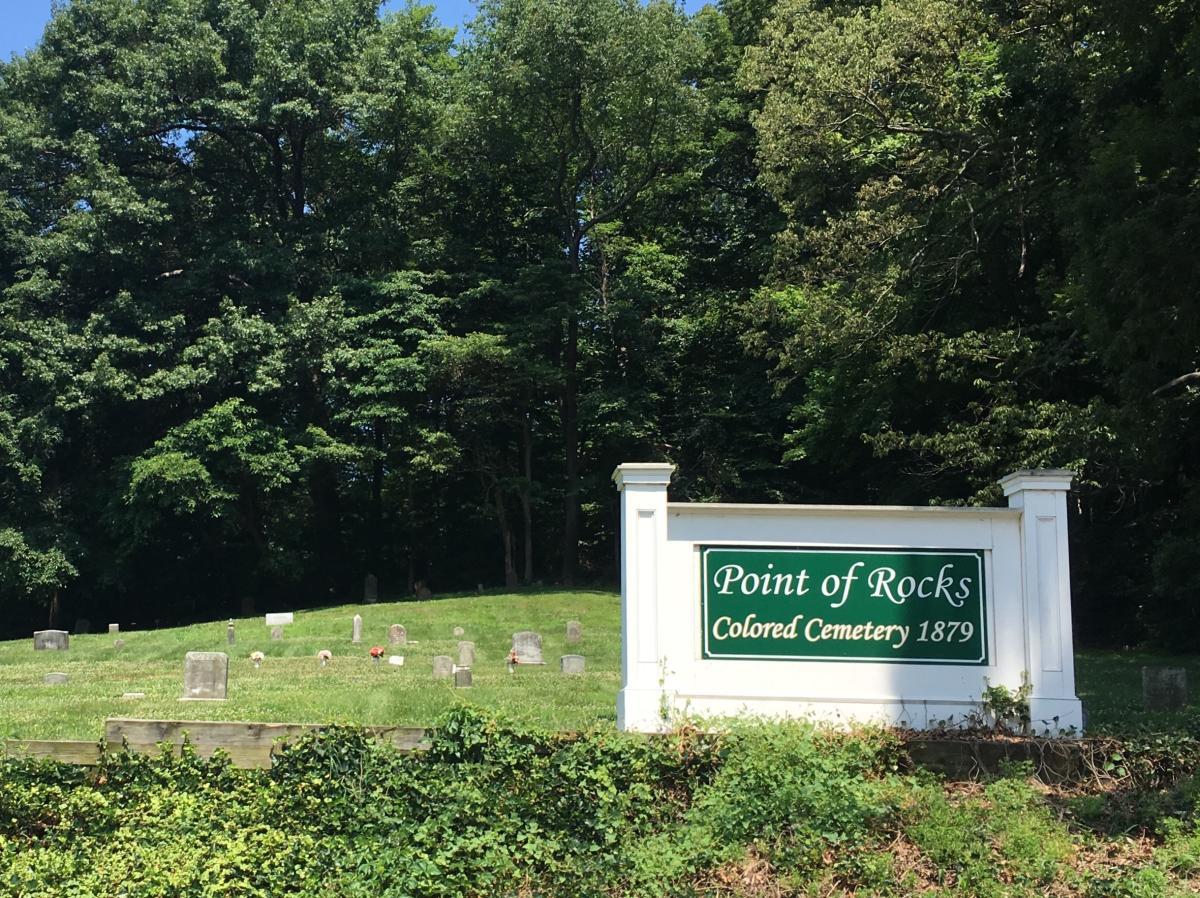 Continue driving northeast on Ballenger Creek Pike for 0.5 miles.  Turn left at St. Paul's Episcopal Church.
(5)St. Paul's Episcopal Church & Cemetery (1914 Ballenger Creek Pike, Point of Rocks, MD)
St. Paul's Episcopal Church was erected in 1842, with cemetery burials starting in 1843. Union troops used the church for 25 months during the Civil War. The troops caused quite a bit of damage both inside and around the church, including desecrating tombstones and horses trampling the cemetery.  The older gravestones are to the left of the church. As you walk around the cemetery, also enjoy the sweeping views south toward Sugarloaf Mountain.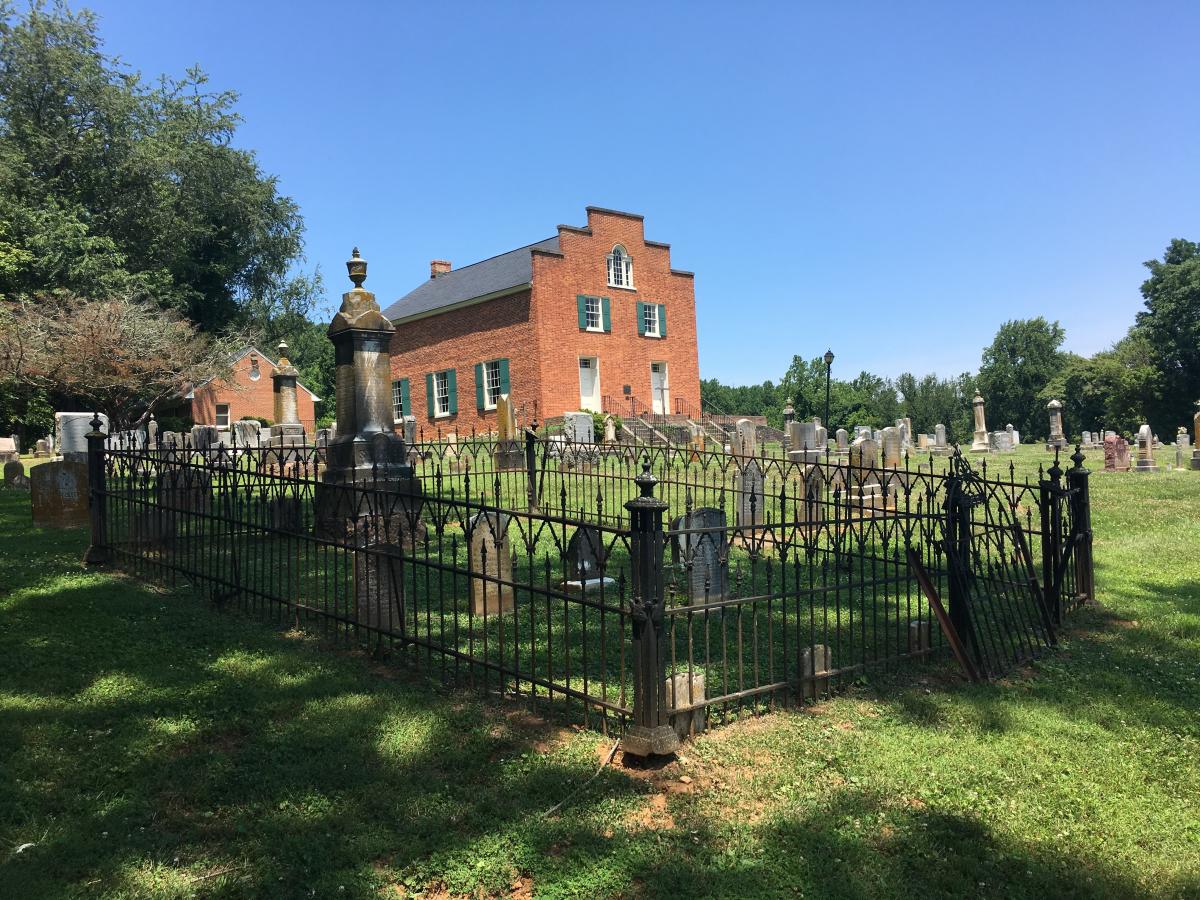 Continue driving northeast on Ballenger Creek Pike for 5.4 miles. Turn right into Manor Cemetery, which is across the street from Emmanuel Trinity Lutheran Church.
(6)Manor Cemetery (Across from 4004 Ballenger Creek Pike, Frederick, MD)
This is the last cemetery on this driving tour. The cemetery has two parts to it. The large part to the left is still active with graves dating back to the 1880's. The part that you're interested in seeing today is on the right, next to the guardrail. These headstones were once located in the German Thomas Cemetery, which was on private property about a mile away. Back in the 1960's, they were moved to this cemetery. They date from the late 1700's.   The crispness of the detailing on the gravestones is amazing given their age. The City of Frederick was founded in 1745 by German settlers.  These individuals are some of the settlers that came to this area soon after that.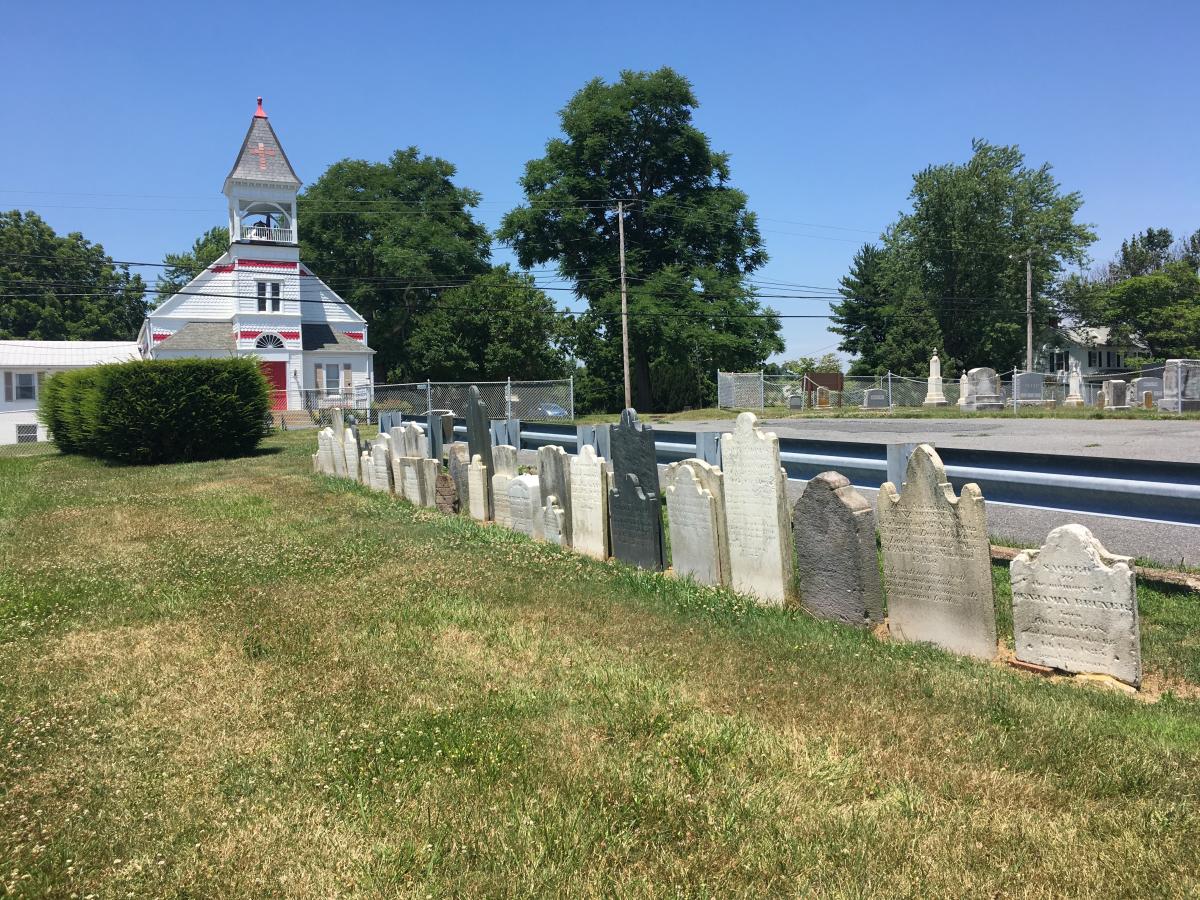 To return to the Frederick Visitor Center, as you exit the cemetery, turn right on Ballenger Creek Pike and drive 2.1 miles to the roundabout.  Take the first right onto English Muffin Way. Drive 0.9 miles and make a left onto New Design Road. Drive 3.6 miles.  Note that when you pass Costco, New Design Road becomes Monocacy Blvd. Turn left on East St and drive 0.6 miles. The Frederick Visitor Center will be on your left (151 S. East Street, Frederick, MD). 
Side Trips:  While you're touring around this part of the county, some cool places you might want to make side trips to visit are:
Lily Pons Water Gardens – If you love downtown Frederick's Carroll Creek and the flowering water plants, take the time to visit Lily Pons Water Gardens. In season, you'll see hundreds of blooming water plants.  
Sugarloaf Mountain Park - Turn left onto Comus Road. When you get to the round intersection, you are at the base of Sugarloaf Mountain.  This is a popular hiking location; plus was used as a signal mountain during the Civil War.  Turn left to drive up Sugarloaf Mountain. As you drive up, you might see people rock climbing as this is a popular rock climbing destination. Once at the top, stop at the multiple vista points looking East, West, and also "Over the Potomac."  Once you've enjoyed the views, drive back down the mountain using the one-way road. Toward the bottom you'll pass Strong Mansion, Franklin Delano Roosevelt's first choice for a presidential retreat (Shangri-La/Camp David was his second choice) and now a popular wedding event location. At the bottom of the Mountain access road, make a right on Comus Rd and return to Mount Ephraim Rd.
Monocacy Aqueduct – If go straight at the stop sign, you will get to the Monocacy Aqueduct on the C&O Canal.  Within the C&O National Historic Park, this aqueduct is the longest of the 11 in the park. It was built from 1829-1833.  This is a great place for a picnic; plus, there is a park-style restroom here.