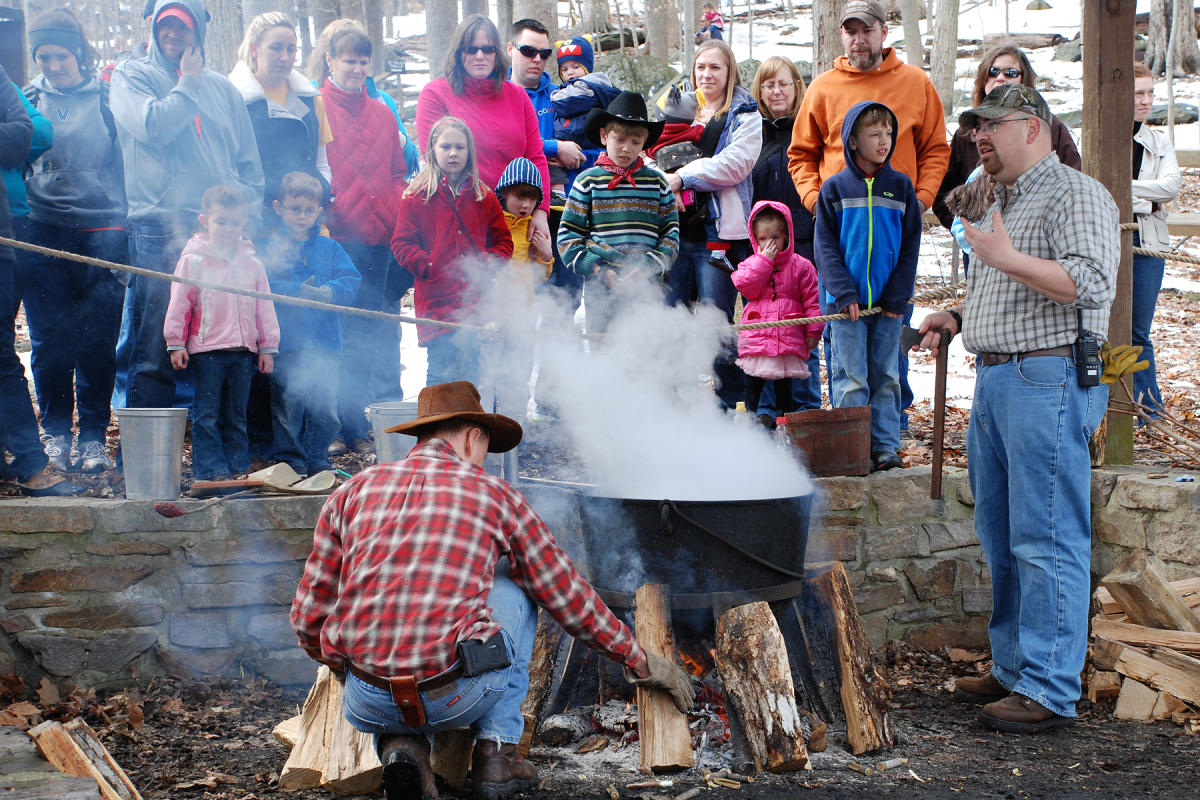 Photo courtesy of Maryland Department of Natural Resources
It's no secret that Frederick is full of interesting history and unique traditions. Winter is on its way out and that means one of the oldest and most popular annual events, the Maple Syrup Festival in Thurmont, is about to begin. After a two-year hiatus, the festival is back, set to be held on the second and third weekends of March at the Houck Lake Area of Cunningham Falls State Park. 
---
---
Making maple syrup is a fascinating process that dates back in some form to the indigenous peoples in North America. It includes tapping trees to harvest maple tree sap, collecting gallons of sap in buckets, and boiling off the water to get sap that has been concentrated into maple syrup. All maple syrup has the same amount of maple sugar, but the maple flavor can differ and syrup can vary in color and taste throughout the sugaring season, as it is called.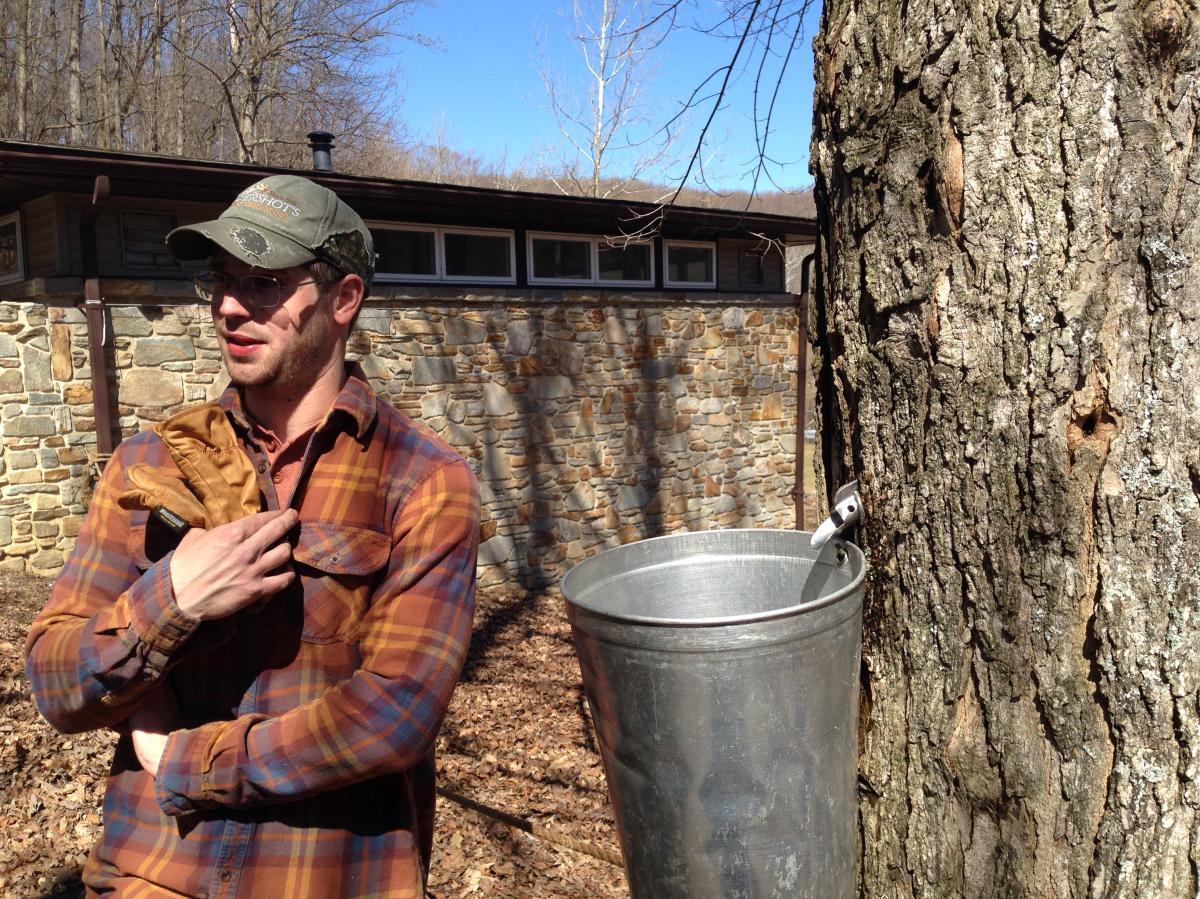 A demonstration of how sap is captured in order to make maple syrup. 
Over 80% of the maple syrup you buy at the grocery store is made in Canada (most coming from Quebec), so this is a somewhat rare opportunity to enjoy some of the locally made sweet stuff. Maple syrup is almost entirely produced in the Northeast, so it is certainly a specialty that comes out of the area. It takes over 40 gallons of maple sap to make 1 gallon of maple syrup. The sap is boiled down in the process and most of the liquid is evaporated. In some countries like South Korea, people prefer to use maple sap unprocessed and straight from the tree. It is believed that the sap could help to prevent disease and osteoporosis. 
The festival itself also has quite an interesting story. Originally started by the Catoctin Mountain Tourist Council and its small group of 25-35 members, the event started in nearby Catoctin Mountain Park. When the lake at Cunningham Falls State Park was completed and opened to the public, the event was moved to its current location. It is estimated that less than 50 people were in attendance at the very first Maple Syrup Festival, which was just a simple demonstration. No trees were tapped, and no products were sold. 
There was interest in continuing to grow the event both to bring visitors to the area and to kick off the spring season. "People are itching to get outside by that time of year," said Mike Irons whose family was involved in the creation of the event. According to Mike, his family and other festival volunteers used to actually make the syrup that was sold at the event. "We weren't allowed to sell syrup that was made outside of Maryland, the park wouldn't let us. So we traveled to Oakland to help make the syrup ourselves and bring it back to sell. Eventually, we couldn't keep up with the number of people wanting to buy it."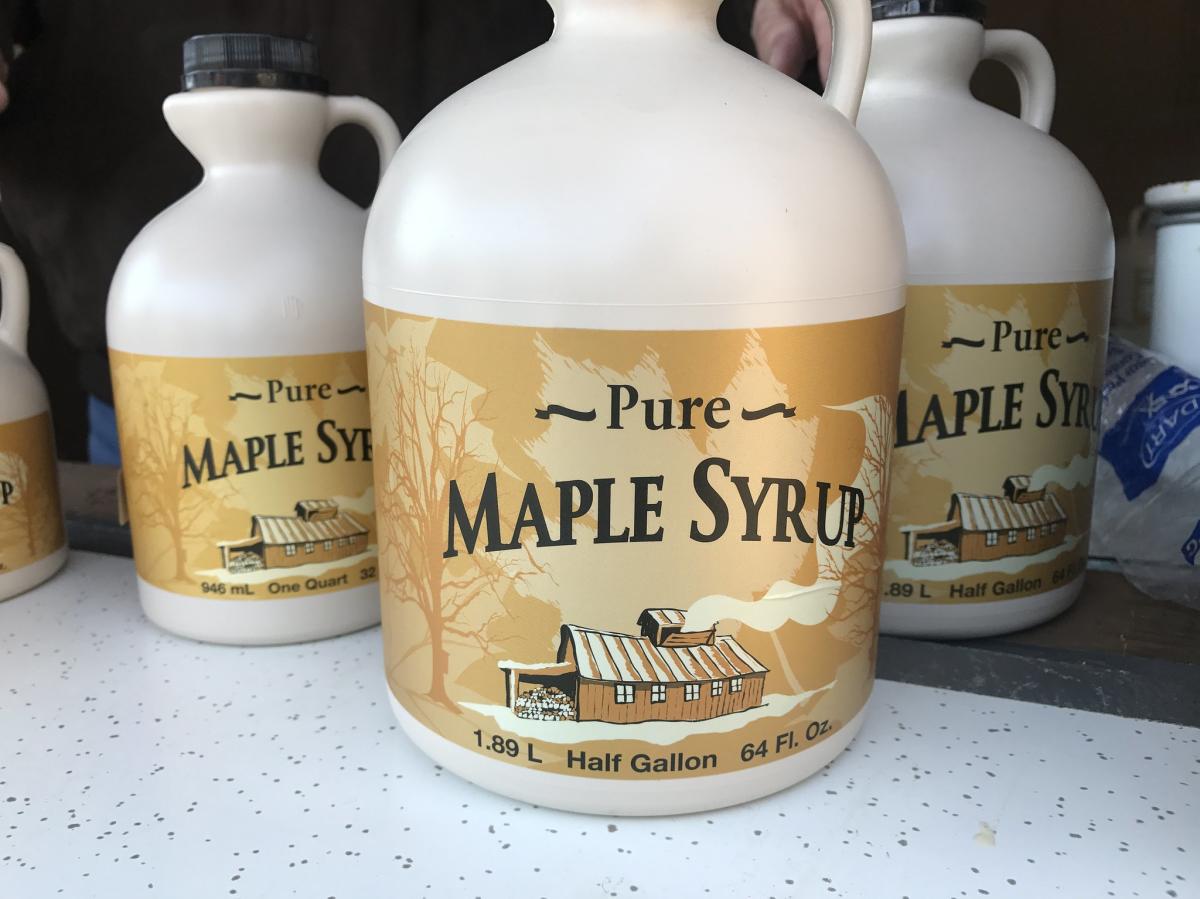 Photo courtesy of Maryland Department of Natural Resources
Today the products sold at the event come from S&S Maple Camp in Corriganville, Maryland. Leo Shinholt, the company's owner, is a third-generation sugar producer. S&S has been in business for just as long as the festival. They tap over 5,000 trees for just one season of syrup production. Leo has learned from experience that the first run is always the sweetest.
Each day of the Maple Syrup Festival visitors can enjoy live maple syrup demonstrations. Two demonstration areas will show how the product is made. Maple syrup products such as maple syrup, maple cream, and maple candy can also be purchased. Be sure to buy your souvenirs early, these are popular items and they might sell out!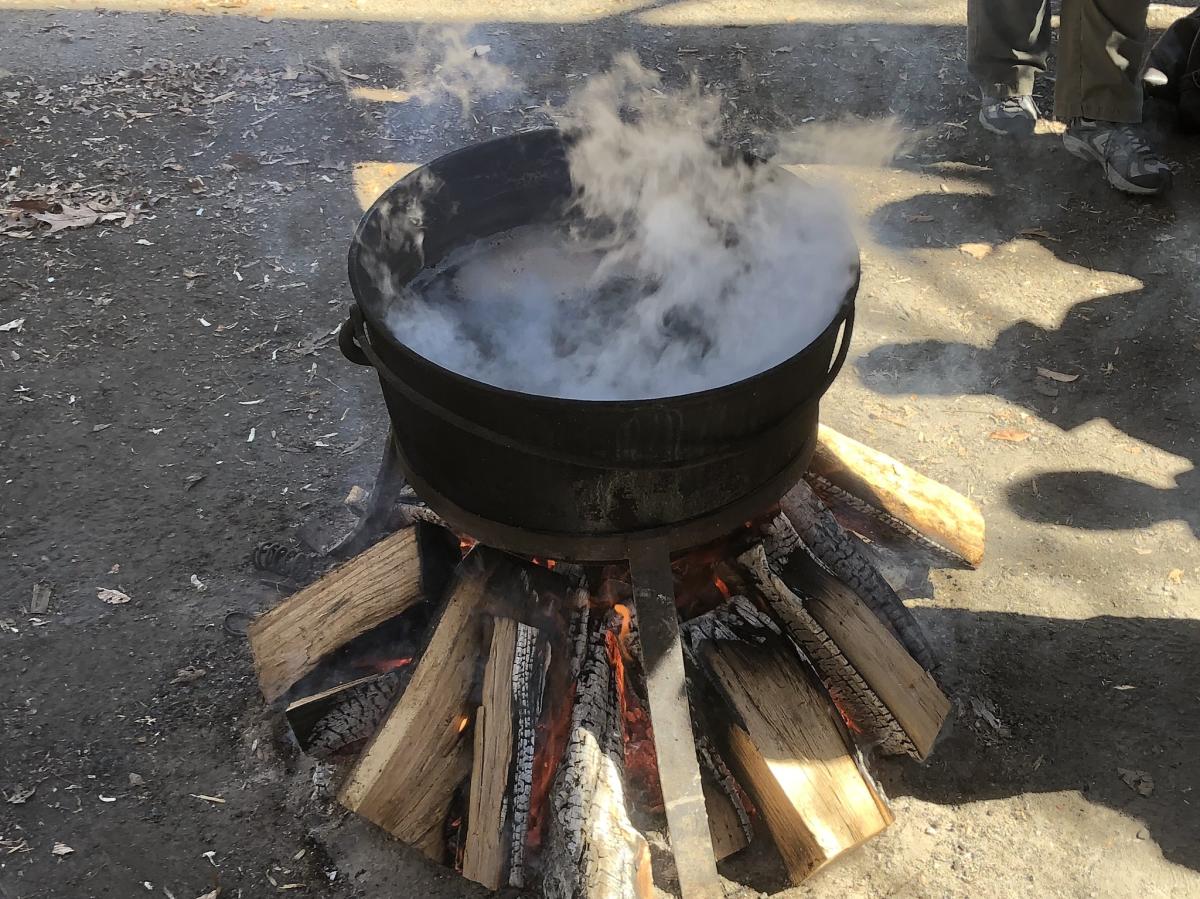 Photo courtesy of the Maryland Department of Natural Resources
A donation of $3 per person is requested to attend the Maple Syrup Festival, in lieu of the usual park entry fee. All proceeds benefit Cunningham Falls State Park and Gambrill State Park through their Friends group which has been in existence since 1996. The group has helped contribute things like Polaris vehicles, a skid loader, a rescue boat, and a handicapped beach wheelchair to the park. 
If you still have questions about the festival, call the park office at 301-271-7574. Park rangers and volunteers will be easy to find during the event and will have all the information you might need.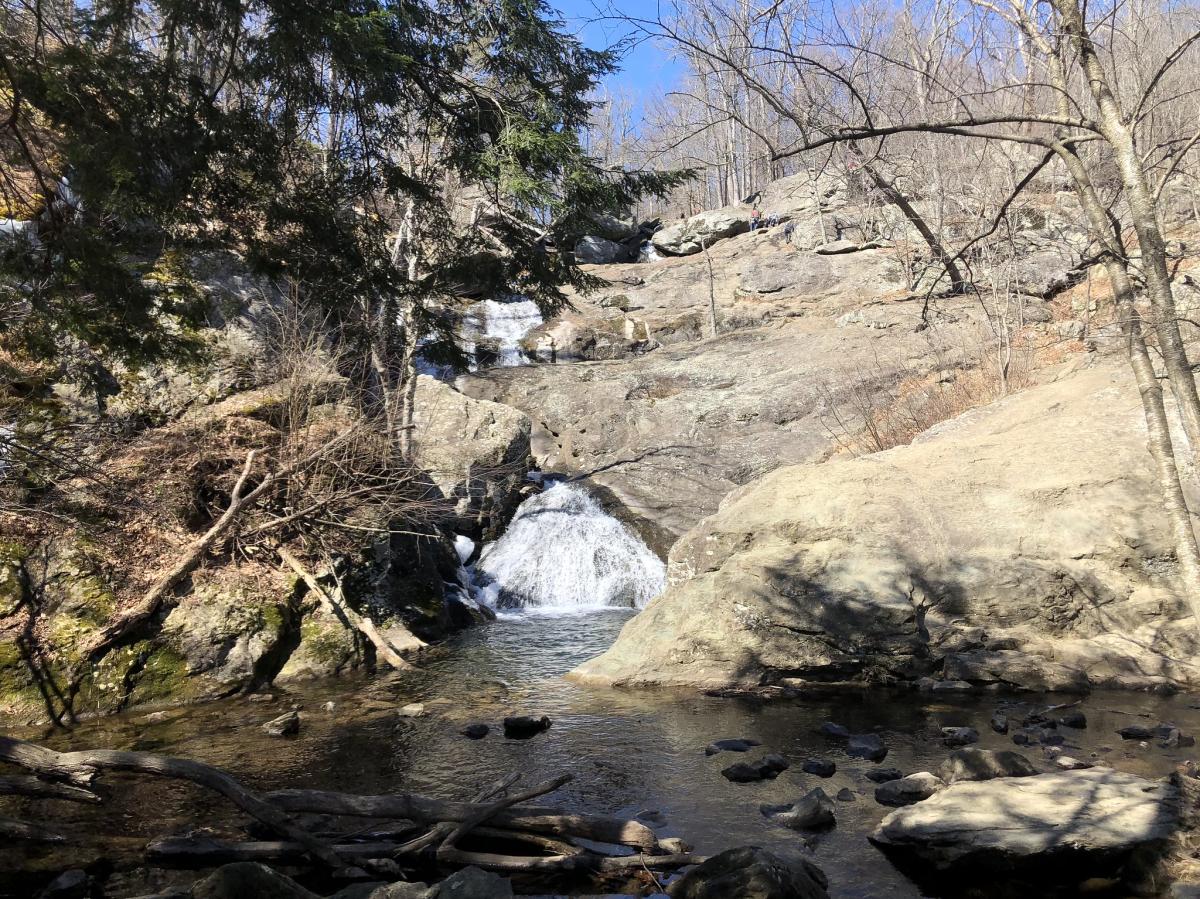 Photo courtesy of Maryland Department of Natural Resources
And while you're at Cunningham Falls State Park, make the short hike to Cunningham Falls itself! The 78 ft. cascading waterfall is the TALLEST in the state of Maryland.