One of the best reasons to visit Frederick is the gorgeous scenery. You can enjoy vast farmland, historic architecture, and mountain skylines all within a few mile span. This scavenger hunt is a great way to find some of Frederick's most unique features without ever having to unbuckle your seatbelt! Find and check off all the items on the list below. If you can't find something, check below the list for locations. Some items can be found in multiple places, there are no wrong answers!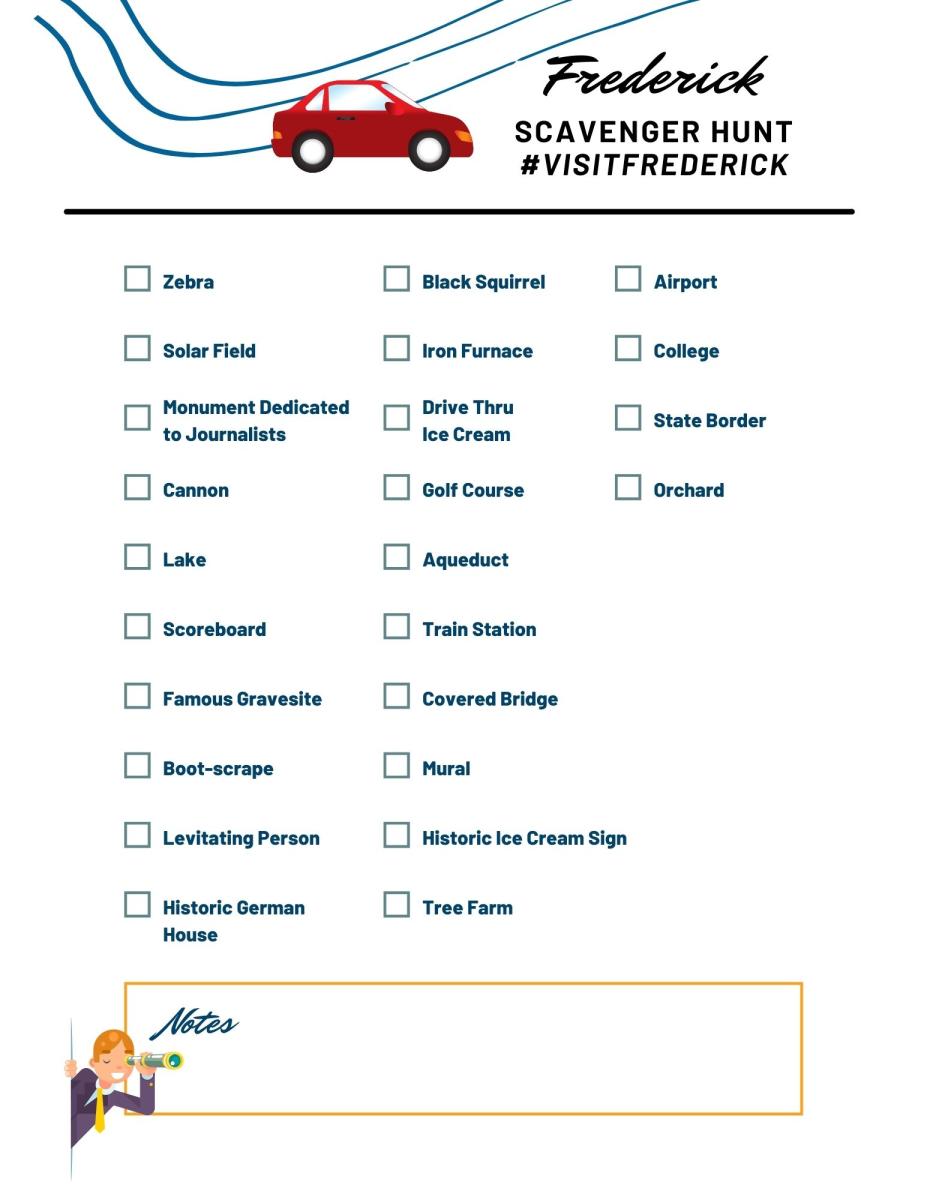 Zebra - This striped animal lives across from Springfield Manor, on the farm.
Solar Field - The field at Mount Saint Mary's University can be seen from the parking lot for the Grotto of Lourdes.
Monument Dedicated to Journalists - The War Correspondents Memorial Arch can be found in Gathland State Park.
Cannon - Several of these are located on Monocacy National Battlefield.
Lake - There are lots of places to see the water in Lake Linganore.
Scoreboard - The Frederick Keys use the scoreboard at Nymeo Field at Harry Grove Stadium.
Famous Gravesite - Francis Scott Key, author of our national anthem, is buried at Mount Olivet Cemetery.
Boot-scrape - Church Street in Downtown Frederick has a few of these on the sidewalks.
Levitating Person - The Edge of Gravity mural can be found in the alley next to Hootch and Banter.
Historic German House - Schifferstadt Architectural Museum is located on the edge of Baker Park.
Black Squirrel - These can be seen wandering through Baker Park and Hood College.
Iron Furnace - The historic Catoctin Furnace can be seen from Catoctin Furnace Road.
Drive-Thru Ice Cream - Find this at Rocky Point Creamery in Point of Rocks.
Golf Course - There are several of these in Frederick including Whiskey Creek, Worthington Manor, and Richland.
Aqueduct - The Monocacy and Catoctin Aqueducts can be visited, though they are no longer used to carry the canal over the river.
Train Station - Frederick's most instagrammable train station is located in Point of Rocks and serves the MARC train.
Covered Bridge - There are three covered bridges in Frederick that can be seen on the covered bridges driving tour which goes through the northern part of Frederick County.
Mural - There are several murals in Frederick including the North of Fourth and Lord Nickens Murals in Downtown Frederick.
Historic Ice Cream Sign - The Main Cup in Middletown used to be Main's Dairy, the historic sign is still hanging outside.
Tree Farm - Gaver Farm, now home to a popular fall festival, is also a tree farm.
Airport - The Frederick Municipal Airport just outside of Downtown Frederick serves many private planes.
College - Hood College and Mount Saint Marys University are the most well-known institutions, but Frederick Community College is also local.
State Border - Maryland and Pennsylvania meet at Frederick County.
Orchard - Catoctin Mountain Orchard and Pryor's Orchard are just off of Route 15.