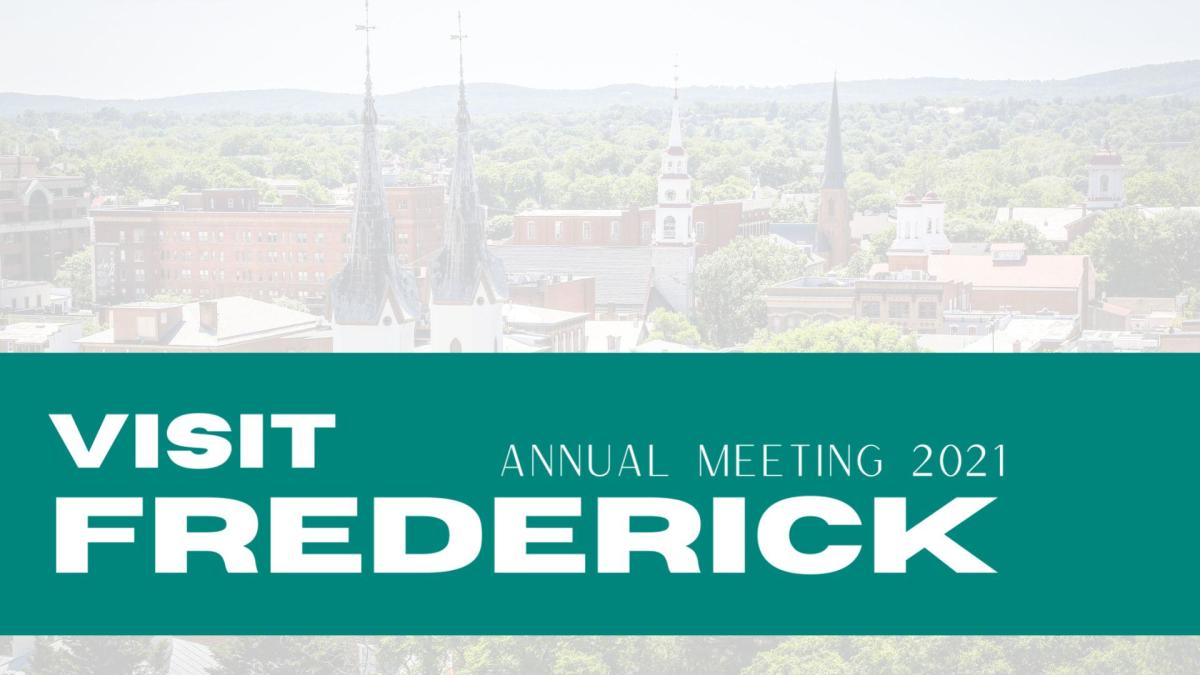 FOR IMMEDIATE RELEASE
Nov 2, 2021
CONTACT:
Jake Wynn, Marketing and Communications Manager, Visit Frederick, jwynn@fredco-md.net, phone: 301-600-4023, fax: 301-600-4044
Visit Frederick holds annual meeting, celebrates tourism successes amid pandemic-related challenges
Frederick, MD - Visit Frederick held its annual meeting on October 27, a virtual event that featured board members and employees of Frederick County's destination marketing organization looking back at a difficult year in 2020. Despite a continuing pandemic, reports show that Frederick County has begun to recover as a tourism destination. 
"We are currently outpacing some of the other areas in the market in terms of visitation," said Scott Wisnom, outgoing president of the board of directors at Visit Frederick. "Last year, we talked about recovery. And recovery was coming. Well, recovery is here." 
Executive Director Dave Ziedelis, in his first annual meeting as leader of Visit Frederick following the departure of long-time director John Fieseler, lauded leaders at the City of Frederick, Frederick County, and the State of Maryland for their tireless efforts to bring visitors back to Frederick County. Visit Frederick reported revenue of $2.4 million, dollars that are invested into marketing Frederick County as a tourism destination across the country and around the world. 
Ziedelis noted that, although visitation figures were off in 2020 as a result of the pandemic, signs point to bright spots in the tourism business in Frederick. "While our visitation numbers are down, we are in fact doing better than many of our other counterparts in the state," Ziedelis said. The State of Maryland reported that visitor spending in Frederick County fell 23% from 2019 to 2020. However, Frederick outpaced surrounding counties and statewide numbers, which reported visitor spending down more than 37% from 2019 to 2020. In total, Frederick County welcomed more than 1.3 million visitors in 2020. 
Two elements important to the Maryland tourism market - corporate and government travel - continue to stall full recovery in the state, including in Frederick County. 
"We are thankful and blessed that Tourism in Frederick County, and the reasons people visit, are so well diversified – from history, outdoor recreation, and the arts - to shopping, dining, and the craft beverage industry. Frederick County has something of interest, and to offer, all demographic segments of the visitation mix," he reported. 
Ziedelis also pointed to promise in the months and years ahead. 
"Our visitation numbers have been steadily improving as we make our way through the current calendar year of 2021," he said. 
The return of visitors to Frederick County could be seen through other data as well, with Visit Frederick staff reporting increases in visits to the organization's website for events in the county, and significantly increased traffic at the Visitors Center on East Street in Frederick. 
As part of the annual meeting, Visit Frederick also acknowledged the work of those in Frederick County who provide invaluable assistance in promoting the region as a destination. Elizabeth Comer of Catoctin Furnace received Visit Frederick's "Tourism Ambassador of the Year" award for her tireless efforts to bring visitors' attention to that important historical site. Phil Bowers, co-owner of Fountain Rock Management and incoming board president for Visit Frederick, was awarded a citation for distributing the most visitor guides in the county at Brewer's Alley restaurant in Downtown Frederick. 
In concluding the event, Visit Frederick honored John Fieseler for his 23 years of service at the organization with a donation of $2,500 to support a scholarship fund at Frederick Community College (FCC) designed to encourage destination development. The donation to the John Fieseler Scholarship Fund will go to support the Hospitality, Culinary, and Tourism Institute at FCC. Donations can be made at fcc.edu/onlinegiving. 
Visit Frederick is the recognized Destination Marketing Organization for Frederick City and Frederick County, Maryland. It operates the Frederick Visitor Center and related Visit Frederick programs that include Destination Marketing and Group Tour Marketing. For more information about Visit Frederick, visit www.visitfrederick.org or call 301-600-4047.
###