FOR IMMEDIATE RELEASE
November 10, 2021
CONTACT:
Jake Wynn, Marketing and Communications Manager, Visit Frederick, jwynn@fredco-md.net, phone: 301-600-4023, fax: 301-600-4044
Visit Frederick earns two awards for C&O Canal marketing partnership at 2021 Maryland Tourism Summit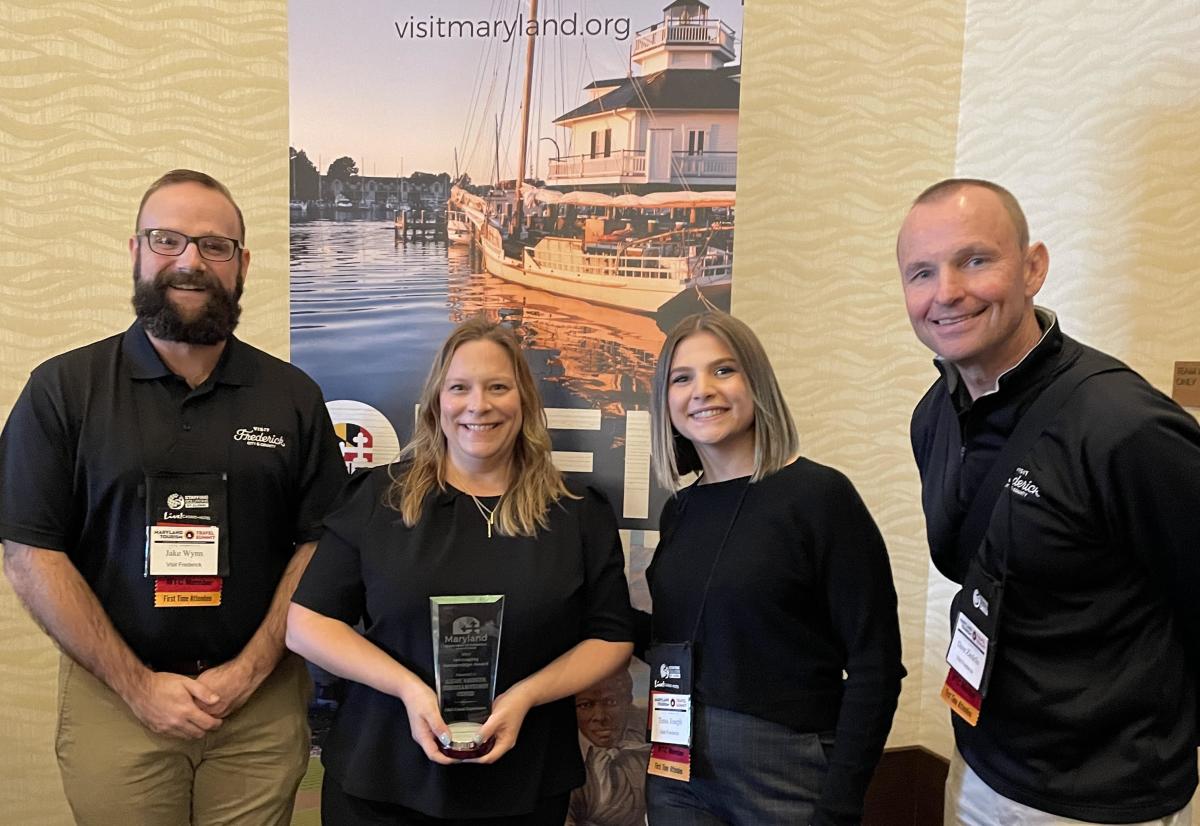 Hanover, MD - Visit Frederick received two major awards for partnerships at the 2021 Tourism and Travel Summit held at the Live! Casino and Hotel on November 8-10. 
Frederick County's destination marketing organization received the Leveraging Partnerships Award from the Maryland Office of Tourism and the Maryland Tourism Coalition's Best Cooperative Product Award. The honors recognized Visit Frederick and three other destination marketing organizations representing Allegany, Montgomery, and Washington counties for the C&O Canal Experiences marketing program. 
The C&O Canal Experiences program provides a unified marketing strategy, branding, and communications plan that connects partners and assets found across the C&O Canal region. This marketing partnership resulted in new tourism experiences such as the C&O Canal Libations Trail, more than 30 media articles, several hosted media visits including a virtual group media FAM, and an increase in visitation moving the C&O Canal National Historical Park to the 8th most visited national park in the USA during 2020 (up from #12) 
The partnership program aligned with the C&O Canal's 50th anniversary in 2021, bringing national and international attention to the park. 
"The C&O Canal Experiences program brought together our closest partners in Maryland to highlight one of the state's truly remarkable tourism attractions," said Dave Ziedelis, Executive Director of Visit Frederick. "We are thrilled that this promotional effort has been met with such success and gained additional national exposure to the Canal and the communities alongside it." 
The C&O Canal National Historical Park stretches for 184.5 miles along the shores of the Potomac River from Cumberland, Maryland to Washington, DC. Several key miles along the central section of the Canal pass through Frederick County, Maryland, including the Canal Towns of Point of Rocks and Brunswick. This section of the Canal provides visitors with outdoor experiences such as hiking, biking, walking, and running close to Potomac River experiences like fishing, boating, kayaking, and canoeing and historic Maryland Main Street communities. 
"As we continue our recovery from the pandemic in Frederick County, tourism is returning and the C&O Canal is a major part of that," Ziedelis said. "Its combination of outdoor recreation, historical sites, and connection to our Canal Towns brings ever-growing numbers of people to the county, driving our local economy," he added.  
Visit Frederick is the recognized Destination Marketing Organization for Frederick City and Frederick County, Maryland. It operates the Frederick Visitor Center and related Visit Frederick programs that include Destination Marketing and Group Tour Marketing. For more information about Visit Frederick, visit www.visitfrederick.org or call 301-600-4047.
###