Frederick is well known for its delicious dining options so it should come as no surprise that you can find great coffee and doughnuts here as well. Starting off your morning with Frederick coffee and doughnuts is a treat for your taste buds. If you need a little boost in the morning, it may be just the thing to get you going!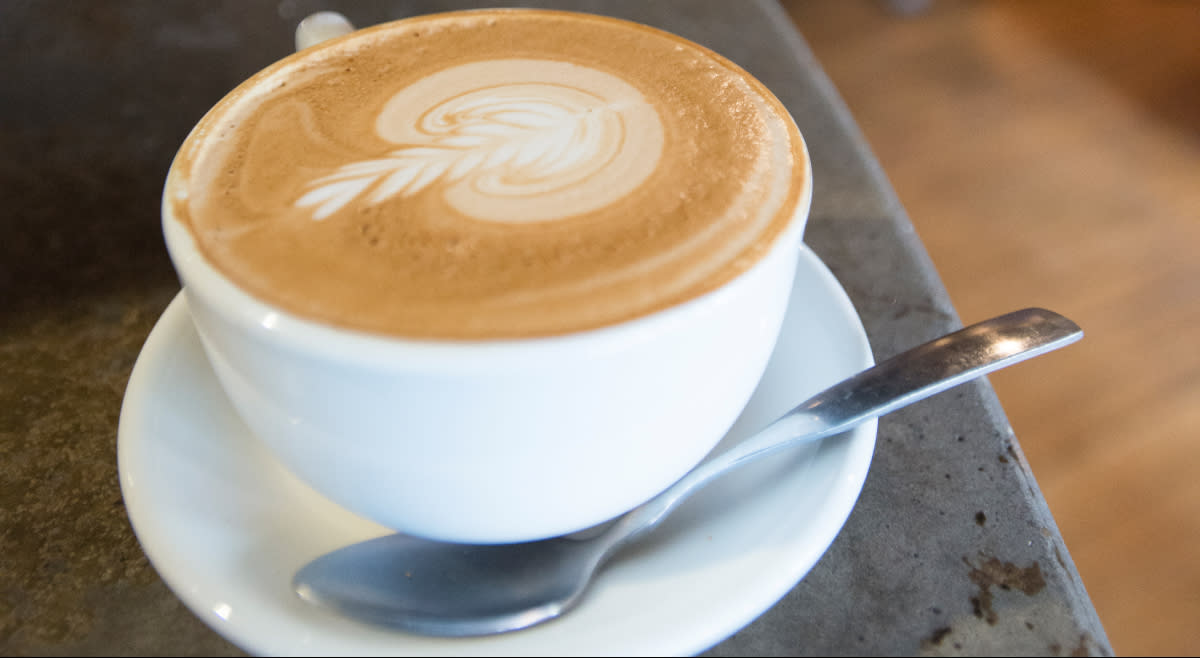 ---
A great place to start a morning in Frederick is at the city's most unique coffee shop. Gravel and Grind not only has responsibly sourced and craft roasted coffee, but also serves a variety of artisan toasts and light breakfast food. Head to this shop on Sixth Street on weekend mornings for weekend waffles.
Now, you are probably saying to yourself, "So what exactly makes Gravel and Grind unique?" And the answer to that is... the bikes. 
Not only is Gravel and Grind a coffee shop, but it's also a haven for bike lovers. While they specialize in selling steel-framed bicycles, this is also a destination for a tune-up for your bike, bicycle repair, and cycling accessories.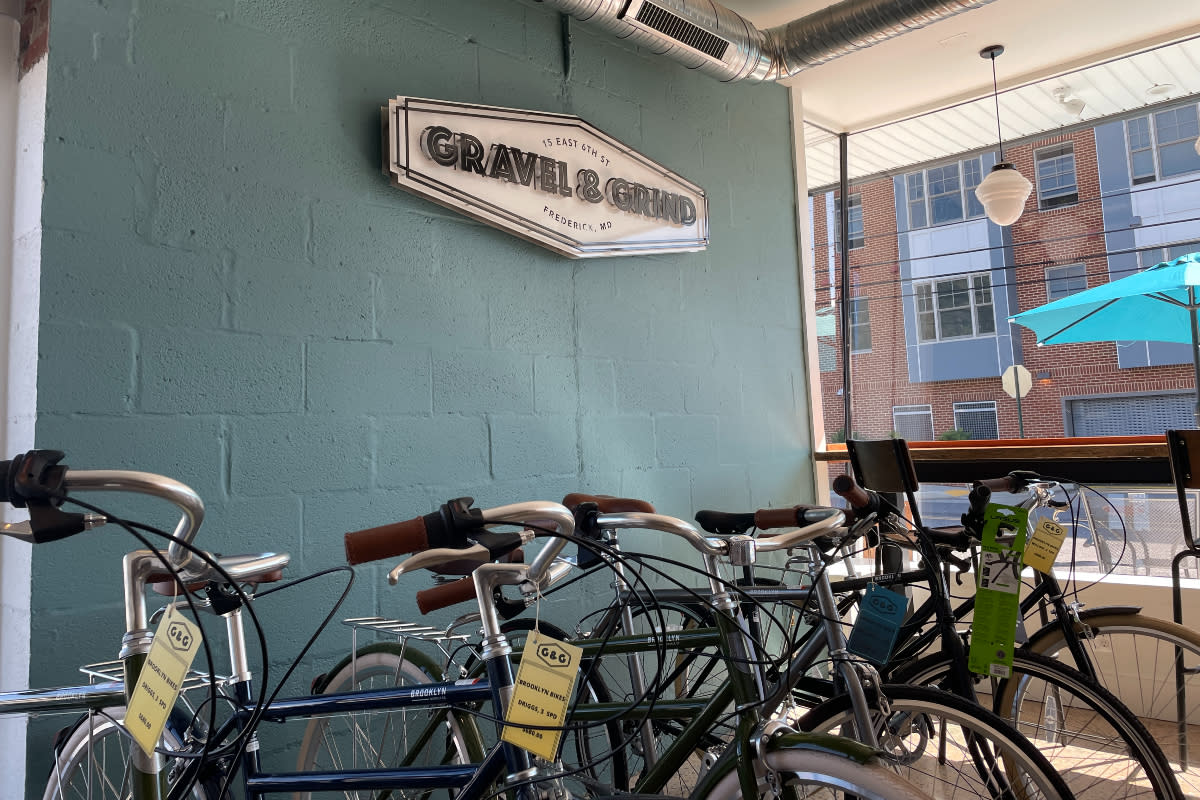 ---
This downtown institution has been serving the Frederick community since 1991. Located at East and Church streets, you'll find a hot cup of coffee, delicious tea, fresh baked goods, and a wide selection of breakfast and lunch items. This is a great place to spend a morning before doing some shopping at Everedy Square and Shab Row, including the neighboring Shab Row Tea Emporium that shares an owner with Frederick Coffee Co.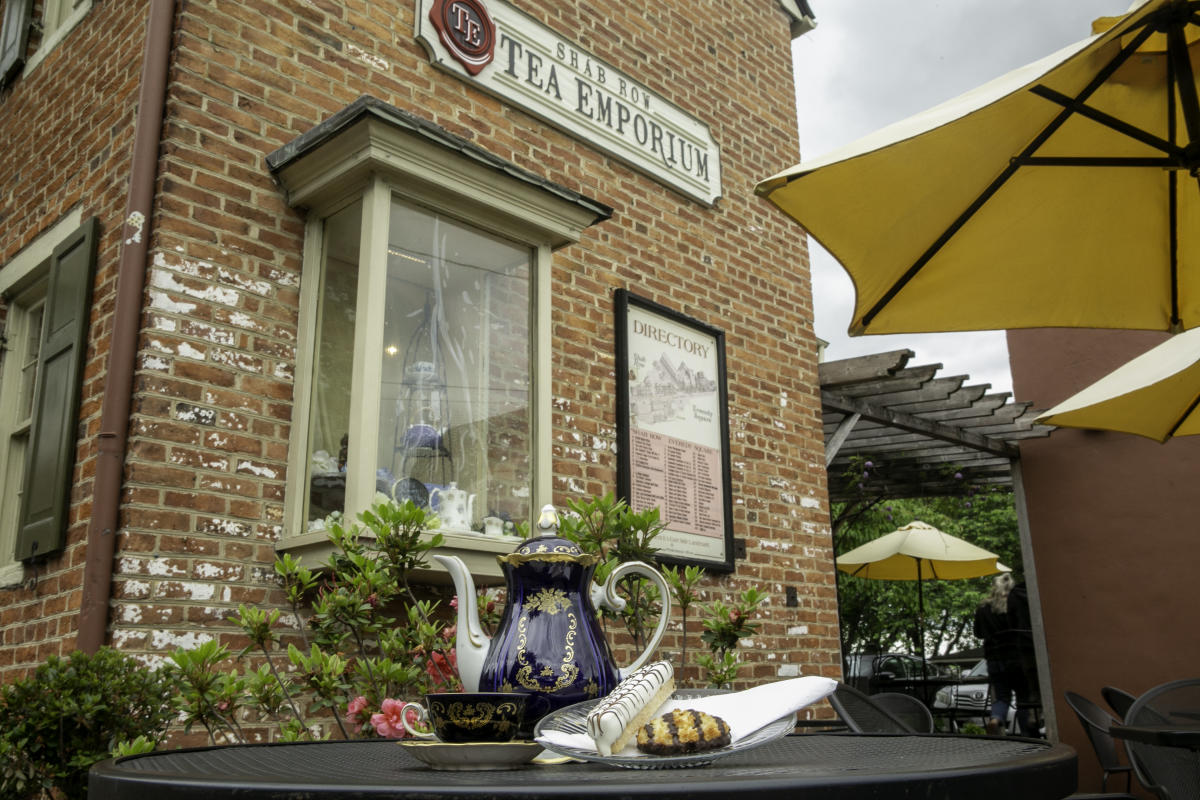 ---
This restaurant serves quality and classic dishes made from organic and local produce. Located in the heart of downtown on East Patrick Street, Café Nola is representative of hip and historic Frederick. 
The interior of the historic building has a modern coffeehouse vibe and is decorated once a month by a local artist. Outside, patio dining is perfect for enjoying the Arts and Entertainment District during warm weather months. Patrons can sip on coffee and espresso, free trade and loose leaf tea, tea lattes, and signature lattes, complete with amazing latte art.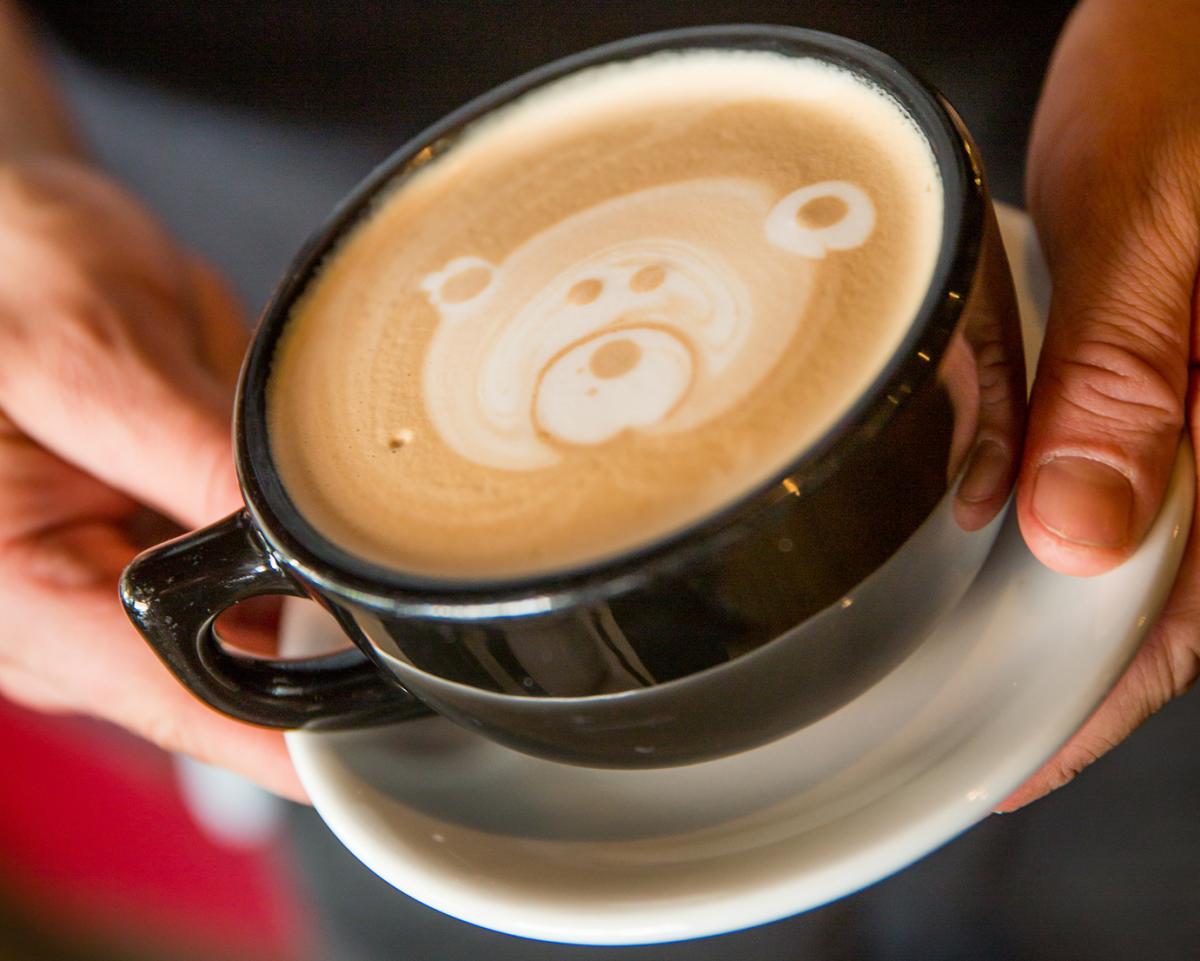 ---
At Dublin Roasters, every bean is hand-roasted to achieve the best flavor. You'll find organic and fair-trade coffees as well as special blends and flavored coffees. The coffee is roasted in small batches and only per order.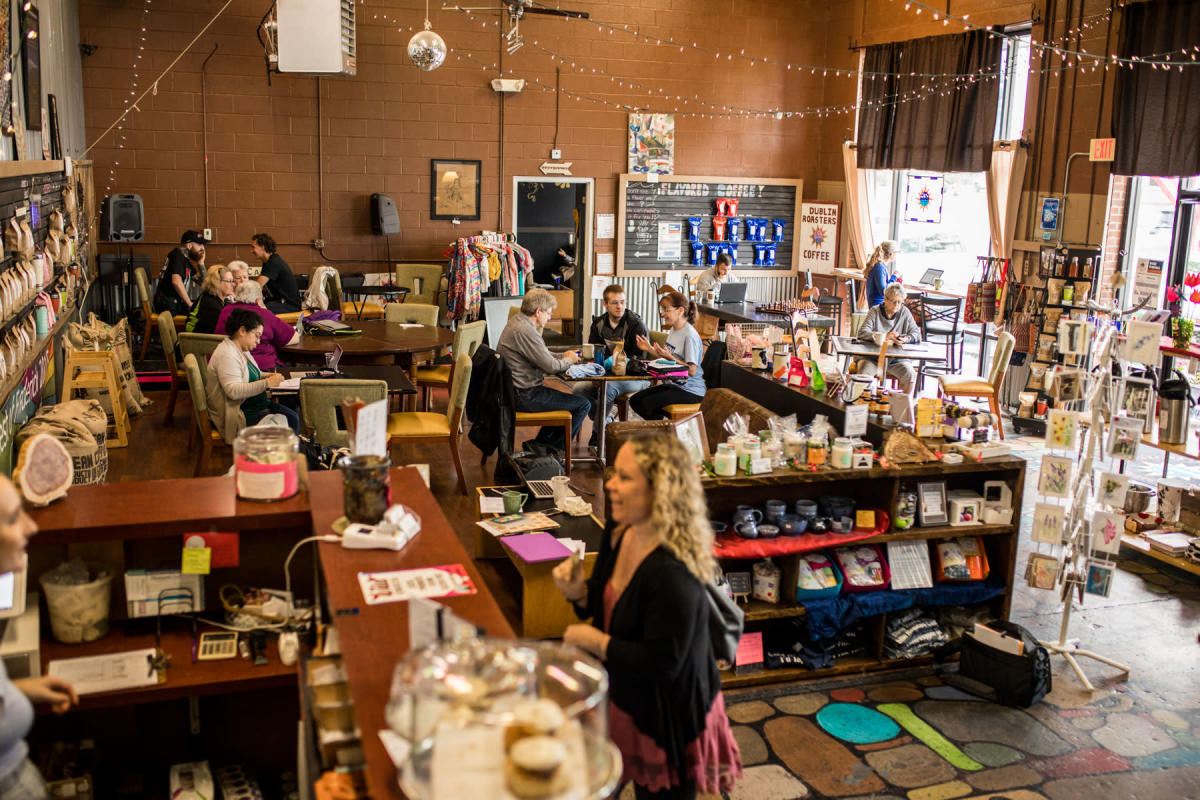 Owner Serina Roy has been roasting coffee for more than 20 years and recognizes that the potential flavor is locked in the raw bean. She knows that roasting is an art form. Samples are always available and you can purchase regular, decaffeinated and flavored coffee by the cup, or buy the beans for use at home. They'll even grind them for you depending on your brewing preferences. Local artists display their talents all around Dublin Roasters and the coffee shop is a regular meetup for book clubs, moms groups, knitting groups, friends, and professionals.
---
For those who've spent summers on the coast of Maryland, Delaware, and New Jersey, the delicious smells of fresh doughnuts from the Fractured Prune are just a part of the summer vibe. While Frederick may be three hours from the closest ocean access, the morning flavors of the shore can be found right here. Check out their elaborate flavors like Pebble Beach or O.C. Sand, keep it original with a Plain Jane, or make it your own and design one for yourself.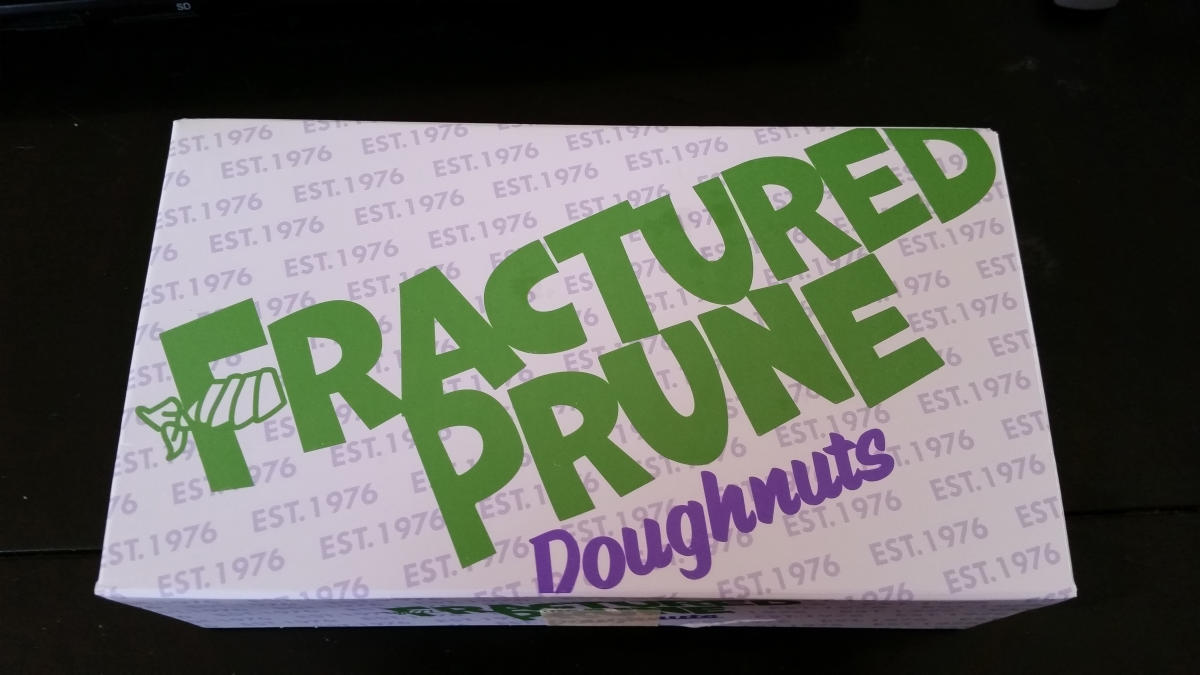 ---
Want a morning experience in a one-of-a-kind space on a historic Maryland Main Street? Check out Beans in the Belfry in downtown Brunswick! They're serving up coffee, food, and live music inside a historic red brick church built in 1910. The perfect place to start a day before heading out on the C&O Canal or exploring the area around this historic railroading community.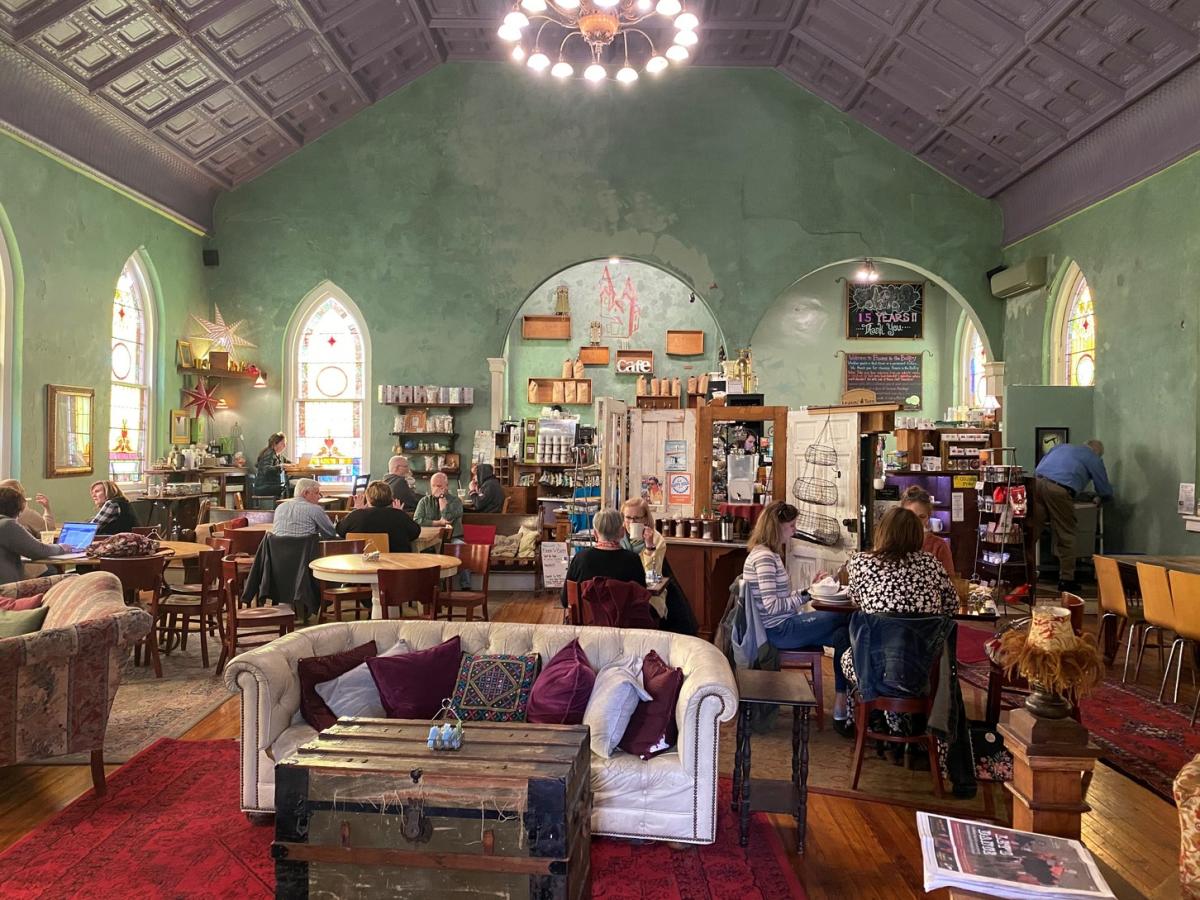 Freshly squeezed mimosas, eggs straight from the farm, and an atmosphere so pleasant you'll never want to go…
Frederick County's outdoor dining options are hard to beat. It's perfect to enjoy some early evening…
Travelers to Frederick will quickly come to realize that this region loves its local restaurants. Ask any local and…