Frederick County's mountainous landscape, quaint architecture, delectable gastronomy, and unique shopping keep visitors and locals excited about what's next. In Frederick, we never run short on things to do! 
Sometimes the best way to fit more into your schedule is to combine the list. Below are running and walking routes that will help you reach your health and fitness goals while simultaneously seeing some of Frederick's best sites. With varying distances and surfaces, there are options for every level of runner, from the casual to the committed. Visit our Frederick Paths page for turn-by-turn directions for each route listed. Lace-up your shoes and let's go!
---
This route begins and ends in picturesque Carroll Creek Park, which is made up of pedestrian paths, water features, and a creek lined with colorful lilies in the summer and illuminated boats in the winter. From the start of this route, it is a 1-mile trek to the entrance of Mount Olivet Cemetery. This cemetery was established in 1854 and features the gravesites of Francis Scott Key (US National Anthem author), Barbara Fritchie (Whittier's Poem), and Thomas Johnson (first Governor of Maryland). Within the cemetery, there are many paths. I ran the 2-mile perimeter loop before heading back to the start, giving me a total of four miles. For a refreshing post-run beer, check out Smoketown Creekside, Attaboy Beer, and Idiom Brewing Co., three craft breweries located on the Eastern portion of the creek.                                                               
---
This 8-mile loop begins and ends at the Frederick Visitor Center, a beautifully renovated circa-1899 industrial warehouse to gather brochures and maps, watch the award-winning film about Frederick County, and view the interpretive exhibits. This route has been aptly named for the three parks you will pass from start to finish. No matter the season, Carroll Creek Park, Baker Park, and Rose Hill Manor Park and Museum offer natural green landscapes throughout spring and summer, colorful vistas in the fall, and distinct historical buildings with ornate architectural details to admire in the winter.
---
Located in the City of Frederick, Baker Park is a 58-acre linear park with walking paths. These paths are long straightaways which make it easy to log quite a bit of distance before circling back to the start. Begin on the path directly in front of the Schifferstadt Architectural Museum and head east. After crossing Fairway Avenue you will pass by the Carroll Creek Covered Bridge, a charming footbridge perfect for getting a photo (#VisitFrederickMD). The path will lead you past Culler Lake, which boasts a beautifully restored fountain, wetlands, and pedestrian bridges. Continue east on the path and cross West College Avenue then College Avenue. Next, you will see the Joseph Dill Baker Memorial Tower and Carillon on your left, a 70-foot granite bell tower that houses 49 carillon bells, ranging from 22 to 3,500 pounds. Carillon Bells Recitals are held on most Sundays, 12:30–1 pm. Just before you reach North Bentz Street turn around and follow the pathway to return to the start. 
---
Okay, so maybe this distance is more for runners than walkers. But, you can shorten the distance to whatever suits you since it's an out-and-back. The Chesapeake and Ohio Canal Towpath, located within the C&O Canal National Historic Park, offers miles of breathtaking views and a pathway for discovering historical and natural treasures. This peaceful stretch of the trail is 6.6 miles from Brunswick to Point of Rocks; it is mostly flat, and the surface is Crush and Run gravel with a top layer of Stone Dust. Along the way, you will see the Catoctin Aqueduct, Lockhouse 28, and The Lander House; three historic canal structures that play a part in the transportation history of Frederick County. Be sure and treat yourself to a stop at Beans in the Belfry Meeting Place & Café. This coffeehouse is in a century-old restored church building with a comfortable and friendly ambiance. Other not-to-be-missed spots in Brunswick are Smoketown Brewing Station and the Brunswick Heritage (Railroad) Museum.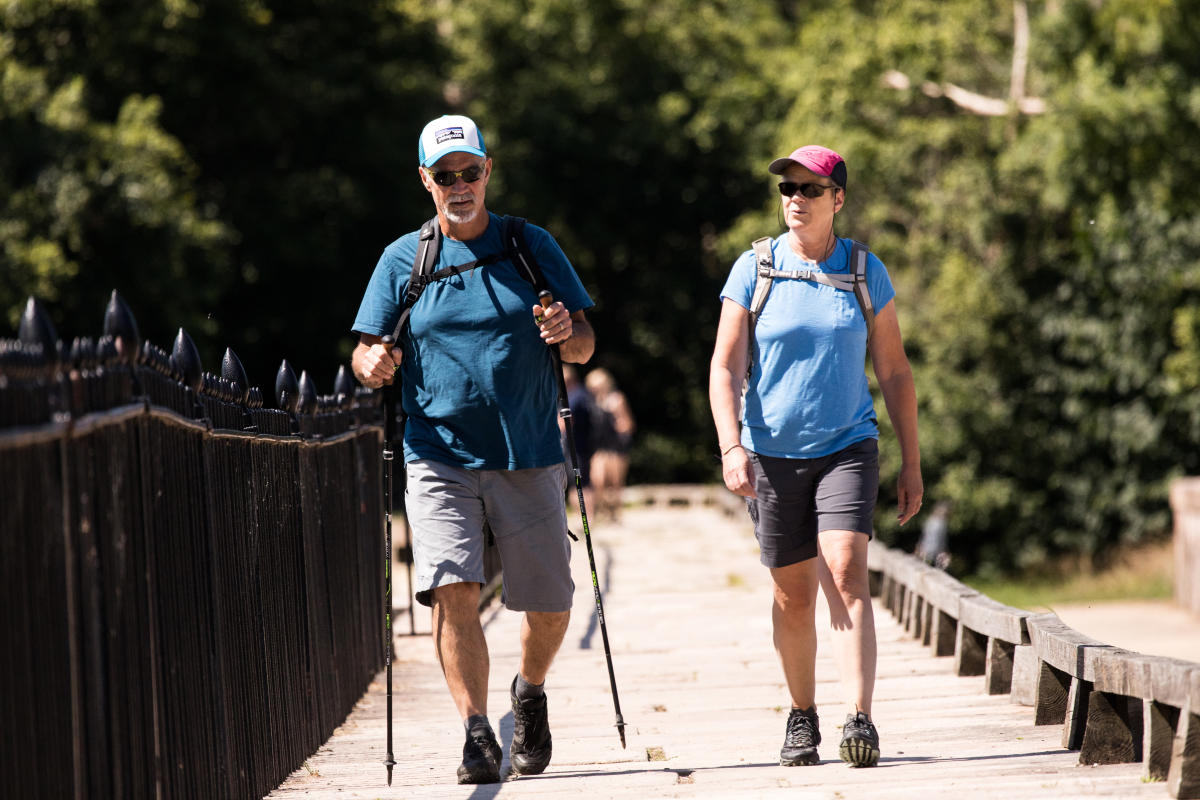 ---
More resources for walking and running Frederick County
Want to bring your dog along? No problem! Downtown Frederick is pet-friendly. The Frederick Visitor Center is one of many downtown establishments where you'll find a water bowl outside for your dog, and you're encouraged to bring your dog inside to have a look around. 
In 2017, Frederick was designated by the Road Runners Club of America as a Runner Friendly Community. Businesses in the community have window decals indicating that they are runner-friendly. These businesses allow the use of restrooms, share their parking lot, and serve as a safe place to stop if there is unsuitable weather.
Be sure to visit Charm City Run when shopping for running gear. Stop in and speak with their knowledgeable staff about the latest shoe technology or stock up on hydration gels. Charm City Run also has group runs that depart from their store location on a weekly basis. Whether you're a local or a frequent visitor to Frederick County, you may want to consider a membership with the Frederick Steeplechasers. The Steeps, who get their name from the famous "clustered spires" of historic Downtown Frederick, is a local running club that has weekly scheduled runs and other fun benefits for runners to enjoy.  
---
With so many races scheduled in Frederick County throughout the year, it's likely you'll find one suited just for you. Check out Frederick's upcoming races here.